Automation is starting to look like the new normal, and this isn't limited to one aspect of human lives. From business, medicine to engineering, we rely more on robotics, artificial intelligence, and internet connectivity to get things done smartly. We now live in a time where everything can be automated, even cleaning your home—It is as simple as pressing a button to set the device in motion while you work on your laptop or even watch the TV.
Teendow Robot Vacuum Cleaner G20 is a budget-friendly device in this category that tries to make your life easier. I laid my hands on a unit about two weeks ago, and I've had extensive time to play around with it to see how it works while understanding its strengths and downsides.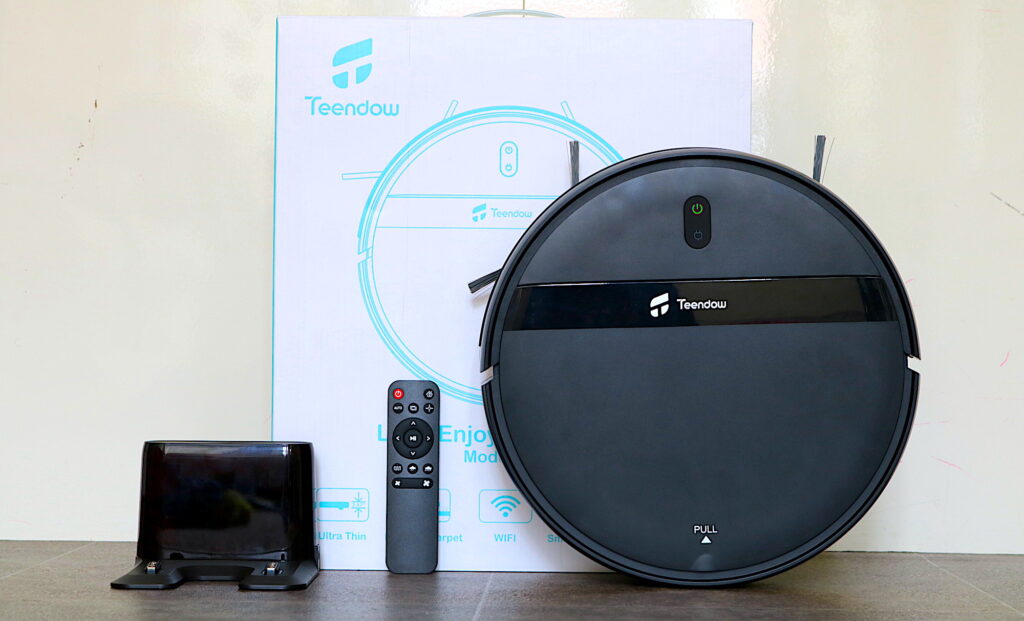 Technical Specifications
Teendow G20 is a 2-in-1 cleaning device that features a vacuum cleaner and also a mop. Apart from this, it also comes with two brushes located at the front to help sweep dirt into the vacuum. The vacuum's suction power is capped at 1,400Pa, while the dust cup can hold up to 200ml of debris.
On the other hand, the water tank is fairly larger, with a 230ml capacity; this allows the robot cleaner to clean an area of up to 1290ft². It comes with a 2600mAh capacity battery, amounting to a run time of about 100 minutes on a full charge.
Teendow G20 robot cleaner allows you to control the device in three different ways: the mobile app has all the functions you need to make the best use of all available features; there is also a remote control that runs on two AAA batteries; and voice control works perfectly if you have Alexa or Google Assistant in you smart home setup.
With dimensions measuring 11.8″L x 11.8″W x 2.87″H, the compact design allows you to save space and fit the device into a small cabinet when not in use.
First Impressions and Design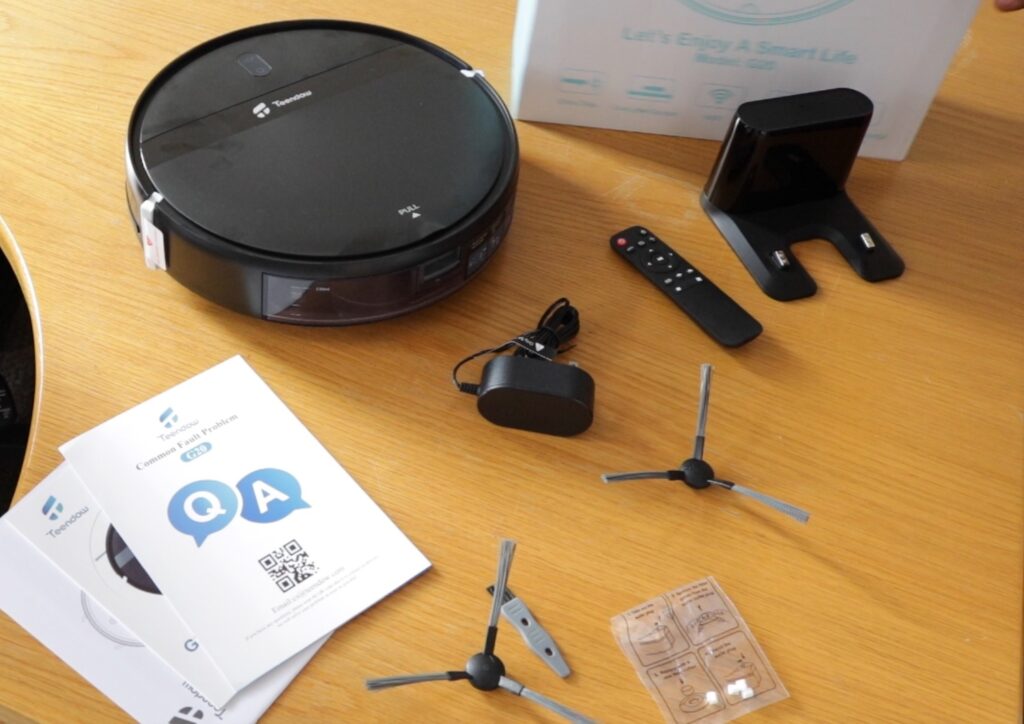 Unboxing the package reveals the Teendow Robot Cleaner G20 and all its accessories in a crate that should adequately protect it in transport. In this box are:
the robot vacuum
a charging dock
an adapter
a remote control
2 AAA batteries
two side brushes
one cleaning brush
user manual and documentation
four water tank filter cotton
The device retains the general aesthetics of a standard robot vacuum, but the design makes it compact as possible with a height of only 2.87″. There are two buttons at the top: the power and recharge buttons. There is a top lid that reveals the dust box and filter when open; this is quite easy to operate, and I do not think you need to refer to the manual or watch a tutorial video to figure it out.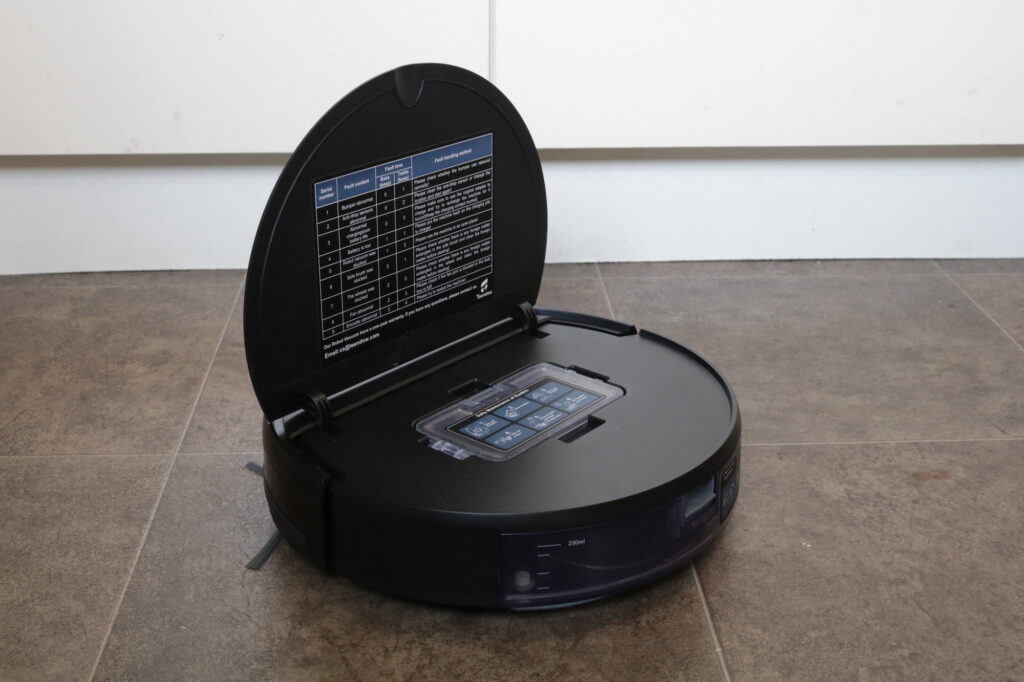 The water tank at the back lets you detach it by pulling down the clip that holds it in place. Again, this is easy to work with and doesn't require special tools or skills.
A wide panel at the front of the robot cleaner houses the anti-collision sensors. Thankfully, there is a strip of material around this area that protects the front from accidental collisions.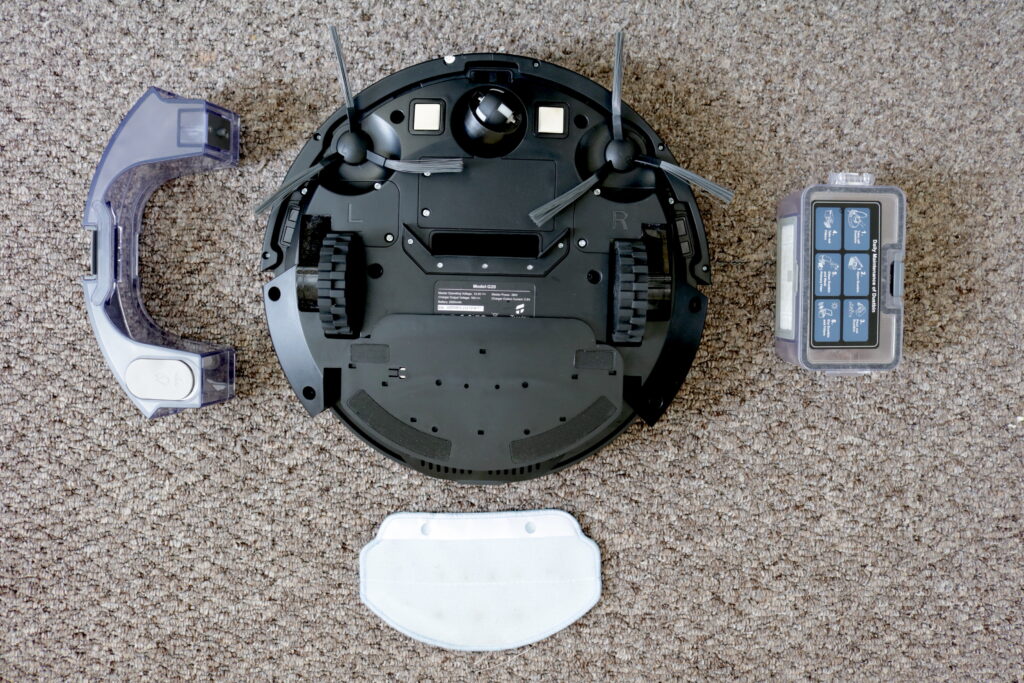 Flipping it over, two drive wheels are on each side, and a universal wheel is in front. Underneath is the mop pad, which can be easily detached from the mopboard.
Three anti-drop sensors are strategically located at the bottom to prevent the robot cleaner from falling off the edges.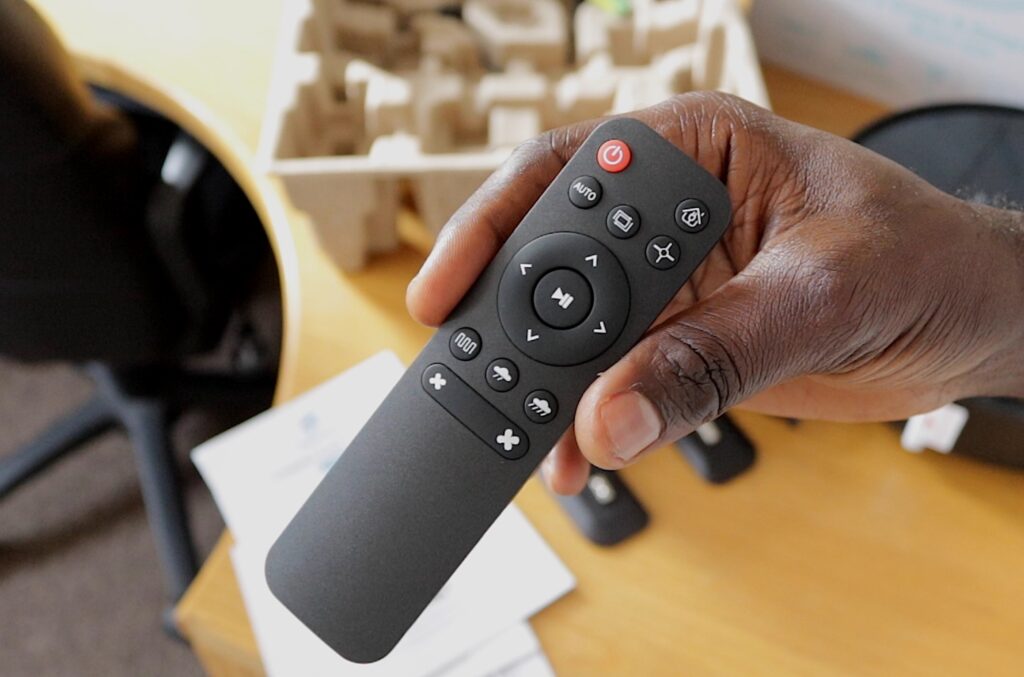 Although the remote control has about 15 buttons, it may be hard for a first-timer to fully grasp what each button does without consulting the user manual. However, every function you will need to operate the device is included, and it is powered by 2 AAA batteries included in the package.
Before operating the robot cleaner, it is required to remove the protective materials. Also, the two side brushes need to be installed correctly, taking note of the L/R labels.
Performance and Operation
Teendow G20 robot vacuum cleaner may not be in the same league as high-end devices such as the iRobot Roomba 966 that will set you back by over a thousand dollars, but it still vacuums effectively and does everything it is advertised to do.
Although I have a Miele upright vacuum cleaner that I use pretty often, pulling it out has never been convenient when there's a little dirt on the kitchen floor to clean up. Besides, plugging it in and dealing with cables has always been a hassle. Getting the G20 robot vacuum cleaner has been a convenience I have always longed for. Teendow G20 works quite effectively within its limits, from light cleanups to mopping: tiny pieces of paper, pet hair, and dust are not spared by the vacuum. Being a mop as well, it helps to keep your floors shiny and clean, leaving no visible water stains behind.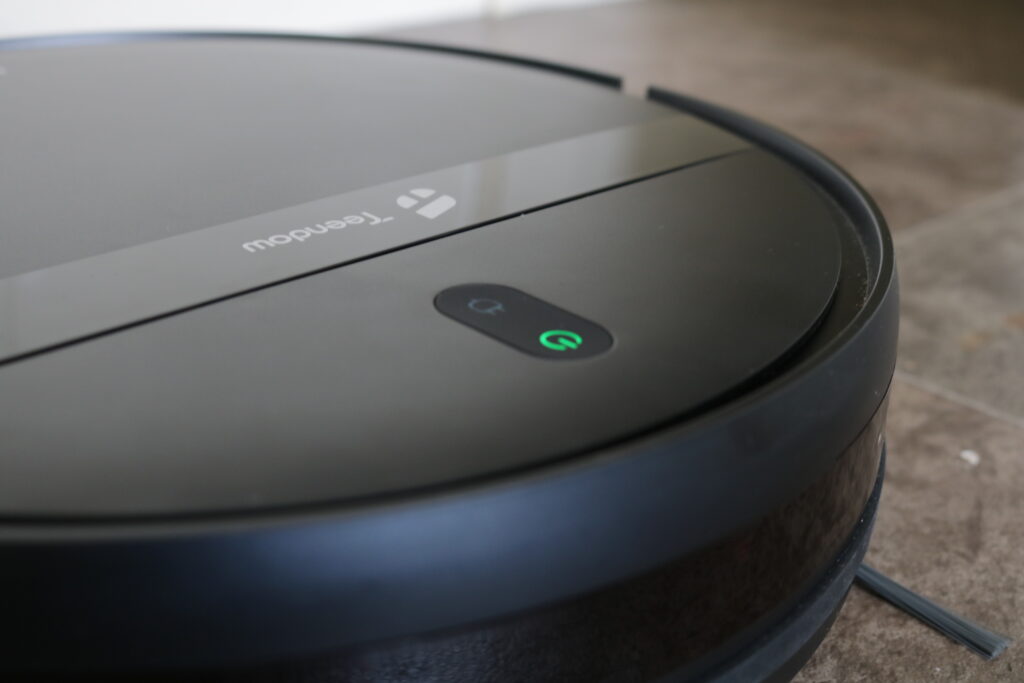 The 1400Pa suction power does a great job of vacuuming dust and debris off my floor, even though I wished it was a little stronger for those dirt requiring more power to remove. For a regular cleaning job, this is more than sufficient. In many cases, I simply set it to the random mode and let it do its thing.
While the robot cleaner has an effective obstruction detection mechanism that avoids wall collisions, there are times when it may randomly hit a chair leg. I would assume this happens when the proximity sensors are unable to detect the obstruction as it is not as visible as a wall. The sensors at the bottom help avoid falling over, and I tested this multiple times on stairs; it would avoid falling off, and this feature is quite impressive, given that this is only a budget robot cleaner. However, it is advised that such areas should be blocked off during cleaning to avoid accidents.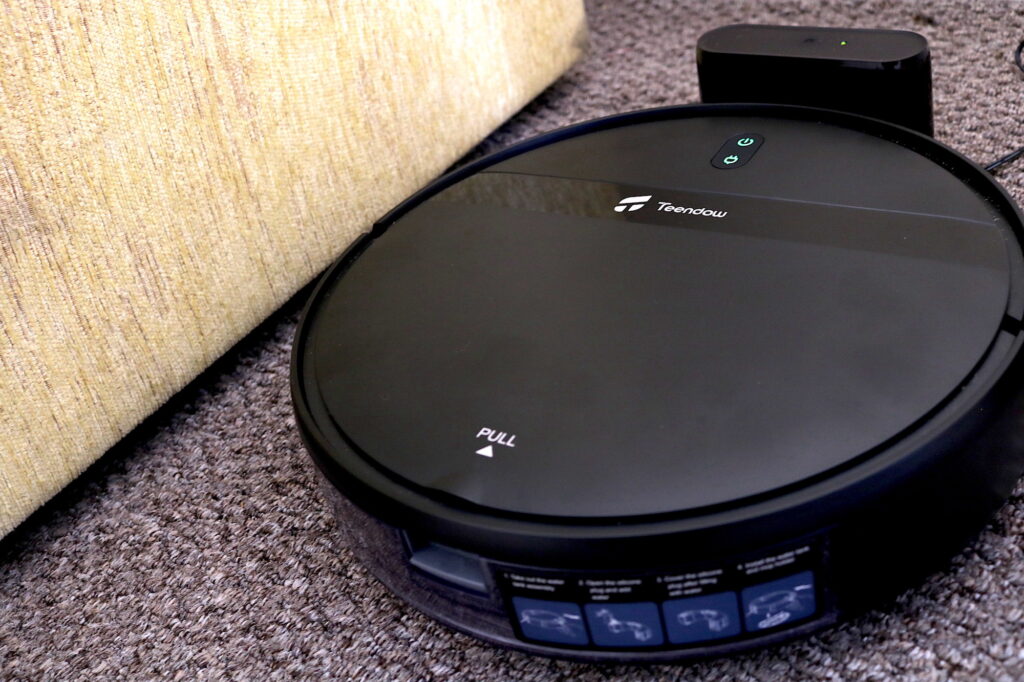 With a battery capacity of 2,600mAh, the battery performance is quite decent. With over 100 minutes of run time, I could clean a large portion of my home on a single charge. It's also smart enough to return to its charging base when the battery level drops to 20%, avoiding the inconvenience of manually recharging it.
Connectivity
Connecting the Teendow Robot Vacuum G20 to my home network was seamless and very straightforward. All I had to do was download the app from the Play Store, create an account, and follow the instructions in the user manual.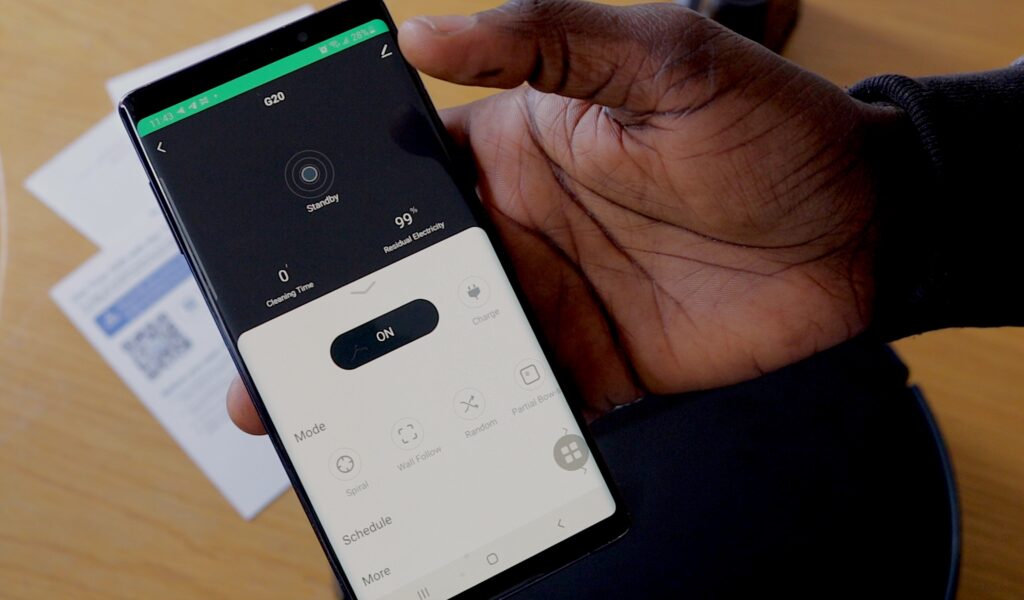 After pressing the power button for about three seconds to turn it on, pressing and holding the charge button for about 5 seconds gives a sound and initiates a fast LED flashing sequence on the robot cleaner. Again, press and hold this button for another five seconds, and the LED will start flashing slowly; this is when you can tap "Add Device" on the app to begin the pairing process.
The vacuum cleaner should appear as G20 Robot Vacuum. During the setup, you will be prompted to enter your WiFi password to continue, but the whole pairing process shouldn't take more than two minutes if the instructions are followed.
However, apart from the AP connection mode, there is also a Bluetooth connection mode.
With this done, I had complete control over its functions using the app beyond what the remote could do. If you feel convenient using only the remote, you will miss out on other features the app offers. For instance, you can set a schedule on the app to automatically start cleaning at 7:00 am every morning.
That being said, the voice command compatibility with Alexa worked flawlessly, and I enjoyed the hands-off approach toward cleaning. However, my favorite mode of operation remains the mobile app.
Cleaning Modes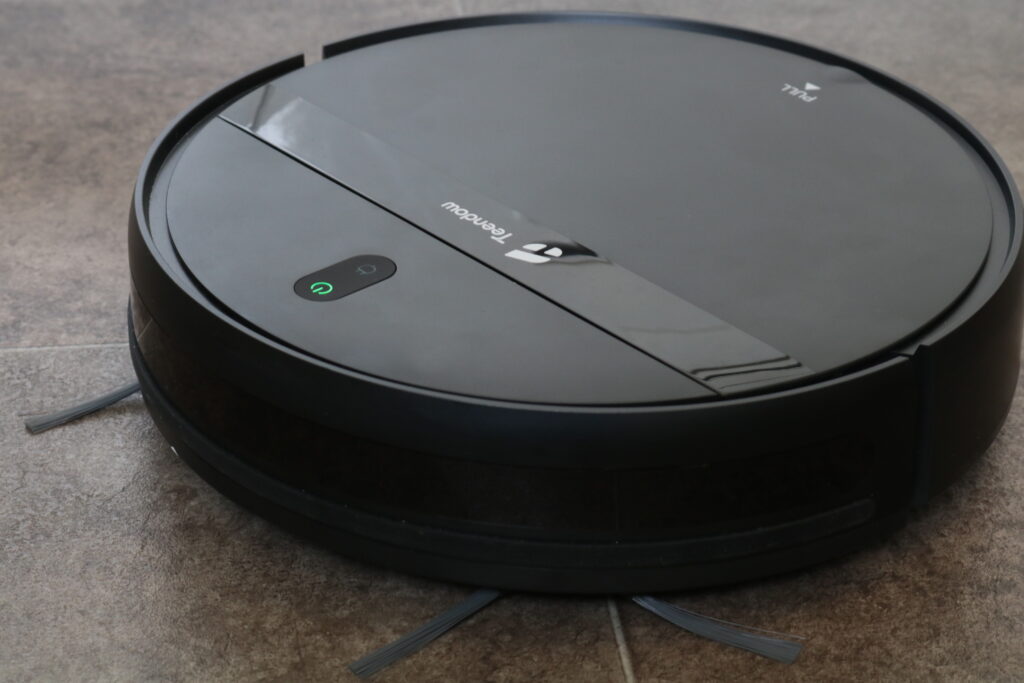 There are four different modes available: Auto, Spot, Edge, and Zig-zag. I found myself primarily using the auto mode, as it does a pretty good job of navigating my space and cleaning thoroughly. In fact, a lot of times, I simply put the robot cleaner in a room, lock the door to prevent it from wandering out, and let it clean the place for about twenty minutes, after which I might do the same thing for another room. This allows me to work on other things around the house.
The spot mode comes in handy when there's a specific area with a more significant amount of dirt or streaks; edge mode is perfect for cleaning corners and edges; and the zig-zag mode is ideal for large open spaces.
Drawbacks
As impressive as the Teendow Robot Vacuum G20 is, there are a few downsides I noticed. It struggles with dark-colored floors and has some difficulty identifying obstacles in its path. Also, as earlier stated, it's not suitable for medium to high pile carpets, limiting its use to hard/wood floors or low pile carpets. However, this did not come as a surprise as it is clearly stated in the product description on the official website.
Also, with a dust cup of only 200ml, users with a relatively larger space might need to empty the cup halfway through cleaning. Given that it is designed for smaller spaces, this may not be a significant deal-breaker for many.
While the robot cleaner does well in terms of obstacle avoidance when they're big enough, there are times when it might hit the not-so-obvious ones, like a furniture leg. This simply means that for better cleaning, it might be advisable to 'prep' the cleaning area to clear some stages. This has been found to be effective in my use case.
Also, the device does not feature a virtual map, meaning it does not show you where it has cleaned or where it is headed. High-end robot cleaners usually have this feature, and I think it is something Teendow might have to provide, if not with this G20, then at least with future high-end models.
Verdict
Despite these little drawbacks, it's worth remembering that this budget robot cleaner is not expected to have features you would get on high-end devices that cost six times the G20. It would be unreasonable to expect self-emptying and the rest of those nifty features on a $169 budget.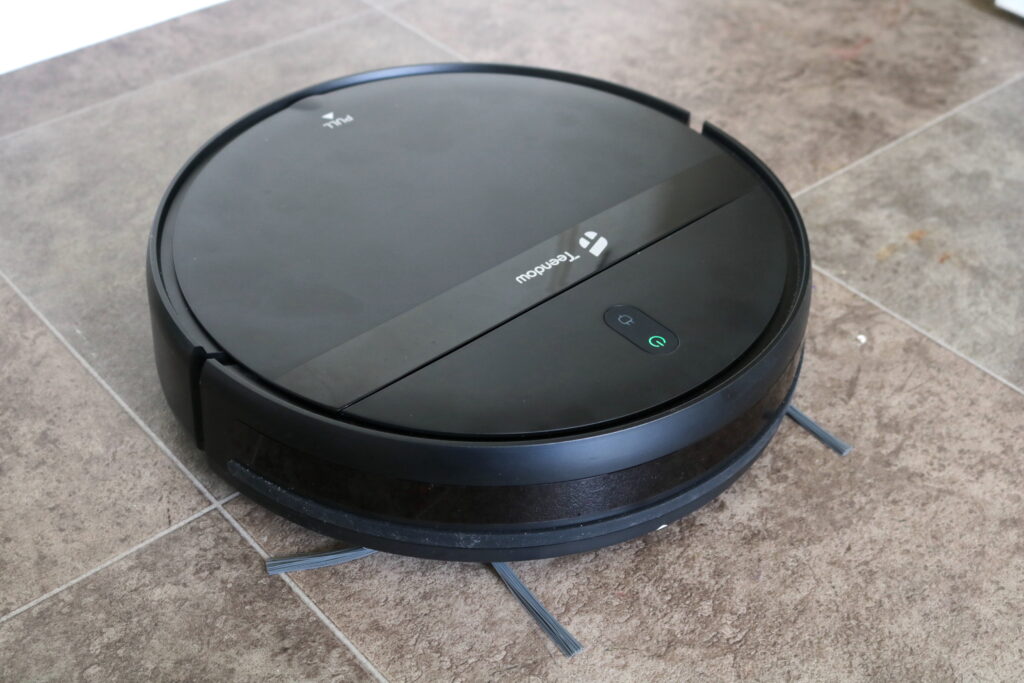 Teendow G20 does an excellent job keeping your floors clean. Its compact design, easy-to-use interface, and functionality mean that you get a lot of valuable features in one small cleaning powerhouse.
Its few limitations notwithstanding, this budget-friendly device deserves credit for its solid set of features — impressive battery life, decent suction power, smart navigation, and the added benefit of three control methods.
If your house meets the requirements, Teendow Robot Vacuum and Mop G20 is a worthy candidate to consider for your day-to-day floor cleaning. Be ready to be impressed by how much of your home cleaning you can automate. After all, coming back home to a just-cleaned living space is a pleasure few would refuse.
Whether you set it to run while you're at work or while you're home doing other chores, this robotic vacuum cleaner will help you maintain a cleaner, fresher home without breaking a sweat. Not a bad deal in my book.
Get 20% off…
If you're buying from the official website, you can use our discount code (CAPRIO20) to get 20% off.