A lot of people with GoPro cameras capable of shooting 4K videos choose to shoot in 1080p instead because it's easier and way faster to process. Even with the latest lineup of iPhones capable of shooting crisp 4k videos, some users still default to FHD because of this same reason.
Processing and editing 4K videos, or any video at all, doesn't have to be a nightmare. I personally use Final Cut Pro X to edit videos on macOS but not everyone has the skills to use such an advanced video editor. Adobe Premiere to isn't particularly easy to use, especially if you don't have much knowledge about video editing. Besides, these programs are not so friendly with low-spec computers.
Introducing VideoProc
VideoProc is a video processing software designed to let you work with 4K videos faster and with a lot of ease. I've been using this software over the last couple of weeks and it's been great. VideoProc isn't just a program for a single purpose, it's an all-in-one video tool that gives you every feature you need to process 4K videos.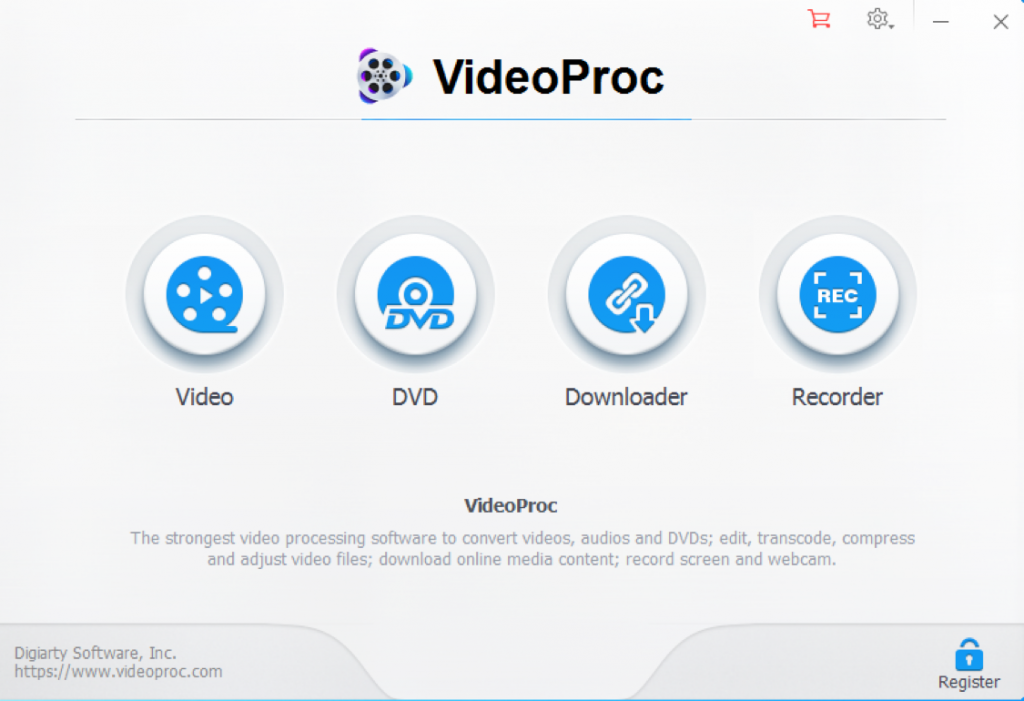 If you been having issues processing 4K videos because of the huge size or lack of necessary skills to work with advanced video editors, VideoProc is meant just for you. With VideoProc, you can process 4K videos with full GPU acceleration.
I have to make one thing clear, VideoProc is not a replacement for Final Cut Pro X or Adobe Premiere, but if you need to do things like a super fast conversion or simple edits on 4k videos, this is what you need.
Video conversion & compression
4K videos shot with a GoPro camera or an iPhone can be pretty hefty in size. This makes it difficult to share in its raw state. With VideoProc, you can format such videos to a filetype playable on all devices and compress them without quality loss.
Before now, I've been using WinX HD Video Converter and it's been doing a pretty good job, but VideoProc take it to a different level. With this software, you get all the basic features you would expect from a regular video converter, but the acceleration makes it really.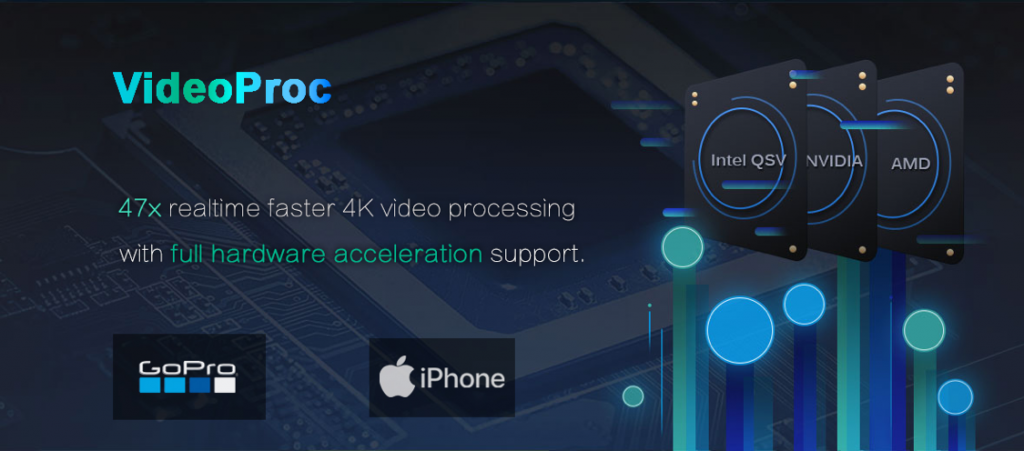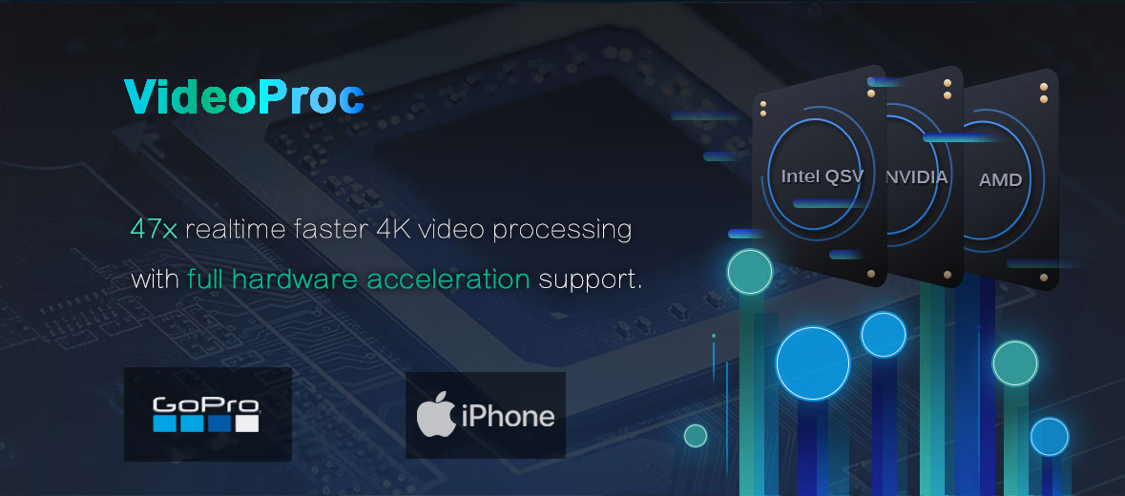 With its level 3 full GPU acceleration, VideoPro makes your conversion really fast by utilizing your graphics card fully for the process. In my test, I was able to convert and compress a 1.2GB H264 video file to a 427MB HEVC file in just about 15 minutes. With full hardware acceleration, VideoProc gets the job done super-fast without wasting your time.
Using my GPU for the acceleration, the only issue I faced was the fact that I couldn't decide which GPU to use. My machine has an integrated Intel HD Graphics 630 with 1.5GB RAM and a dedicated AMD Radeon Pro 560 with 4GB RAM. The program used the less powerful integrated graphics card instead and still delivered.
However, I wish I was able to use the AMD graphics card instead to see how faster the conversion speed could've been.
Edit 4K videos with ease using VideoProc
With its inbuilt video editor, VideoProc lets you do a lot of things with your video. You don't necessarily need to pass your video through a comprehensive video editor like FCP X to make some little edits here and there.
Filters & effects: Videos shot with our cameras don't always come out as we hope. VideoProc lets your video look better by giving you a tool to add predefined filters and effects. In Addition, you can also adjust properties like saturation, brightness, gamma, and contrast.
Crop: VideoPro lets you crop your video, letting it look exactly the way you want.
Deshake: For GoPro videos, VideoPro lets you "de-shake" videos and stabilize it to make it look better.
Split & Merge: You can split a video into several parts or merge several short videos into one big clip.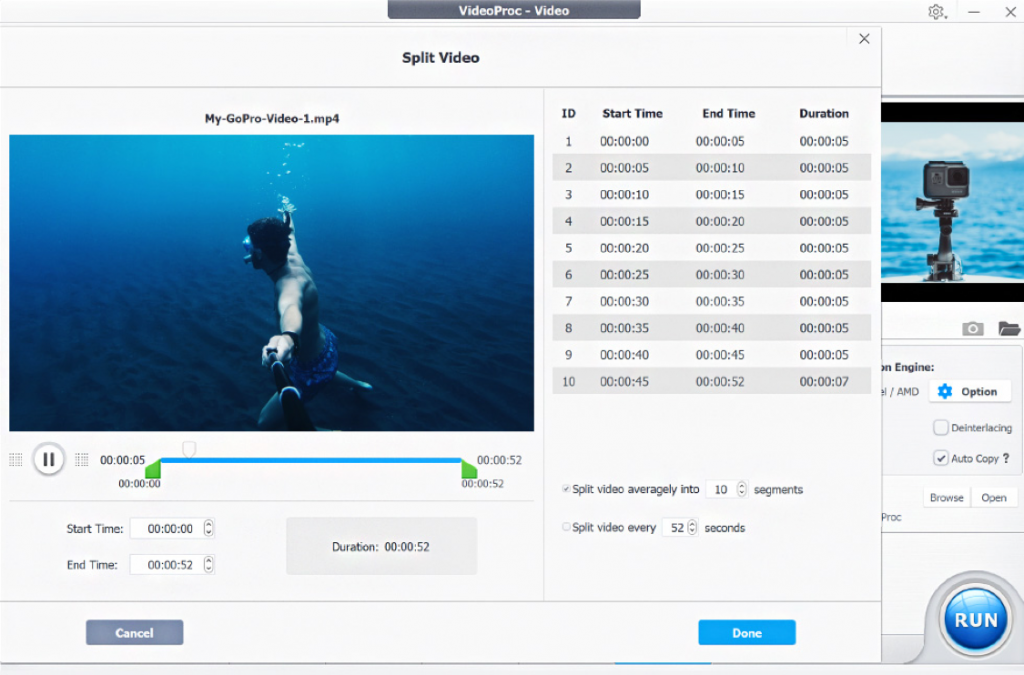 Mirror & flip: Think a video would look better flipped? VideoProc does this.
Add subtitle: You can add your own subtitles to videos
Create GIF: If there's any part of your video you want to turn to an animated GIF image, VideoProc handles it effortlessly.
Other available tools include:
MKV maker
Video rotation.
De-noising
Fisheye
Subtitle export
Online video downloader
With VideoPro, you can download videos from thousands of websites online. All you need to do is key in the URL of the video and you're good to go.
You can download your Watch Later list on Youtube or even a whole playlist. And it's not just YouTube, VideoProc supports Facebook as well as over 1000 other websites.
You can convert and format the downloaded video for most popular devices.
DVD Ripper
VideoProc eliminates the need to get a separate a separate program like WinX DVD Ripper to rip your DVDs. It has an inbuilt, fully functional DVD ripper that works just great.
Screen / Camera Recorder
It doesn't matter whether you already know how to record you computer screen with Quicktime on macOS, VideoProc does this and even lets you capture with the camera at the same time.
This is perfectly ideal if you're trying to record a tutorial video with your face showing at the bottom right or bottom left of the screen.
Get VideoPro Now
Before you pay for this software, you have the chance to try it out and see if it's really what you want.
You can download and get a VideoProc trial code here>> Win GoPro Hero7 from VideoProc
Right now, you can win a GoPro Hero7 and accessories if you already use this software.
Step 1. Visit GoPro 4K Video Processing page>> .
In this page, you can also learn the top 6 ways to process and resize GoPro 4K video without quality loss.
Step 2. Enter your name and valid email as an entry.
The developer will contact the winners by email, so you should fill a valid email to join the sweepstakes.
Step 3. Click "Count me in", more chances are prepared for you to win GoPro 7.
You can share this event on your social channels to get more entries. The winners will also be announced on VideoProc's official Facebook and Twitter.