No matter how much you prepare for it or how protected you think your PC is, data loss is bound to happen and most of the time, you don't even see it coming. Data loss may not always be attributed to virus attack, there are different scenarios that can lead to this. I've witnessed someone mistakenly format a backup partition thinking it was a pen drive and even something as simple as a resizing a partition can be catastrophic, leading to loss of important documents. This is why it's important to backup regular to an external hard drive or the cloud but the truth is that most of us tend to forget this and this is where the need for an efficient data recovery software comes in.
Recovering Lost Files with iSkysoft Data Recovery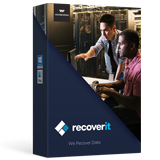 If you own a PC, it's important to have a data recovery software installed; it's almost as important as having an antivirus running. iSkysoft Data Recovery has been proven to be very effective when it comes to getting back files you think you've already lost. This software wouldn't be considered a good data recovery software if it deals just with your local drive alone, you can recover lost files on any external storage devices including memory cards such as SD card and CF card, USB flash drive, digital camera and more. Basically, it can be described as the most complete data recovery software you can find.
So, what makes iSkysoft Data Recovery different? It has to be made clear that any software can only be set apart from others in the same category with features it's got to offer and how it can effectively handle issues it was designed for in the first place. iSkysoft Data recovery was designed with the end user in mind and because of that, this powerfully engineered software was masked with a simple user interface that is intuitive enough to be used by anyone, even if you're not a geek.
Key Features
Risk-free recovery: The recovery process doesn't tamper with your hard drive or external storage device in any way. This means it is safe to use as it only scans your hard drive, it definitely won't remove or change anything whatsoever.
A wide range of supported files: Whereas some recovery software programs support only a limited number of recoverable file formats, iSkysoft Data recovery supports all kinds of file formats. You can recover images, videos, audio files, document files, emails, archive files and over 500 other file types.
A wide range of supported devices: As mentioned earlier, this software doesn't just recover lost files on your drive, you can recover deleted photos on your digital camera, documents, and other stuff on a formatted USB flash drive, deleted files on your smartphone's SD card and more.
Ease of use: No matter how powerful the software is, it becomes useless if it's hard to use and too complex for a regular user. With just two steps you can perform a data recovery and the preview feature that comes with this great tool, you can choose files you want to recover.
Compatibility and System Requirements
Technically, iSkysoft data recovery runs on almost any Windows PC and fully supports Windows 8. It's compatible with Windows 8.1/8/7/Vista and XP.
Also, if you're using a Mac, there's a version for Mac that equally works great.
Of course, you can try this software before buying as the trial version allows you to recover up to 100MB of lost data. At the moment, a full license costs only $39.95 and you can purchase on the official website.