With several video formats available, the reality is that most are incompatible with a lot of devices. For instance, Apple's default MOV video format is usually not playable on certain devices. Recorded videos on the iPhone are usually in this format. Some cameras and drones, too, have adopted the MOV filetype as their output format of choice. But unfortunately, a lot of people have issues when trying to play or edit videos in this particular format.
While streaming is the most popular way to consume content these days, some of us still prefer to plug a flash drive directly into the television to watch locally downloaded videos. However, some of these videos are often unplayable because they are in a format the TV is unable to decode. Quite a lot of televisions and old media players are unable to play MOV files. If you're also having issues importing your MOV vides to your preferred video editor, the only reasonable solution is converting such MOV videos to MP4 format.
The generally accepted video format that seems to be easiest to work with remains the MP4 format. This is why many people prefer to convert MOV videos to the MP4 format for better playability and editing.
So, what's the best program to convert MOV to MP4?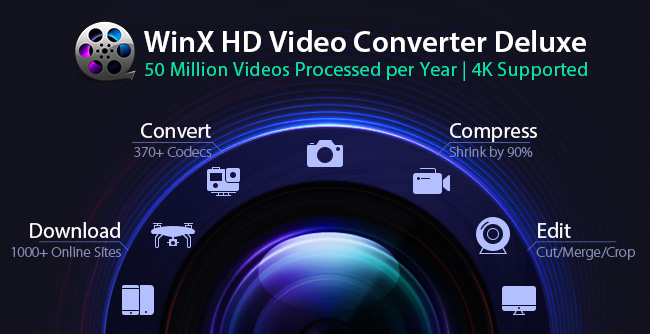 Personally, I've used quite a number of video converters in the past but I've always leaned towards WinX HD Video Converter Deluxe due to several reasons. Apart from simply converting MOV to MP4, it also has the capability to compress video files without necessarily reducing the quality. A 4K video can be reduced by up to 90% in size.
With its GPU acceleration, video conversion is greatly sped up without burdening the CPU. WinX HD Video Converter is estimated to be 47x times faster than an average video converter.
Apart from just converting MOV files to MP4, WinX HD Video Converter Deluxe supports a wide range of video formats such as the popular HEVC codec, MKV, AVI, WMV, M2TS, HEVC/H.264, and more. It supports over 370 video format/codecs inputs and about 420 output formats. Besides, instead of worrying about the right format to choose for a specific device, you can simply select the target devices from the huge list available and the right format and resolution would be automatically chosen.
If downloading online videos is your thing, there's a chance you have a bunch of browser extensions installed at are unreliable. WinX HD Video Converter fixes this headache by including an online video downloader that works every time. Apart from the popular ones we all use, it supports over 1,000 video sharing sites.
As a bonus feature, there's also an inbuilt video editor that does simple edits.
How to convert MOV to MP4
1. Click the Video button to select your MOV video.
2. Select "MP4" in the output profiles. H.264 is preset as the video codec.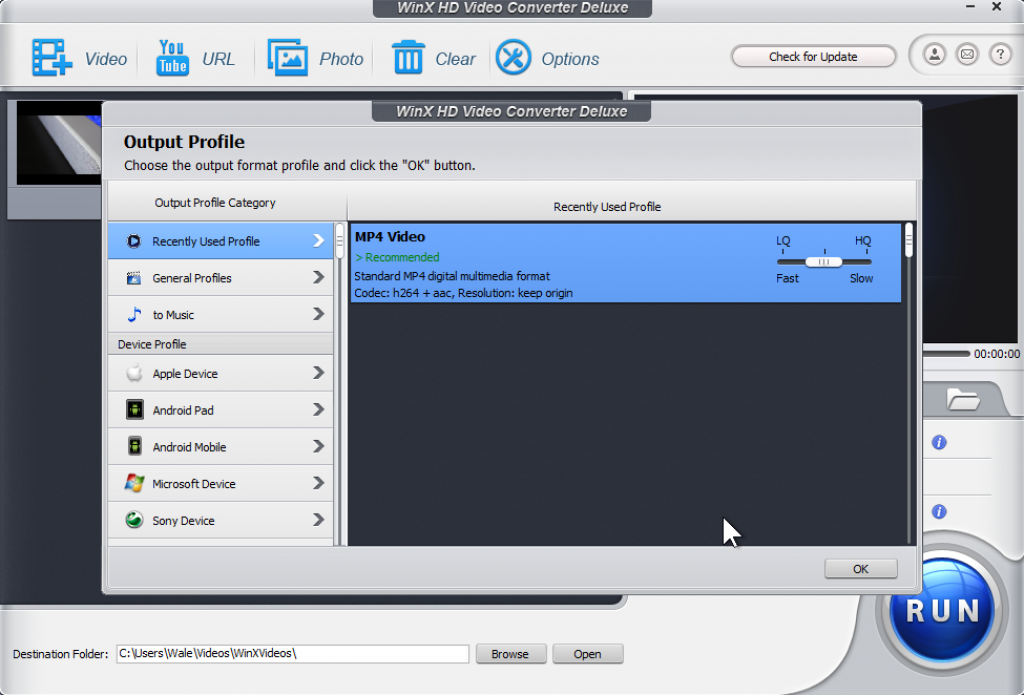 3.  Hit the "RUN" button to start the video conversion.
Download WinX HD Video Converter Deluxe
Before buying this HEVC video converter, you have the chance to download the trial version and check out the features first. There's an ongoing promotion that lets you buy the program for half the price. Download WinX HD Video Converter free trial & get special discounts.