Finding and engaging an email marketing software is more often not the primary concern of any online marketer. Although there are a number of software programs available in this niche, it is difficult to trust one without firsthand experience. So, if you are also facing the dilemma, then you are at the right place.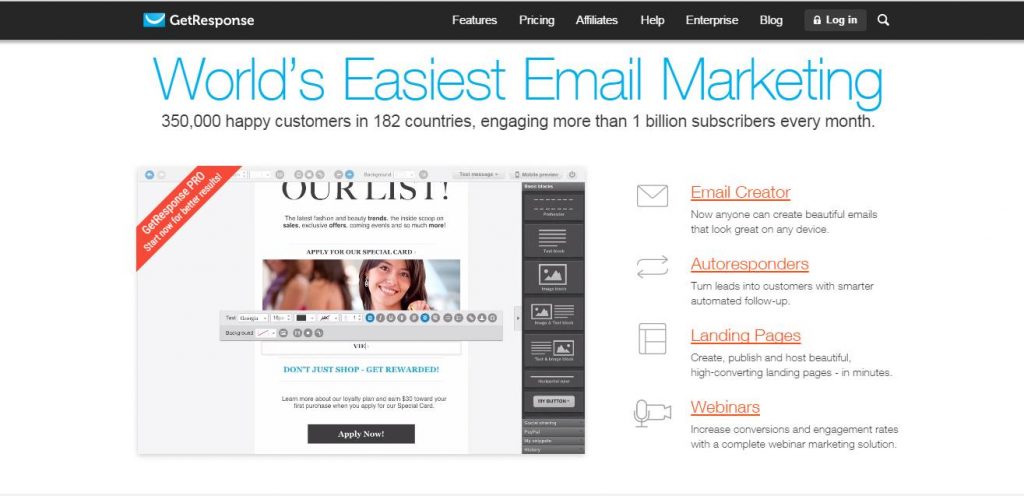 Today we are reviewing one of the leading email marketing programs in the market, GetResponse. The software has been in the market for 15 years now and has a good customer base too. So, let's see whether it is the perfect fit for your business or not.
Features
GetResponse is definitely feature-rich at the first glance. There are various GetResponse Exclusive features too.
Email builder: GetResponse has a pretty simple email builder that you can use without any IT help too. The software offers over 700 templates that you can customise to build your e-mailer. You'll get templates in various categories to meet your requirements. Templates designs are also very chic and attractive. With the drag and drop editing tools you can customise them quite easily. While most email marketing software offer pre-designed templates, GetResponse offers you more options and a far easier editing interface. Whereas these pre-designed templates are perfect for businesses that have limited IT help, larger businesses or pro-marketers can build their unique templates too with HTML coding.
Landing Page: This is a GetResponse exclusive feature. While with other email marketing software programs you'll have to purchase a separate landing page creator, GetResponse offers an advanced landing page builder with no added cost at all. The landing page creator features over 500 templates in various categories. You can simply use the drag and drop editing tools and customise them to suit your website. You can create more and one landing pages and set them up for A/B split testing too to optimise conversion. In case you want to build your own landing page, you can do that with HTML coding. Apart from getting a highly advanced landing page creator with no extra cost, here you can do seamless integration too. GetResponse landing page builder lets you integrate over 100 third party software too.
Web forms: GetResponse lets you create attractive and innovative web forms and squeeze pages to grab new leads. Be it exit pop-up or opt-in forms, you'll find over 500 pre-designed templates to create interactive and grabbing web forms. Same as e-mailer and landing page, you can create your own unique forms too with HTML coding.
Auto Responder 2.0: This is one feature that can be hugely beneficial for smaller businesses and start-ups. With this feature you can pre-schedule your mailers for various days and times. Auto responder also works in fostering customer relationship by sending emails on special days such as birthdays and anniversaries. So, even if you do not have enough man power to run your campaign, you can simply pre-schedule it. Although other software programs in this category offer auto responder feature, GetResponse auto responder 2.0 is definitely more advanced.
Responsive Design: This is an exclusive feature that GetResponse offers. The feature allows all web pages — be it mailer, landing page or web forms — to be auto responsive. This means, the pages adjust themselves according to the viewing platforms. So, your pages look their bests no matter whether your customer is using a laptop, a smartphone or a tablet.
Apart for these main features, GetResponse offers e-mail analysis, list booster, webinar and inbox preview too.
With these features, we found GetResponse to be one of the best in the market today. Apart from the fact that the software offers numerous features, all the features on the same platform ensures seamless integration too. Thus, GetResponse is perfectly suitable for small as well large businesses.
Price
Considering the numerous features GetResponse offers, the price tag is pretty easy on the pocket. Here are GetResponse pricing plans.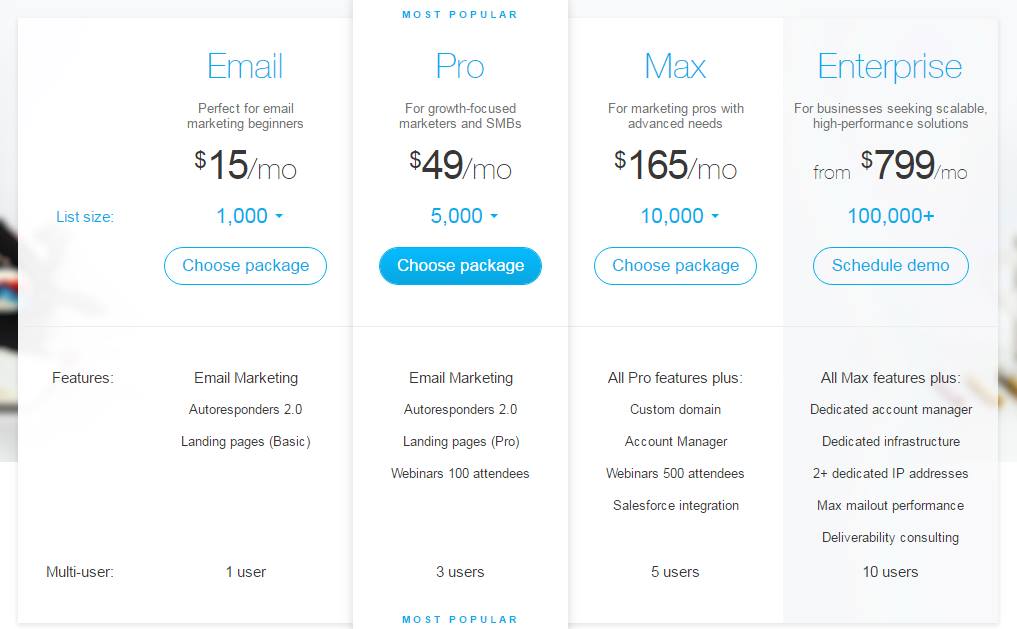 As you can see here, the basic plan starts from $15 only. There are four plans, so you can choose one according to the size of your business. The price is amazingly reasonable on its own. Moreover if you consider the advanced features such as Landing Page creator, responsive design etc, the price tag is pretty much unbeatable.
Final Verdict
Considering the fact that GetResponse offers many advanced features that other email marketing software do not and the amazingly affordable pricing plans, we would recommend you to go for GetResponse, no matter the size of your business. The software is equally suitable for both one man start-ups and large companies.
You can check out the features on your own by getting the 30 days free trail plan from the company. Simply register with your name and e-mail id and see for yourself how Getresponse can change the face of your business.