After the long wait, what appears to be the most anticipated phone of the year was released on September 12 when iPhone 5 was announced at the Apple Event in California. Based on feedbacks and comments all over the internet, an lot of users were disappointed because there seems to be nothing special about the phone. Some even argued the company misses Steve Jobs and the phone fell below expectation, which is rather unusual of Apple products.
Despite the negative feedback, over 2 million iPhone 5 were sold in 24 hours. This clearly shows that despite the tight competition, Apple still has a tight grip in the mobile market. A lot of features expected by users were absent but Apple is Apple. You either take it or leave it and even after all these years, the attitude still continues and will always continue. According to Schiller when questioned about lack of wireless charging on iPhone 5, "Having to create another device you have to plug into the wall is actually, for most situations, more complicated."
iPhone 5 definitely came with a couple of new features which include a slim build, a faster processor and a new operating system among others. Despite these, there are a few other phones that can be compared to iPhone 5 in terms of specifications and features.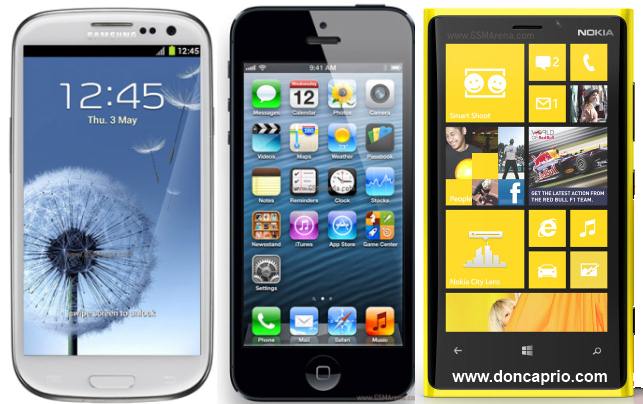 Nokia Lumia 902 running Windows 8 looks like a very promising device with a 4.5 inch AMOLED screen, a 8.7 MP camera and a 1.5GHz dual-core Qulacomm Snapdragon S4 processor. This device will probably bring back Nokia from finally disappearing from the smartphone market as they're unable to meet up competition in the past couple of years.
AD: Lumia 920 Displayschutzfolie
Samsung's most powerful phone so far, Galaxy S3 also is a close competitor to iPhone 5. With features envied by iOS users such as wireless charging, SD card storage, NFC, user replaceable battery and lots more, it's bound to convert some iOS users to Android fans and this is a real fact.
Let's take a looks at what each of this three phones has to offer:
Apple iPhone 5
Samsung Galaxy 3
Nokia Lumia 920
Operating system
iOS 6
Android 4.0
Windows Phone 8
Display
4-inch IPS LCD; 1,136×640 pixels, 326 ppi
4.8-inch HD Super
AMOLED; 1,280×720 pixels, 306 ppi
4.5-inch AMOLED; 1,280×768 pixels, 332 ppi
Price
$199.99, $299.99, $399.99
$199.99-$329.99, depending on carrier
Unannounced
Carrier
Sept. 21: AT&T, Sprint, Verizon
Now: AT&T, Sprint, T-Mobile, U.S. Cellular, Verizon
Unannounced
4G LTE
Yes
Yes
Yes
Camera
8-megapixel, 720p front-facing
8-megapixel, 1.9-megapixel front-facing
8.7-megapixel, 1.2-megapixel front-facing
Processor
Proprietary A6 CPU
1.5GHz dual-core Qualcomm Snapdragon S4
1.5GHz dual-core Qualcomm Snapdragon S4
Memory
16GB, 32GB, 64GB
16GB or 32GB; 2GB RAM
32GB; 1GB RAM
Expandable memory
No
Up to 64GB
No
Battery
Capacity TBA (Talk time up to 8 hours on 3G); embedded
2,100 mAh, removable
2,000 mAh, embedded
NFC
No
Yes
Yes
Weight and thickness
3.95 ounces, 0.3 inches
4.7 ounces, 0.34 inches
6.5 ounces, 0.42 inches
Colors
Black, white
White, blue, red (AT&T); Also, globally: black, brown, gray
Black, white, yellow, red, gray
Despite Samsung having the largest screen size, the resolution and clarity doesn't meet up Nokia Lumia 920's. Also, iPhone 5 has the smallest screen of them all and this may be a little disadvantage. Despite these, security on iOS 6 is guaranteed and Apple's solid, strong design is still undisputed.
The best phone can only be determined by the end user and these competition we see in the smartphone market is to the average user's advantage. Just because I love anything Apple doesn't mean it's the best but I love iPhone and would rather go for iPhone 5. Nokia Lumia 902 looks like my second choice. The simple fact is that your personal taste determines your choice and what serves you well is the best for you.
Now, based on the OS you prefer, the specs above, features each of these phones have and your own good judgment, which one would you rather buy? iPhone 5, Samsung Galaxy s3 or Nokia Lumia 920?