The only reason I was using Safari was because I was stuck with it. It wasn't that I couldn't change it, I just didn't change because I knew there's no iOS browser that's as fast as Safari… Apple made sure of that. At the moment, I use Chrome on my device and ever since I installed some Cydia tweaks, it has been a whole different experience. Apart from Chrome's design which I prefer to Safari's, data synchronization across devices is one thing that puts Chrome ahead.
Apple's Little Trick
Apple intentionally restricts the use of Nitro Just-In-Time JavaScript engine in other web-oriented applications like Chrome, Mercury, Dolphin, Facebook, Twitter and others. By default, this Nitro thing is only available to Safari, iBooks and other Apple Apps. Why? Well, I have no idea why Apple decides to make it that way but this is the main reason why it seems Chrome isn't as fast as Safari. Here is the screenshot of a test I performed at speed-battle.com on both browsers: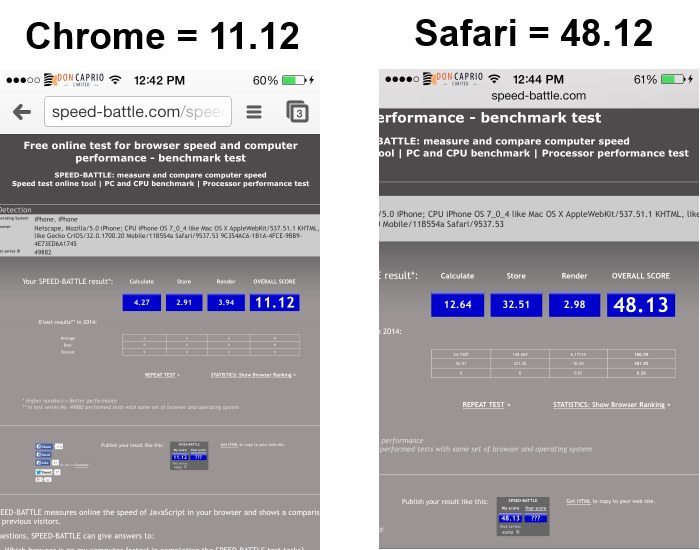 As you can see, Safari beats Google Chrome hands down. If you're wondering why Firefox never developed an iOS version, it's because of the controversy over the Nitro JIT JavaScript engine which Apple is guarding jealously. Also, Firefox isn't coming to iOS anytime soon because Apple restricts Mozilla from using it's own web engine.
Nitrous: A Must-Have Cydia Tweak
At the moment, the last test I ran on my device showed this awesome result and obviosuly, Chrome has a much better score than Safari.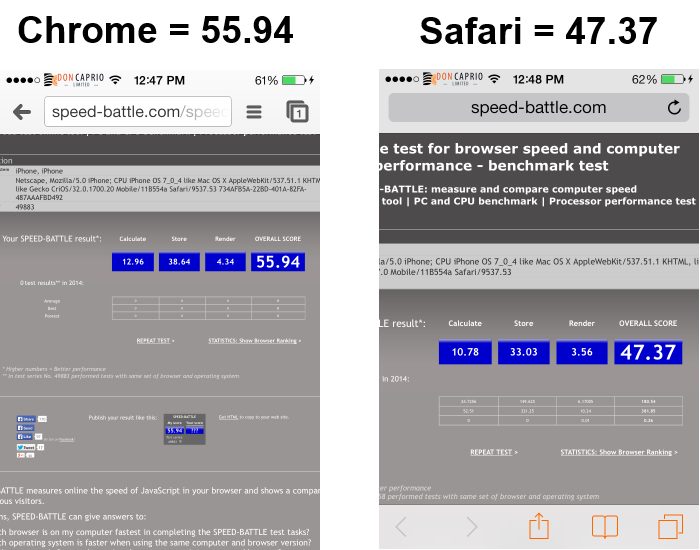 This is only possible with Nitrous, a Cydia tweak that unlocks the Nitro JS engine to make rendering webpages much faster. Even if you don't use Chrome, this tweak is still important if you use Facebook app, Twitter or any other web-oriented app on your devices that makes heavy use of JavaScripts. This tweak is available for $0.99 in the Big Boss repo but you can try it out before buying from the repositories listed in this article.
Chrome Downloader Plus
If you're a heavy downloader like me, you may find it rather uneasy surfing the net without being able to download. With this useful Cydia tweak, you can be certain you can download anything from the internet with Chrome browser on your iPhone, iPad or iPod Touch. The Chrome plugin has many features and it can be described as the complete download manager for iOS.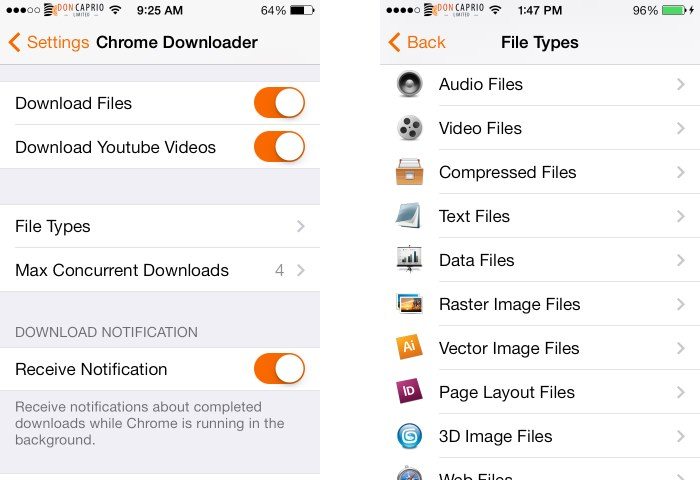 From audio files to Window executable files, this tweak lets you download anything and you can even set custom file types for those not on the list. Also, the import feature lets you easily transfer downloaded songs to your music library, images to picture gallery, videos to Video app.
Additionally, you can download videos from the world's most popular video sharing website…
This tweak is available in the Big Boss repo for $3 but you can still try it out before buying from the repositories listed here.
Browser Changer
Tired of opening links in Safari? This tweak takes care of that and lets you set your default browser. Since you're gonna be using Chrome a lot, it only makes sense setting it as your default browser. A search in Cydia should bring it up. It's available for free.
Bookmarks On The Go
Bookmarks On The Go is not a Cydia tweak but an app that's available in the App Store for free. If you use Firefox on PC, you definitely need this because it lets you sync your open tabs and bookmarks. This way, you can continue your PC browsing session right on Chrome for iOS.