Microsoft's another innovation, Windows 8.1, is bringing various improvements that users missed in its predecessor, Windows 8, the first OS to create a magical impact on users with its stylish interface and engaging apps in addition to great performance. Microsoft has released its preview version that is continually receiving positive response. With new features, Windows 8.1 is a few steps forward than Windows 8. The post will describe the System Image Backup feature of both the operating systems. Let us look at the need of this feature first before exploring it.
Also read: Microsoft ReFS Review: Features and Things to Know
What could be more disgusting and worse than losing access to all the data stored on the computer? You store personal as well as official information on your PC with a belief that all your stuff is safe, forgetting that adverse situations just aim to ruin everything. It is true that the latest systems provide almost everything you desire; however, there are situations that you might not be able to control. As a result, loss of data occurs. In this case, it is just wonderful to have a copy of the entire system so that you can restore data if problems occur. This is where system image backup performs extraordinarily well. In Windows 8.1, the graphical interface to create images of the system is removed; however, images can be created by using PowerShell cmdlet.
System Image Backup on Windows 8

Let us learn how system image backup can be created in Windows 8. On the Start screen, when you type 'restore', various options appear as shown below.

If you have hands on experience with Mac, the Time Machine utility takes automatic and regular backups; the File History feature on Windows 8 works similarly. It also allows you to take the backup to external device. On the other hand, Refresh is responsible for restoring the system to default settings; it saves all the apps and other items that you got from Windows store; however, all the items downloaded from Internet or other resources will be removed. That means everything downloaded from other than Windows Store will be lost. Fortunately, there is another option that saves an image of your Windows 8 system. On the Start screen, when you look for File History, there is a hidden option Windows 7 File Recovery in the left side of the bottom of the screen as shown in the image below:

When you click Windows 7 File Recovery, it allows you to take the backup of entire PC to a remote or external drive, whichever is connected to your system. If you have created a successful System Image, it does not require you to enter the license key again, if you want to restore from it. To access the restore screen, click on PC Settings, click 'General', and then click 'Advanced Startup'. Here, select 'Troubleshoot', click 'Advanced Options', and then click 'System Image Recovery'. It will restore everything at its place and your system will look as it was before you backed up the data. This is how system image backup allows you to create a backup image and protect your data.

System Image Backup on Windows 8.1
Before you initiate the process on Windows 8.1, connect an external drive. Make sure that the drive is large enough to contain the image. You can also use a shared drive to take the backup on it. Now, use administrator account to open PowerShell window. You can do it by pressing Windows key along with X and selecting Windows PowerShell (Admin). Alternatively, you can use Start screen to search for PowerShell. Once found, right-click it and click Run as Administrator.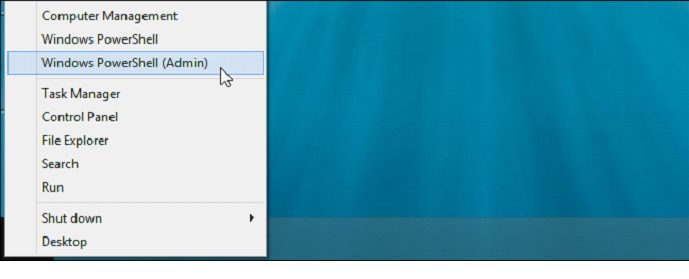 When PowerShell window is opened, run the command similar to the following, as per your requirement:
wbAdmin start backup -backupTarget:D: -include:C: -allCritical -quiet

The command will take the backup of C: drive to the D: drive. You can change the target drive to the one of your preference.
If you want to back up multiple drives, you need to run the command similar to the following:
wbAdmin start backup -backupTarget:D: -include:C:,E: -allCritical -quiet

Or, if you want to back up to a network drive, run the following and make changes according to your requirement:
wbAdmin start backup -backupTarget:\remoteComputer\Folder -include:C: -allCritical -quiet

In order to view the command options, you can also use wbAdmin start backup with no switches. Note that it will take some time, and once done, it will show a folder named 'WindowsImageBackup' that contains all the backup images on the drive you selected.
Also read: 5 Simple Ways to Prevent Files or Data Loss on Your Computer
However, you cannot restore system image backup in Windows 8.1 because if you do, it will overwrite the entire system. If you want to restore system image backup, use system repair disc, installation media, or recovery drive to boot. Insert any of these in your computer to reboot it, and then click Repair your computer. Next, access troubleshooting options by clicking on 'Troubleshoot' tile and clicking Advanced options.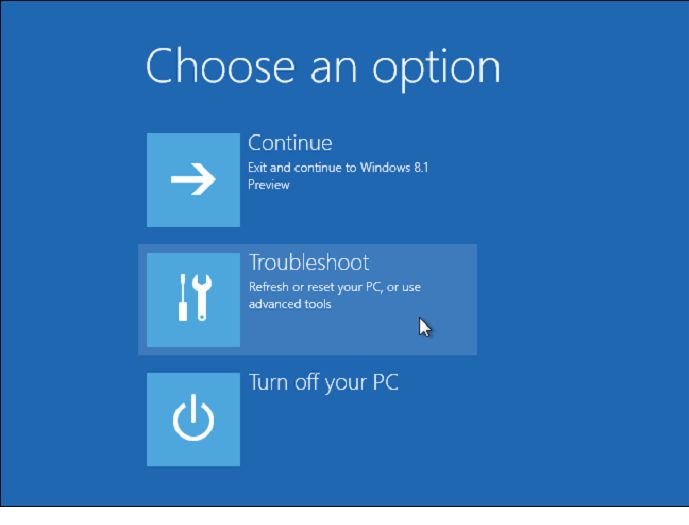 Now, click 'System Image Recovery', it will re-image your system from system image.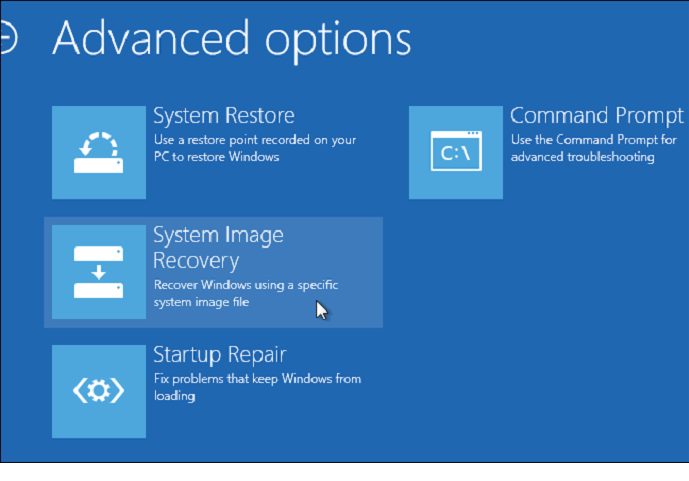 To do so, you need to connect the drive where you stored system image backup to your system. Since restore is not a direct functionality in Windows 8.1, a normal user will need to use File History, Reset, and Refresh features of Windows 8. However, the restore process discussed above, can be used by hi-tech users or administrators.