Computer insecurity has been widely common since the importance of computers became globally known. Many security upgrades were taken to ensure maximum security on personal computers, yet security breach is still at large and it seems like it can never be eradicated. Computer insecurity has brought about countless chaos and frustrations to many victims including identity theft, virus attack, loss of files, private information theft,  and more. To most computer users, "only computer professionals can guarantee maximum security over their computer," a statement I consider wrong due to the  fact that those so-called computer professionals use the same operating system as any other user. They only take some steps to secure their computers from any type of insecurity. I have shortlisted some basic steps I know if wisely taken can prevent your computer from any type of insecurity.
Must Read: How to Speed up your Computer by Using your Brain
User Account Password
This is one of the best ways to protect your computer from any unwanted use, this kind of security requires any user to enter a password before the operating system is started , granting access to us the computer. Some users neglect this basic security and leave their computer unsecured, thereby giving access to uninvited guest to your computer. Just follow these steps to setup password for your account:
Go to Control Panel > User Account and Family Safety > User Accounts > Create Password for your Account. Now create a unique and strong password when you through click on create password.
Tips: I strongly recommend you to password your Administrator account for maximum security. If you're using Window 8, another option is to use Pattern security Lock.
Hide Files and Folders
This is the easiest way to hide private files and folders on your computer: To do this first ensure you haven't enabled viewing hidden files and folders.
Must Read: 7 Ways to Make Your Computer Last Longer
"Go to Control Panel > Search for Folder Options > Click on Folder Options > Click View tab > check "Do not show hidden folders".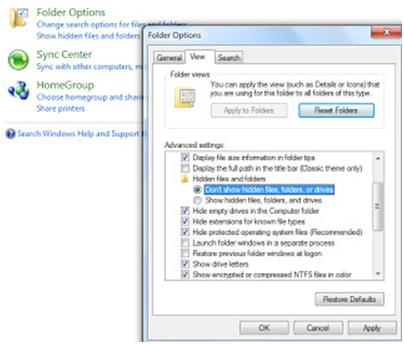 Then right click on any file you want to hide and select Properties. If it is a program or any other file, you can change it right there, but if you want to hide a folder, click on the Customize (last tab on properties), at the bottom click on Change Icon. First you will see all the standard icons for the PC, but towards the middle there are 3 blank spots, when you click on any one of it, the icon folder will be invisible.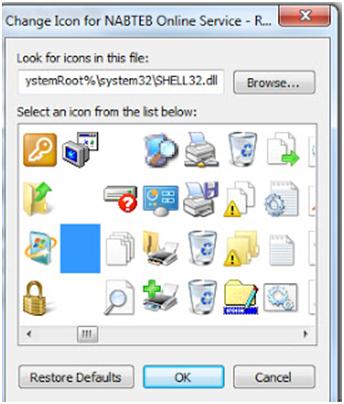 Right now you've got a file with a name but no icon, to hide the file name right click on the folder, delete any existing file name, Hold ALT and enter 0160, release the ALT key and press Enter, now you have a file with no icon and no name.
When you highlight it all that shows up is the highlighted empty name. To make it 100% invisible, right click on it and hit properties, check hidden on the bottom of the file, it will ask you if you want to apply to all files and subcategories, hit yes, and you're done.
All the steps above are taken using Window 7, however if you are using different OS, the steps are also the same with little modification.
Secure System Setup Program
Many Operating Systems allow you to enter password before you can gain access to computer system setup program. Someone trying to use your PC may be wise enough to override user account password by deactivating the user account protection from setup program, but if you wise enough to password your Computer System Setup or BIOS, this will limit the chance of unwanted users to gain access to your computer through setup page.
Must Read: How to Maintain Your Hard Disk & Avoid Sudden Crash on Windows
Good Antivirus
Antivirus software is designed to deal with modern malware include viruses, worms, Trojans, keyloggers, and rootkis to ensure security. Over the internet you need to find and install  good antivirus software for your computer, Avast and Bit Defender are very good antivirus programs but I will recommend Bit Defender. It's always good to have an updated version of whichever antivirus you're using with the virus definition up to date.
Install Security Applications
There are many Windows applications out there to protect your computer even on the internet. I can't state all of them but you need to run good anti-malware and anti-spyware programs if you use your computer to surf the web at all, many websites exploits weakness in browser's security and place malicious code on your computer without you knowing about it. You can search on Google for good and better security applications.
Okay Your Turn!

Do you know any better way to ensure security or to keep off unwanted users on computers, pls do share with us in the comment box below.