Subscribe on YouTube I decided to upgrade my 13-inch MacBook Pro 2011 to the 15-inch 2017 model, crossing the $2,000 mark on any gadget for the first time. Even though I've had to unscrew it a few times this year, the older MacBook Pro still works perfectly but an upgrade was necessary as the computer didn't seem capable of some tasks any longer.
I opted to go for this top-of-the-line MacBook Pro for one major reason: the specifications seem future-proof and I shouldn't need to upgrade in the next three to four years. Only time will tell whether this is true though.
Specifications Overview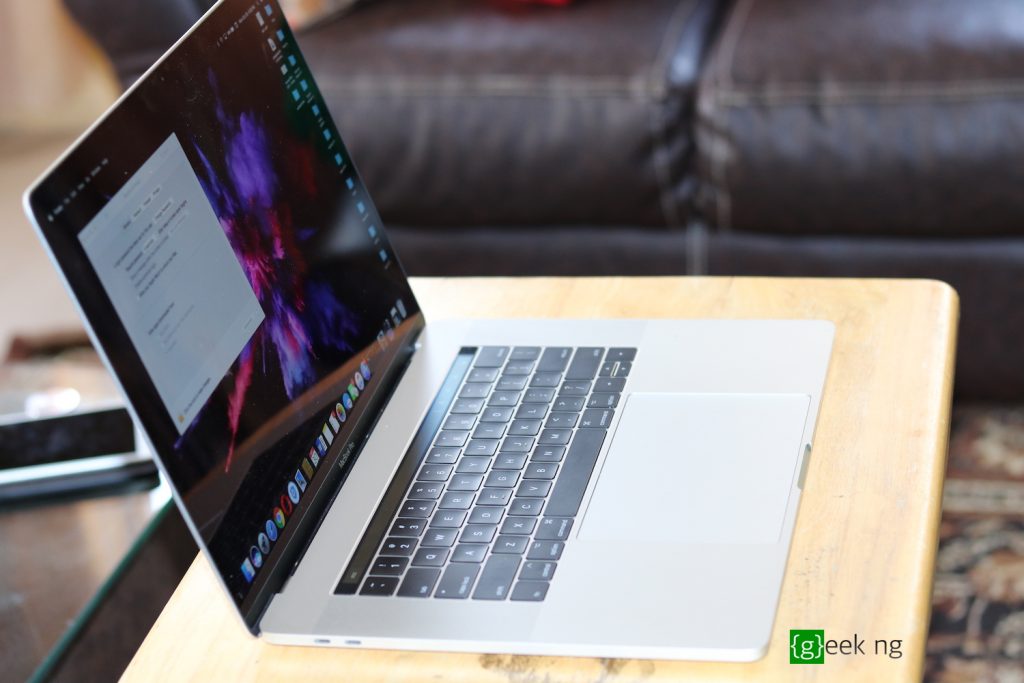 If you're getting a MacBook Pro (or a notebook generally), how much you're willing to shell out determines how solid the specifications on your machine are. For the 2017 model MacBook Pro 15, you could pay as low as $2,400 or as high as $2,800.
This dictates the size of your SSD storage and GPU. For the unit I got, here are the technical specs summary:
Display: 15-inch Retina (1920×1200)
Ports: USB Type-C (x4), 3.5mm
Dimensions: 34.93 x 24.07 x 1.55cm
Weight: 1.83kg
Battery: Up to 10 hours*
RAM: 16GB
Storage: 256GB SSD**
GPU (dedicated): Radeon Pro 555 (2GB)***
GPU (integrated): Intel HD Graphics 630 (1.5GB)
Facetime camera: 12MP
Features: Touch ID, Touch Bar
* This is subjective.
** Up to 1TB available.
*** Radeon Pro 560 (4GB) available.
Form Factor
While unboxing this MacBook Pro, I did mention how very different it feels when compared to my older MBP. Well, Apple changed the MacBook Pro design starting with the 2016 model to make it much slimmer. As a matter of fact, the 15-inch 2017 model is a lot thinner and lighter than the 2011 model. The 15-inch MacBook Pro 2017 mode weighs exactly 1.83kg. Compared to what I'm used to, it's pretty convenient to carry around and I don't find it as a burden.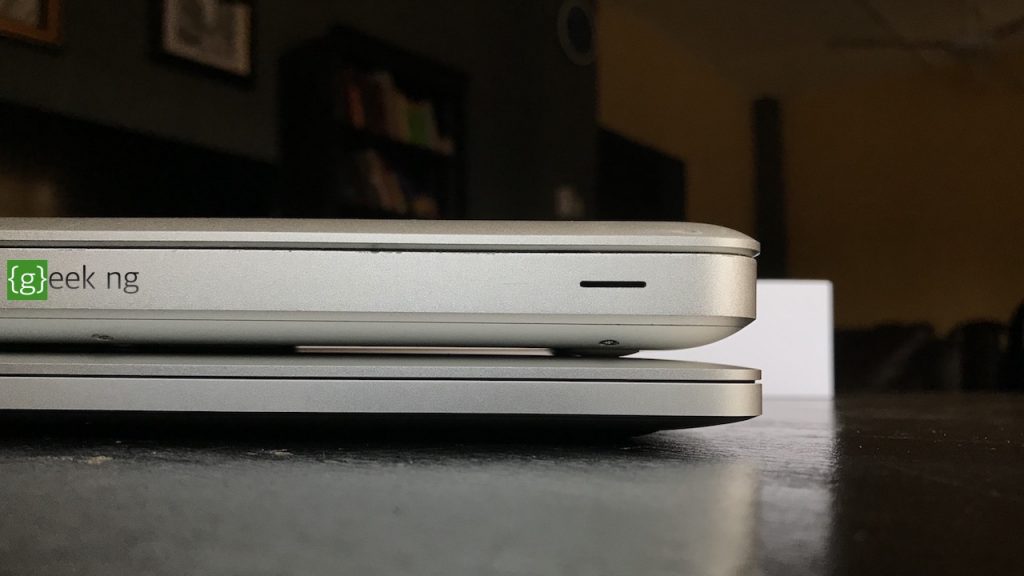 It's is also noted that the Apple logo no longer lights up on the MacBook Pro. What you have is the same Chrome Apple logo seen on the iPhone. Apple decided to ditch the glowing Apple logo last year and many of us can't figure out exactly why. Is this a problem? Nope. One might reason that Apple wants to have some sort of uniformity on all its products (since the logo doesn't glow on the iPhone, iPad and iPod Touch).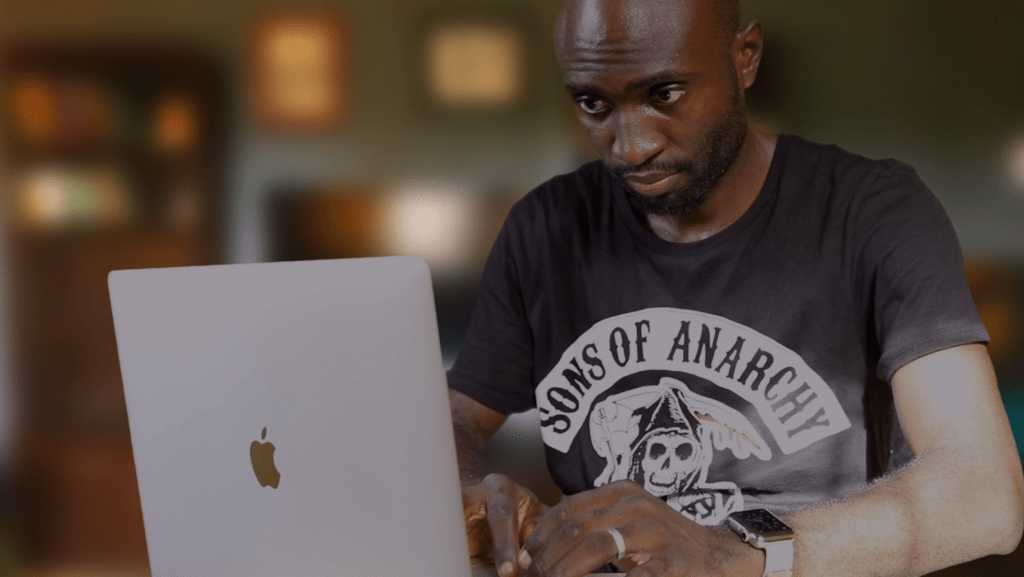 The large screen has considerably thin bezels. On the left and right side of the keyboard are speaker grills. Below the keyboard is the centrally placed trackpad that looks bigger than any touchpad I've ever seen on a laptop.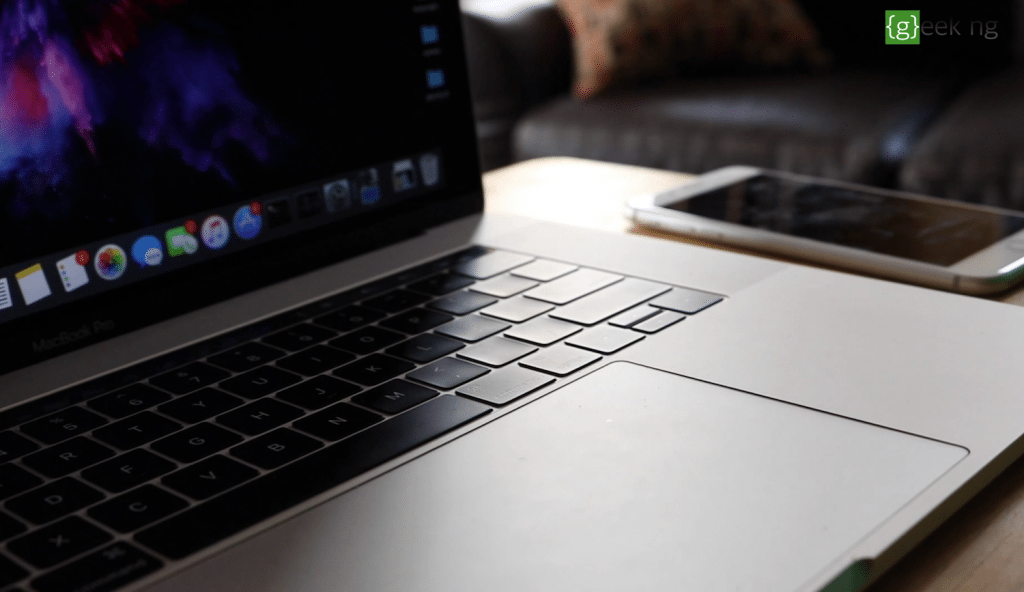 This is a machine worth over $2,000 and the design is expected to look premium in every way. As usual, Apple delivers in this regard.
Ports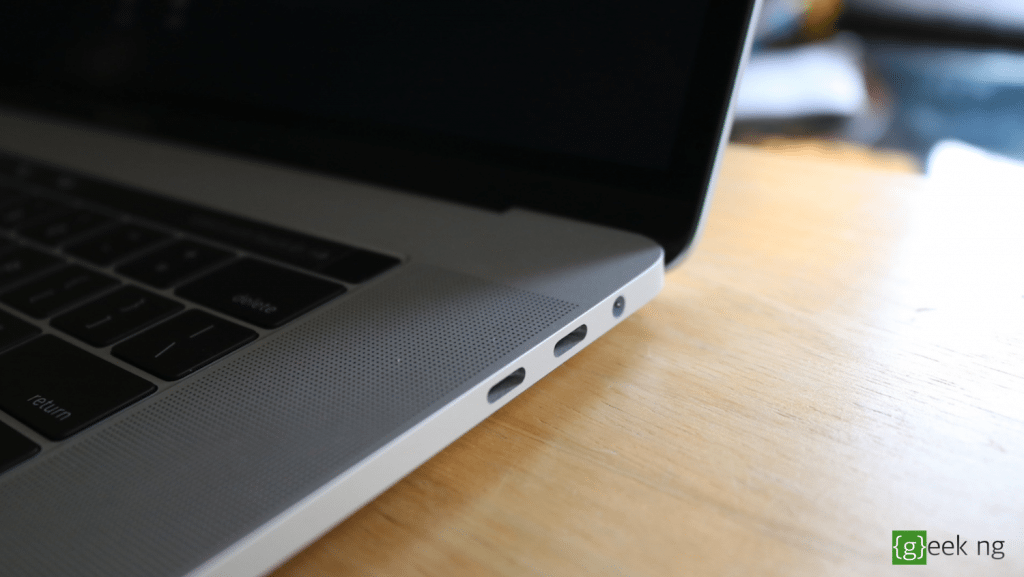 On the right and left side are two USB Type-C ports each. Apple still retains the 3.5mm jack on the MBP. Many criticized Apple's decision to kill off all the useful ports on the MacBook Pro when last year's model was introduced. I did criticize this decision too and even told myself I wasn't going for any of the newer models if If I was ever going to get a new MacBook Pro. #DongleLife trended while people made fun of Apple's decision to force users to get dongles for their existing peripherals.
It's rather ironic that I even have to use the Type-C-to-USB adapter packaged with my wife's Samsung Galaxy S8 Plus to connect my iPhone 7 with my MacBook Pro. Apart from regular USB Type-B ports that I miss, I rarely use HDMI and LAN and I don't really miss the absence that much.
However, USB Type-C is extendable and it should work with any peripheral as long as you have the compatible adapter. You would have to invest in lots of dongles or buy a single dongle that has it all like this one.
TouchPad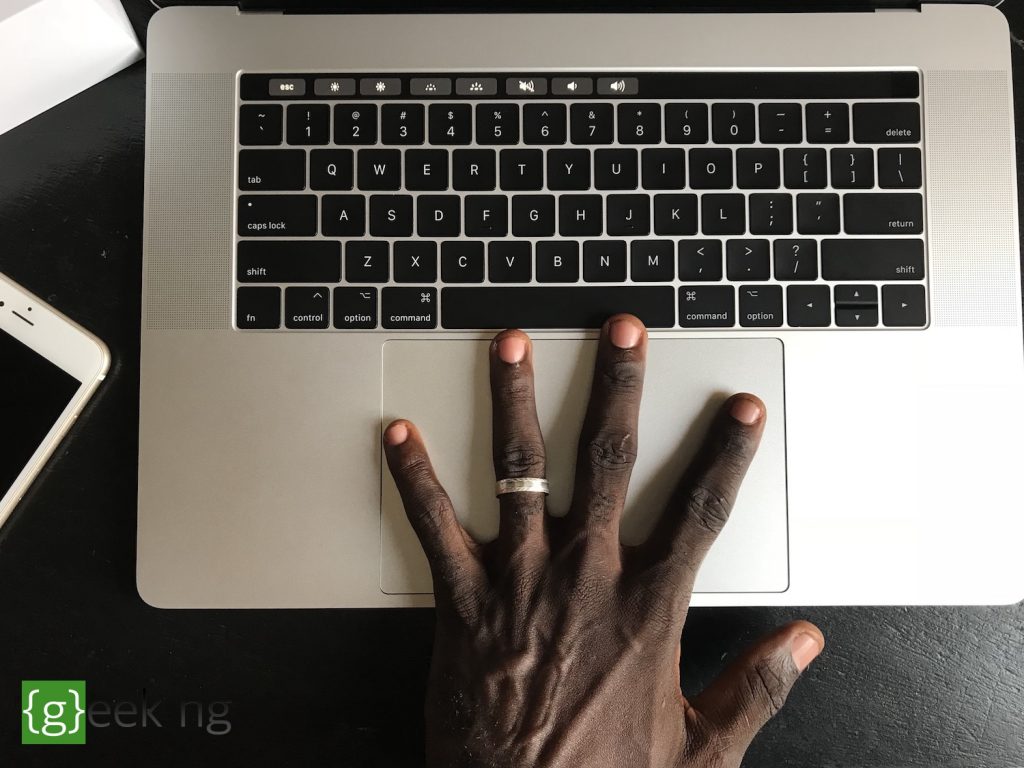 Opening the lid, the gigantic force-touch trackpad looks like an overkill. It is actually bigger than an iPhone. I've been using this trackpad for weeks and it feels pretty nice to work with. I normally set my cursor speed to the fastest available and the available space sometimes feels a bit too much.
This isn't the clicky type of touchpad, it uses the same 3D-Touch technology on the iPhone screen to perform actions based on applied pressure. It feels clicky when pressed, but it's actually just haptic feedback.
In Safari, for instance, you could press the touchpad to highlight a word. Applying a little more pressure looks up the word and shows its definition.
Keyboard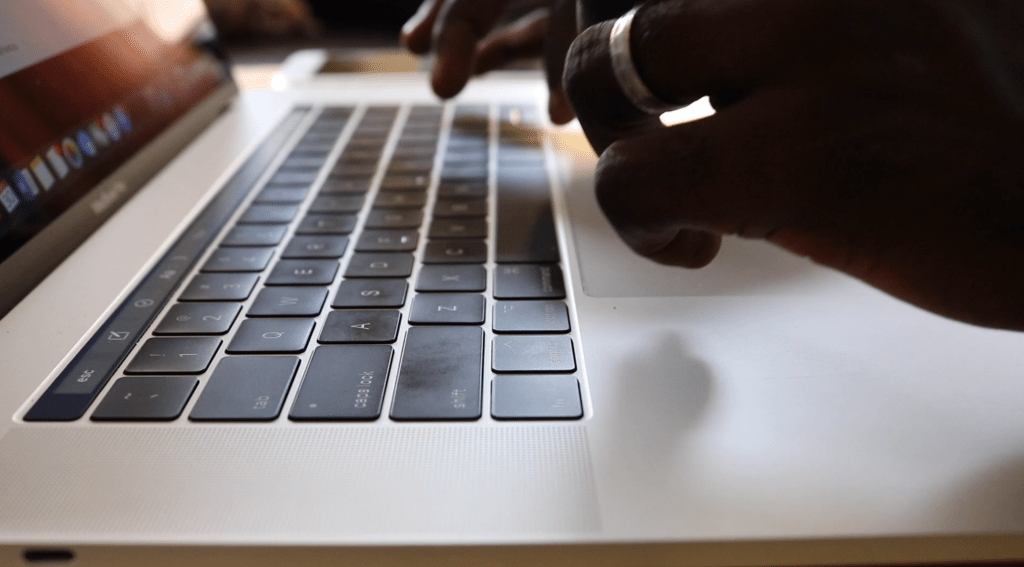 I had the chance to play with a friend's 2016 model of the MacBook Pro and I noticed how flat the keyboard was. I actually felt it was a little bit too flat. This 2017 model too looks similar but Apple has upgraded the Butterfly mechanism. If you're already accustomed with the keyboard on the 2015 model and earlier models with deeper travel, you may have a tough time adjusting as this keyboard has a much shorter travel.
But it's fun to type with once you get used to it. I've been using it to write blog articles for over a month and it feels great now. But like I said, if you're coming from a much older MBP, it takes some time to get used to it.
Touch Bar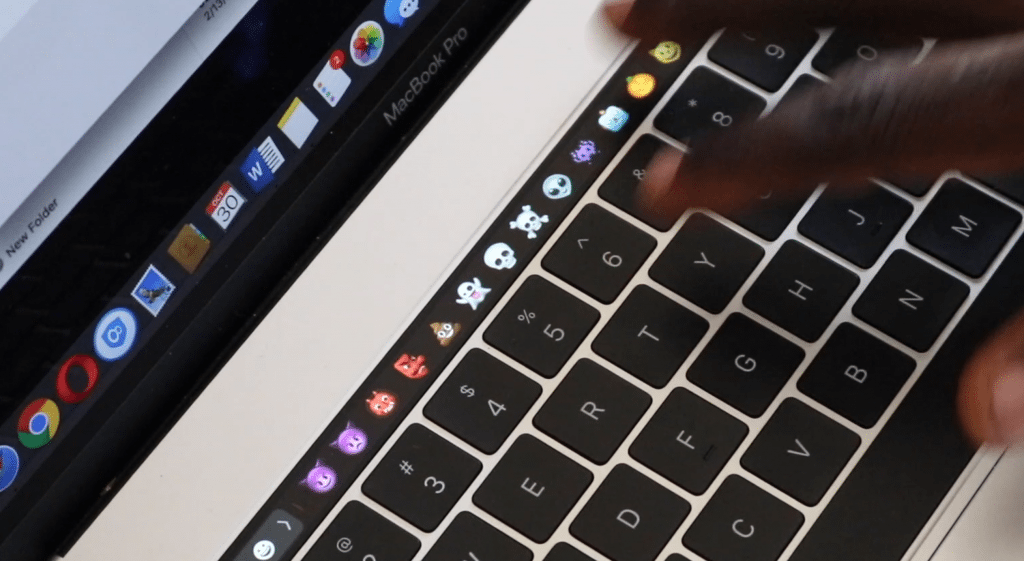 On the 15-inch 2017 model, you have no choice but to go with the Touch Bar. If you would rather have soft keys, you might consider going for the non-Touch Bar 13-inch model.
The Touch Bar looks like a statement from Apple that the MacBook would never have a touchscreen display. But seriously, laptops with touchscreen are basically useless except in the case of those 2-in-1 devices that serve as a notebook and a tablet.
The Touch Bar is fun to use, I must say. I mean, it's nice being able to pick Facetime calls by simply touching the Touch Bar. Also, all default apps like Mail, Preview, Safari, Notes and the rest of them have useful Touch Bar shortcuts. Typing a message on Facebook and being able to scroll and select an emoji to use is quite a neat feature and honestly, you can't help but like the Touch Bar. A lot of developers are already taking advantage of the Touch Bar and already integrating shortcuts into their apps. Third-party apps like Pixelmator, Adobe PhotoShop, and even Google Chrome now pack Touch Bar Shortcuts
However, reaching up there to use those app shortcuts isn't always convenient. I would rather press CMD + whatever to get things done in most cases.
Touch ID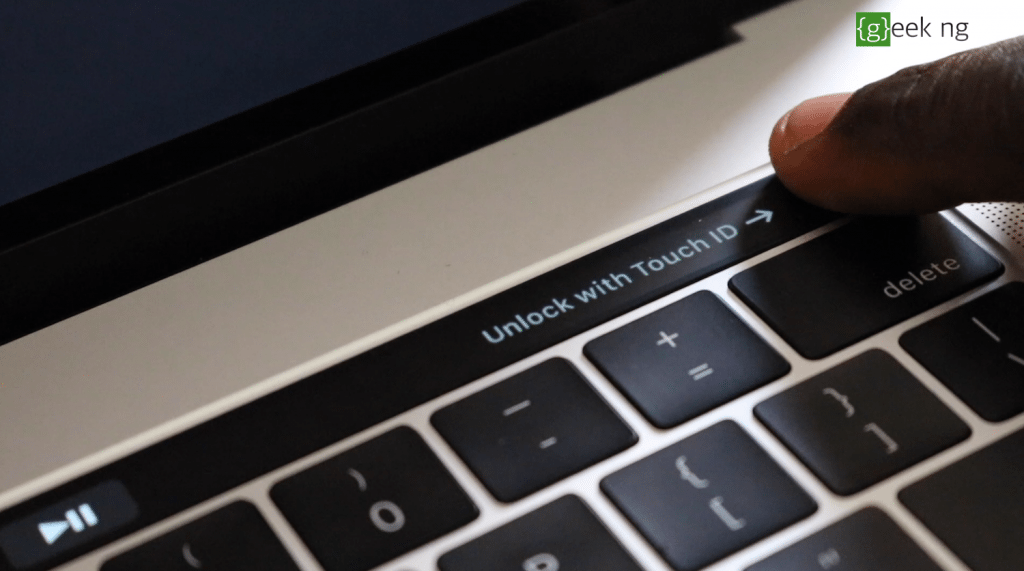 Unlocking your computer with your fingerprint is a feature we should all be using already. On the MacBook Pro, Touch ID lets you do this. It is located to the right of the Touch Bar and this same button also serves as the power button.
You can register a maximum of 3 fingerprints which can be also be used to confirm App Store and iTunes purchases. This can also be used for Apple Pay (which isn't available in my region by the way). You can limit what Touch ID does from the settings though.
But just like on the iPhone, a fresh boot requires you enter your regular password. Touch ID on the MacBook Pro always works and it's fast too.
Display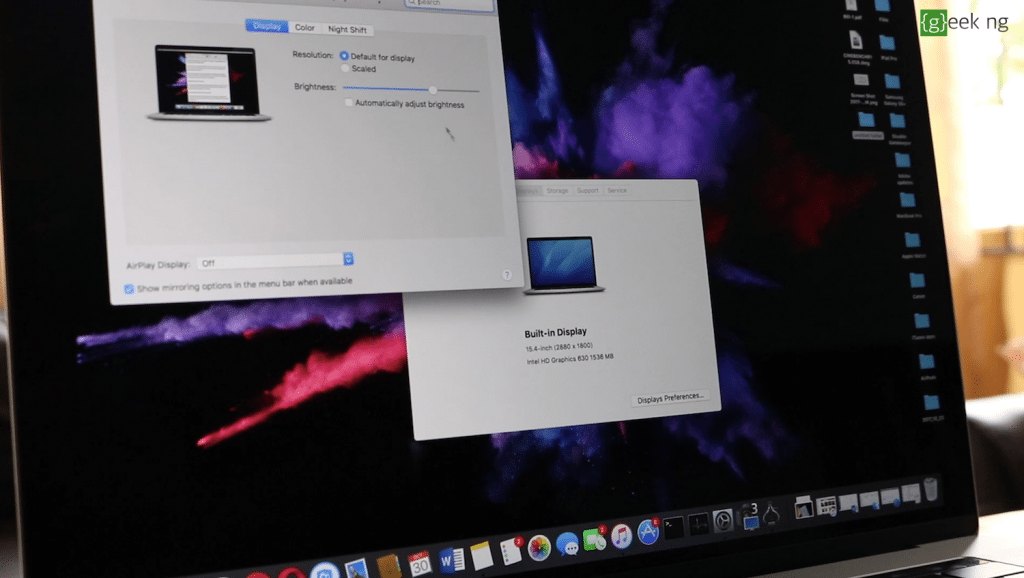 Without a doubt, the MacBook Pro has one of the best displays on a notebook. This unit has a 15.4-inch Retina display with a resolution of 2880×1800 px. It supports scaled resolutions ranging from 1920 by 1200 px to 1024 by 640 px.
It comes with a 500 nits brightness which actually hurts my eyes when cranked up to the max. Auto-brightness works great. It comes P3 wide color gamut and the viewing angle is very wide.
In short, this is what a laptop display should be. However, you should be aware that there's no  HDMI port if you need to hook it up to a larger screen. Adapters and dongles are always to the rescue though.
However, for a notebook this expensive, one might be disappointed that it doesn't feature a 4k display as seen on laptops like HP SPectre X360 and Dell Precision 5510. For a lot of us though, this doesn't really matter.
Performance & Graphic
The main difference between last year's model and this 2017 model is majorly internal. Apple has caught up with other OEMs using the 7th generation Intel KabyLake processors. As mentioned earlier, the unit I got has a clock speed of 2.8Ghz and this can be turbo-boosted to 3.8Ghz. The model with 2.9GHz processor has a turbo speed that goes up to 3.9GHz.
The random access memory is capped at 16GB even though there are machines in the same price range with up to 32GB RAM. Apple had to explain that using 32GB on the MacBook would require power-hungry memory controllers and this would be detrimental to battery life. For most users, 16GB RAM is more than sufficient.
Although this machine has a cooling fan unlike the less powerful MacBook, I hardly hear it running during this past one month. Maybe that's because I've become so used to the fan blowing like jet engines on my older 2011 model. The machine is pretty fast and benchmark results look good, not the very best though.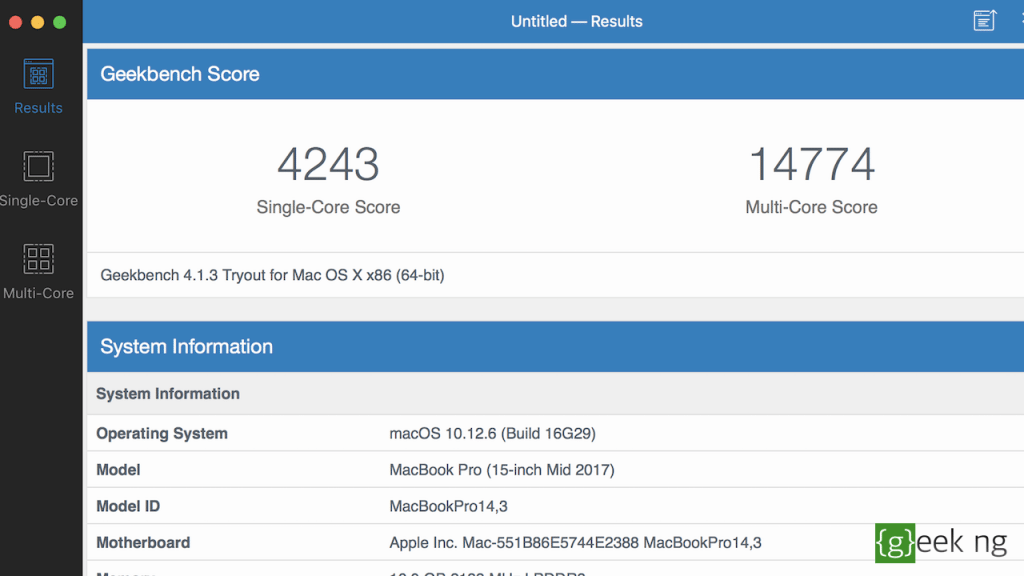 Since I took my gaming fully to my PS4 console, I can't be bothered which games the MacBook Pro would be able to run with the Radeon Pro 555 GPU. It's got 2GB of DDR5 RAM and for the things I do with my laptop, this is more than enough. The resource-hungry app I mostly run is Final Cut Pro and it runs as smooth as Safari.
However, if you're considering buying this laptop, perhaps you should consider the variant with Radeon Pro 560 instead if you can afford the extra money. It's got 4GB of video RAM and it looks more future-proof than this base model I got.
Software
This machine ships with macOS Sierra 10.12.6, and I haven't had the chance yet to try out macOS High Sierra. Much remains the same, but the addition of Touch ID unlocks new macOS features like Apple Pay. Software interaction with the Touch Bar is also new and has already been covered.
Battery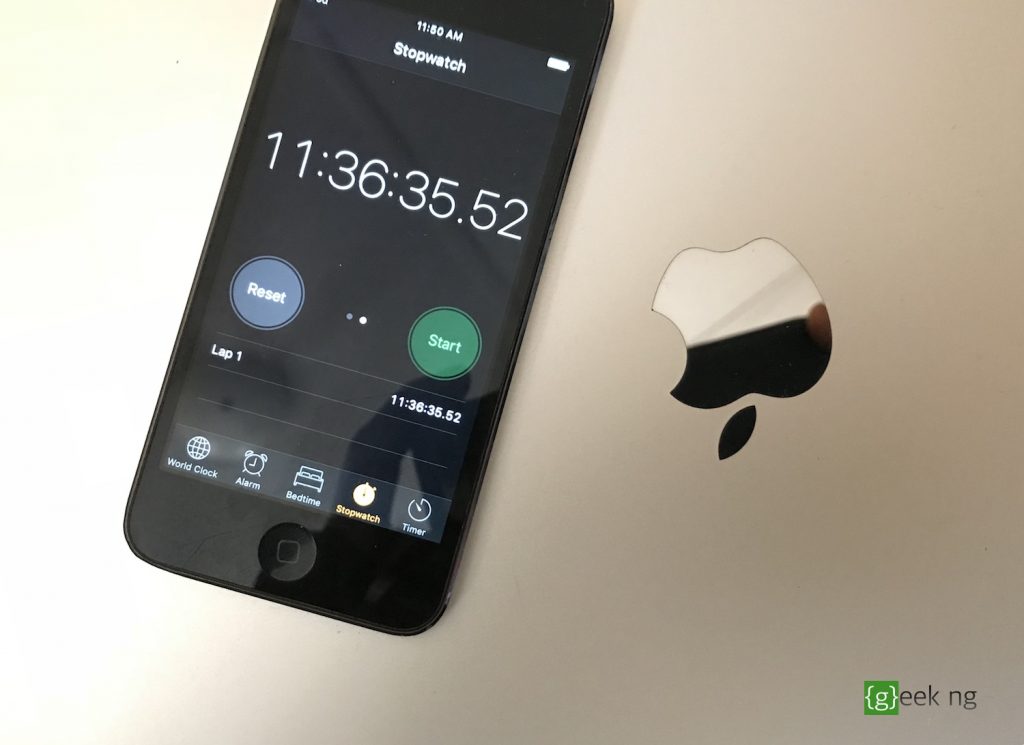 The battery life on 15-inch MacBook Pro 2017 is amazing. I did put it through some tests and it came out well. On Safari, I was able to stay online for 9 hours and 24 minutes while connected to a WiFi network.
I also carried out a video loop test, the machine only shut down when the timer hit 11 hours and 36 minutes.
However, using applications like Final Cut Pro X cuts the battery life short. But still, a session of video editing and rendering still saw the battery last for about 5 hours.
Verdict
The 15-inch MacBook is a solid piece of tech. The new KabyLake processor and upgraded graphics cards considerably improve performance when compared to the models released a year ago. The slim build makes it easier to carry around and this hasn't negatively impaired the battery life.
As for the lack of ports, adaption was gradual and I already went through that phase. Now it just feels normal. For the solid build, beautiful display and great performance, you are getting the best of Apple at a rather high price point as always.
Price
Depending on your configuration, the laptop costs between $2,200 to $2,800 on Amazon. if you're buying in Nigeria, it currently sells between N750,00 to N900,000 on Jumia.