It's no longer news that Apple iPhone 13 is already released. If you already have an older iPhone or an Android, transferring your data to the new iPhone from your older device must be done with utmost care. Losing years of data or important messages is never an experience anyone looks forward to. No matter which device you already have, it's possible to move every data to your new device, but this depends on which method you employ.
This article explains in detail how to load your new iPhone with data from your old device together with the pros and cons of each method.
Moving from Android to iPhone 13
If you already have an Android phone like the Samsung Galaxy Note 10 and you're moving to iOS for the first time, there are several ways to do this. You can either use the official Move to iOS app created by Apple or AnyTrans.
Move to iOS
Move to iOS is the officially supported app from Apple designed to help you move your data from your iPhone to iOS, but this doesn't mean it is the best tool for the job. Basically, this app lets you transfer contacts, message history, camera photos and videos, web bookmarks, mail accounts, and calendars.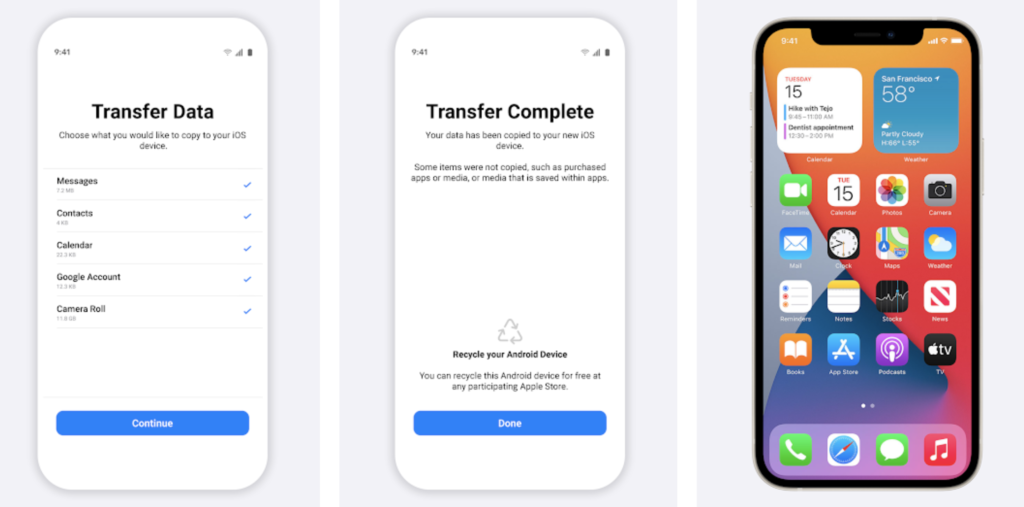 To use Move to iOS:
1. Your iOS device will create a private WiFi network and the device will search for nearby Android devices running the Move to iOS app.
2. You will be required to enter a specific code on the Move to iOS app.
3. When the code is confirmed, you can begin transferring your data.
Why this isn't the best solution
Although Move to iOS is easy to use, it has several shortcomings that make it imperfect. This app can only be used to transfer specific data which is limited to those mentioned above. You're unable to transfer WhatsApp messages, songs in phone memory, ringtones, and several others. Apart from this, Move to iOS takes a pretty long time to finish the process as the speed is limited. This could also be interrupted for unknown reasons. it's also worth mentioning that Move to iOS can only be used on a new iPhone when being set up for the first time; it doesn't work on an iPhone already being operated.
AnyTrans
AnyTrans is the better alternative when it comes to moving data from your old Android phone to your new iPhone 13. Unlike Move to iOS, AnyTrans lets you migrate almost any kind of data between your devices with ease. Even if you're trying to include ringtones or WhatsApp messages, AnyTrans lets you move them. It doesn't matter if your iPhone 13 is already being used, you will still be able to migrate your data from an Android device to the iOS device. AnyTrans supports all kinds of Android models and even older iPhone models.
If you already have data on your iPhone 13, be rest assured your data is safe and nothing will be erased. Duplicate content will also be automatically skipped. For those who love to keep their photos organized into albums, AnyTrans can seamlessly transfer these albums to your iPhone 13.
Using AnyTrans Phone Switch Feature to transfer data from Android to iOS
1. First connect the source  Android phone, then the target iOS device. Be sure USB debugging is enabled (through Developer Options) on the Android device and allow any prompts shown.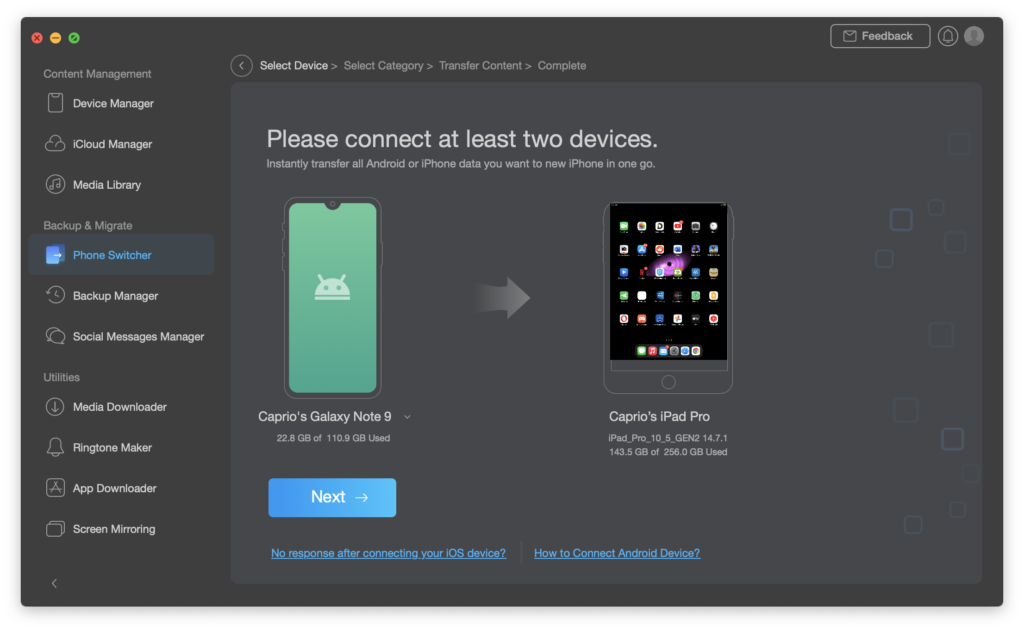 2. Hit the next button to select the data you would like to transfer.
3. Press the next button and the process starts.
Depending on the amount of data you intend to transfer, this might take a while.
Moving data from your old iPhone to iPhone 13
If you're moving from an existing iPhone to iPhone 13, there are a number of alternatives to move your data.
Using Apple QuickStart to transfer data from old iPhone to iPhone 13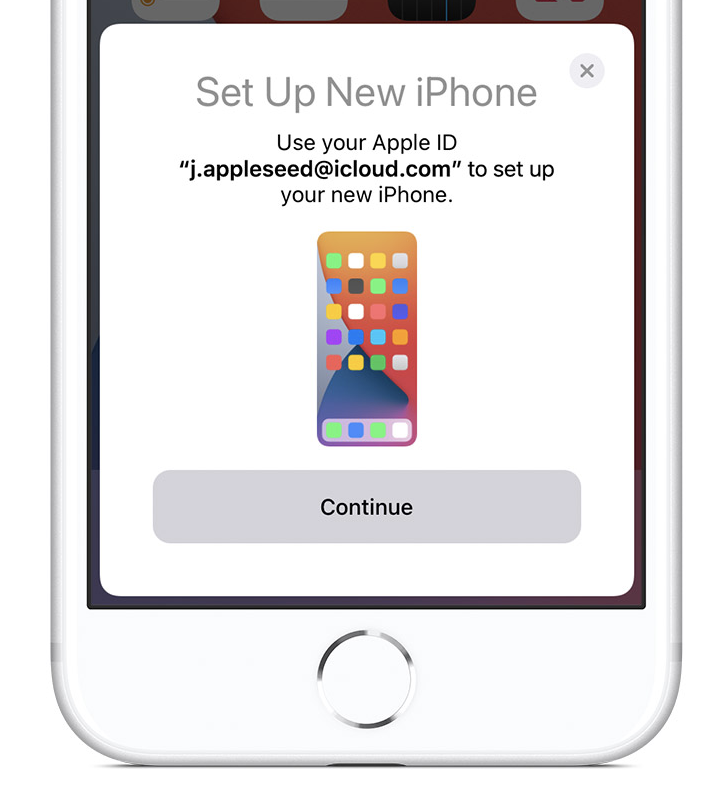 Apple's default solution to migrate data from an older iPhone to a newer one works seamlessly over WiFi. One great thing about this method is that it is self-explanatory and quite easy to use. Also, a PC is not needed.
To get started, you need to place both phones close to each other until the newer phone prompts you to use the Apple ID on the older phone. Confirm this and you may be asked to enter the passcode of the older iPhone on the newer one. Follow the screen prompt and you have some of your data transferred.
Although this method is straightforward, it has some disadvantages. Apple Quick Start only lets you transfer certain data; you may be unable to move certain data to your new iPhone.
Also, this works only on a new iPhone. To use Apple QuickStart on an existing iPhone, you need to erase the phone to start afresh. You will be unable to transfer music files not purchased from Apple Music as well.
Using AnyTrans to transfer data from old iPhone to iPhone 13
AnyTrans lets you do this, and it actually does it better than Apple QuickStart. This is because it covers almost all types of iPhone data including local music not purchased from the store. Anytrans gives you the option to selectively choose the type of data you intend to transfer or simply move everything in one click. If the target iPhone is already set up and no longer has access to QuickStart, AnyTrans still lets you transfer and merge data without data loss.
With AnyTrans, you won't just be able to import WhatsApp messages but also combine message threads from the same contact into one single chat.
How to use Phone Switch to move data from old iPhone to iPhone 13
1. Connect the old iPhone as the source, and then the new iPhone 13.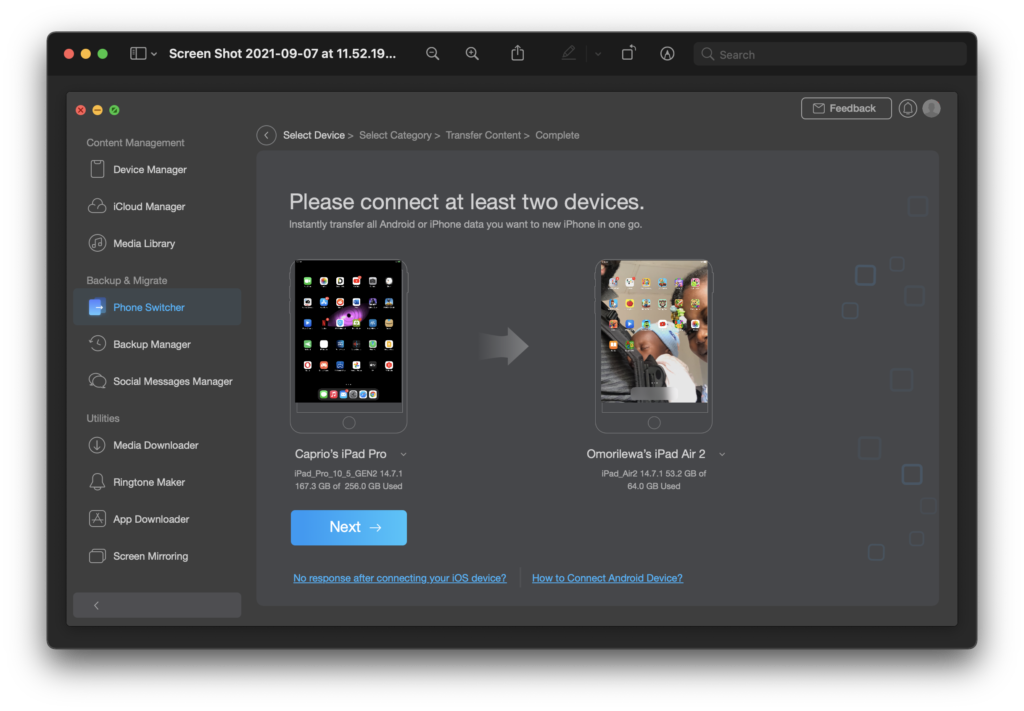 2. With both devices detected, click the Next button to select the data you would like to transfer.
3. Click the Next button and the process starts.
The duration it takes to complete depends on the amount of data you're transferring.
What else can you do with AnyTrans?
AnyTrans isn't just a tool to transfer data from one phone to another, it is a complete iPhone management tool that works better than Apple's native solution. With AnyTrans, you can create custom ringtones, transfer contacts, manage music, photos, and video, download online video from streaming sites, create daily data backups, mirror the iPhone screen to your computer, and more. We have a full review of these features in this previous article.