There is no bigger setback than knowing that you have lost all your data because you have either forgotten or misplaced Windows computer password. This could mean losing your old memories saved as photos, videos or years of your hard work in the form of documents and powerpoint file. The anxiety, fear, and frustration remain the same for all of them. But thanks to PassMoz LabWin, you can reset your Windows password in the safest and most reliable way.
The user can reset up to five different types of passwords with it. These are: Administrator password, User and Guest Password, Microsoft Accounts password and Windows Server Password.
Overall, the program is a flawless tool and has been designed by the experts of computer recovery tools in the industry, PassMoz. All these make it definitely worth a review!
What is PassMoz LabWin?
PassMoz LabWin is a popular password recovery tool that works to recover Windows computer passwords that are either lost or forgotten. It was first developed in 2014 and has been around ever since. One of the USPs of the tool is that it can recover even the most complex password without reinstalling the system or losing any data. It has 4 primary functions that ensure that the entire process of resetting a password becomes safe, easy and reliable for the user.
Main Features of PassMoz LabWin
PassMoz LabWin has been specially designed in such a way that from an experienced user to a mere novice user, anyone can use this Windows Password Recovery Program without encountering any problems and without requiring any instructions. The program makes use of very powerful algorithms to reset Windows password, which are often missing in the other competitive programs, and this exactly becomes its edge.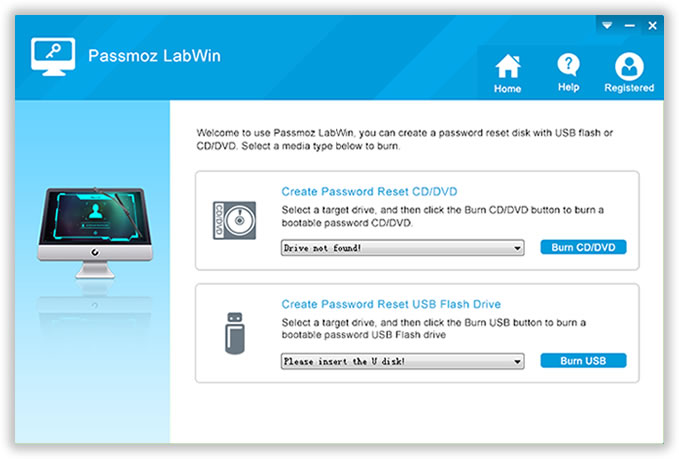 The working of PassMoz LabWin can be precisely defined by its 3 core functions. These 3 core functions of PassMoz LabWin can make the entire process safe and reliable, these are:
1. Reset Password
With PassMoz LabWin the users can reset the passwords that have either misplaced or forgotten. The passwords can be for Microsoft account, administrator and user. The supported OS include Windows 10, 8.1, 8.7, XP and Vista.
2. Burn ISO to USB/DVD
It gives two different ways to create a Windows password reset disk, either by a CD or DVD or by a USB flash drive.
3. Support UEFI Computers
PassMoz LabWin is perfectly compatible with the computers based on UEFI. It requires a single key to load program in UEFI BIOS.
How PassMoz LabWin Works?
There is no point in having highly functional software if it is not easy to use. PassMoz ensures that the user finds it easy and convenient to use the software, and that is exactly how LabWin has been intentionally designed for use. The software has a clean and intuitive user interface; the users find it extremely easy and comfortable to recover their password. One of the major USPs of PassMoz that sets it apart from its other competitors is its ease of use and a high degree of customer satisfaction.
Recovering one's password is as easy as the click of mouse buttons. It involves the following 5 major steps:
Step 1: Find a Windows computer you can use temporarily.
Step 2: Install and open PassMoz LabWin on the same computer.
Step 3: Insert a USB or DVD to the computer and burn WIM.ISO to the device.
Step 4: Eject the device from the normal computer and attach it to the locked computer.
Step 5: Power on the locked computer and set boot device to USB or DVD. When PassMoz LabWin shows up on the screen, select an account and click "Reset Password" button to remove the password from the computer.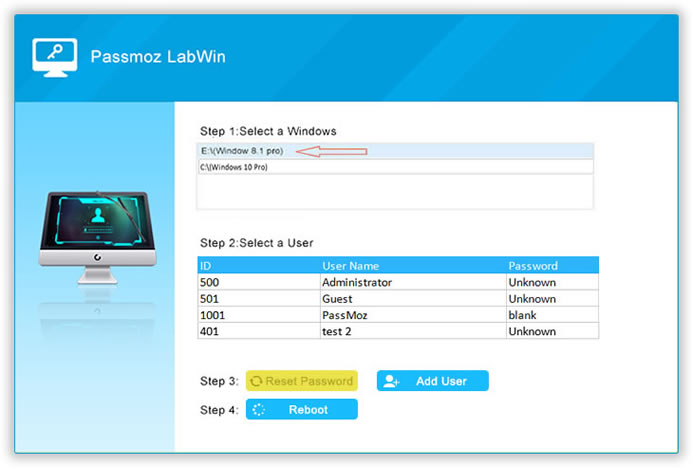 Versions and Pricing
There is a free version of PassMoz LabWin that is available to the users. They can use this free version to track the user profiles on the PC. But in case they are locked, it becomes necessary to register for the program in order to unlock them. A free trial of the version 6.2.8 is available. There are basically three different versions available and they are definitely priced differently.
There are several advantages of using PassMoz LabWin over other tools such as a user-friendly interface, ease of use, vast support, and last but certainly not the least, the absence of any ads or popups.