Trying to cope with a slow Windows operating system is one of the most annoying experiences ever and at a point in time, we've all had to deal with a sluggish computer that just freezes when you need it the most. With constant use, installation and uninstallation of programs, inappropriate computer abuse and such, it's quite normal for your computer to become unresponsive at times due to many errors that you probably have no idea how to fix. It's easy to get a little mad, blame the computer and even curse at the screen but the problem isn't actually the computer, it's the way we fail to take a good care of it and assume it should just work.
Your PC performance can be a lot better and you can increase the speed of your computer with Amigabit PowerBooster. This software program fixes all sorts of errors and cleans up your computer. System error caused by a messed up registry can be fixed with Amigabit PowerBooster and apart from this, there's a feature that cleans up unnecessary, invalid and broken files scattered on your hard disk. Defragmention is also on of the things it does and in reality, this keeps your hard drive very healthy and reduces the chance of your HDD crashing.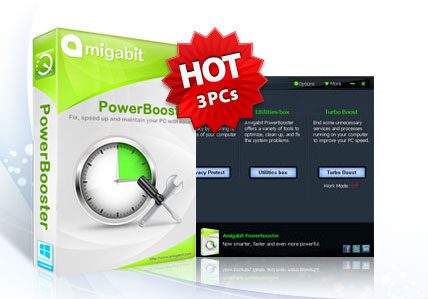 Amigabit PowerBosster is a must-have for Windows users and it's fully compatible with Windows 8, 7, Vista and XP. Apart from the features mentioned above, here are other key features of this program:
Amigabit PowerBooster protects your internet privacy and makes sure your personal and financial information is kept from prying eyes. Each time you go online, login details, credit card information, cookies and other details that shouldn't fall into the wrong hands are wiped clean and this goes a long way to keep those records from people who might be tracking them remotely.
You never can tell when you're going to need those life saving driver backups but Amigabit PowerBooster takes care of this, you can easily backup and restore your drivers.
Registry Cleaner
A registry that's rife with errors will ultimately slow down your PC and may even cause a lot of malfunction. This program finds and fixes these errors efficiently.
Other great features include:
RAM Manager
Startup Manager
Uninstall Manager
Disk Cleaner
Of course there are more features than those listed above but you may need to get this software to really find out. Right now, we are giving away 10 licenses of Amigabit PowerBooster!
The giveaway
We've got 10 lifetime licenses of Amigabit PowerBooster to give out for free. Here's how to get one:
1. Like our Facebook fan page
2. Follow us on Twitter
3. Share this page on Facebook
4. Tweet this page
5. Commenting on this page gets you a little extra point
As usual, we do this via the Rafflecopter widget below.
Rules and Guidelines
1. The giveaway starts on 24th June and ends on 26th June
2. Winners will be chosen randomly from all valid entries received
3. Winners will be announced on the 27th of June
4. Use a valid email so you could be contacted in case you win
5. All steps must be completed to fully qualify
That's all, folks. Wishing the best of luck!