Today I want to share some tips on how to get your Payoneer Mastercard approved; this is from my experience when I applied for this particular MasterCard. The first time I applied, the application was declined, the second time I applied I had to put some few things right and it was approved fast.
But first, what is Payoneer MasterCard?
Payoneer MasterCard is a unique card which works like your normal ATM card; in fact you can use it to make payments at any ATM or POS that accept MasterCard and Visa cards. You can also use it for online shopping payments and Affiliate marketing. Payoneer also support deposits to local banks worldwide, wire transfers, global and local e-wallets and local-currency paper checks.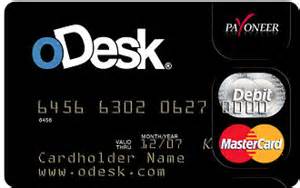 The best part of the Payoneer MasterCard that I love so much is the fact that it comes with US payment services, which means that you can associate the with US payment services and receive payments from affiliate and merchants online, from site such as Elance, O'desk, and PayPal. More so, you can use it to verify your PayPal account, which to me it's far better than using Virtual Cards.
In countries like Nigeria and Pakistan where it's not that easy to get a Paypal account, Payoneer Mastercard makes verification and withdrawal pretty easy.
How do you apply?
There are two ways you can apply for Payoneer MasterCard.
Direct signup
Signing up through their partners
You can sign up either for Individual or Business account
Must Read: Get Google Adsense Account Approved Within 2 Hours Through Youtube!
Direct signup
Signing up is a three step process.
STEP 1
First you will be asked about some personal details which I will advice that you enter correctly because it will reflect on your card. Your name and surname you used will be that same that will appear on your payoneer MasterCard.
You will be asked to provide an address, Payoneer expects you to provide a real home address and NOT P.O.BOX, but you can use a mail box as your shipping address for your card.
STEP 2
This will require you to give a security question and answer.
STEP 3
Here is the tricky part where I missed it the first time. You will be asked to choose an Identification option, Drivers license, Passport or National ID. You will provide the ID number and country of issue. NOTE that if this number does not tally with the ID you will upload later; your application will be declined.
Must Read: How To Get Your Squidoo Lens Approved
Having completed this step, Payoneer will send you an email with a link to scan and upload your ID. After uploading your ID, it might take some hours or days before you get the approval email.
Signing Up Using Payoneer Partners
Payoneer has a list of partners you can sign up through. It is basically the same process as you will be referred back to Payoneer sign up page. The idea is that, if for instance you already have an account with O'desk or any of its partners and you need to cash out, you will go to the withdrawal page and add Payoneer as your payment method, then you will be directed to the signup page.
After my initial application was declined because I used a National voter's card as my ID, I applied using O'desk. Personally, I think it's faster and easier to get approved this way if you have gotten your application declined before. Somehow I think using sites like O'desk gives your application some credibility. (Just my opinion from experience)
Here is a list of some payoneer partners you can use, for the complete list, please check their website.
99Designs
American summer
Bluesnap
Booking.com
Checkpoint
Clearvoicesurveys
Cpalead
Elance
Fiverr
Freelancer.com
FXPrimus
InstaForex
iStockPhoto
oDesk
What if you don't have any of those three IDs?
Well, you can use any ID card issued by your country using your clear photo and an ID number. You can also send them a mail when using any other form of ID. I actually sent them an email and their response was helpful, detailed and relatively fast. (Well, a couple of hours though).
How do you fund your card?
You can either get fund in your card through earnings online or through The Payoneer Private Load service via Visa or MasterCard.
In conclusion, if you need a safe, reliable and widely accepted means of payments and carrying out your transactions, then Payoneer MasterCard is what I will recommend. If you have any question please free free to ask in the comment box.