I remember those days we used burn to CD  and then later to DVD but there has been lots of advancement in technology in the last couple of years & now we can burn to a USB Drive. The sweetest part is that one can burn Windows OS to USB Drive & load a PC from setup mode with a USB Drive. Cool, right? This is essentially useful if you're going to load a new Windows on a netbook with no DVD drive. With the needed tool, you can easily install Windows from a USB flash drive which is even more convenient than using a DVD disc since they can unreliable at times.
Must Read: Missing the Old Start Button on Windows 8? You can Get it Back
Requirements:-
–  Windows 7 DVD/USB Download Tool
– USB Drive worth 8GB/DVD Empty Disc
–  A Windows PC
Steps to achieve this:
1. Download Windows 7 DVD/USB Download Tool
2. Install & run. 3. Click on browse to select .iso file to burn & click Next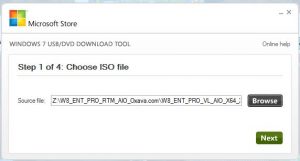 4. Insert USB Drive, Select the Drive you wish to burn to; in my case, I selected USB 5. Choose the USB Drive you want to burn to & click Begin Copying NOTE: All datas on tha USB Drive ll be lost because the USB Drive will be erased before the burning process
6. Chill & Wait till the Process complete
7. You just created a bootable Windows OS.
You can get Windows 8 from the Official Website, its a 90-days trial.