Hybrid cars have become increasingly popular in recent years, offering a blend of fuel efficiency and performance. But how exactly do hybrid cars work, and what sets them apart from traditional gasoline-powered vehicles? In this blog post, we will decode hybrid technology by delving into the inner workings of these innovative vehicles. Specifically, we will explore the Jaguar E-Pace and the advancements in hybrid technology in new Mercedes-Benz models. Understanding the fundamentals of hybrid technology will help us grasp the benefits and potential of these vehicles in shaping a more sustainable future.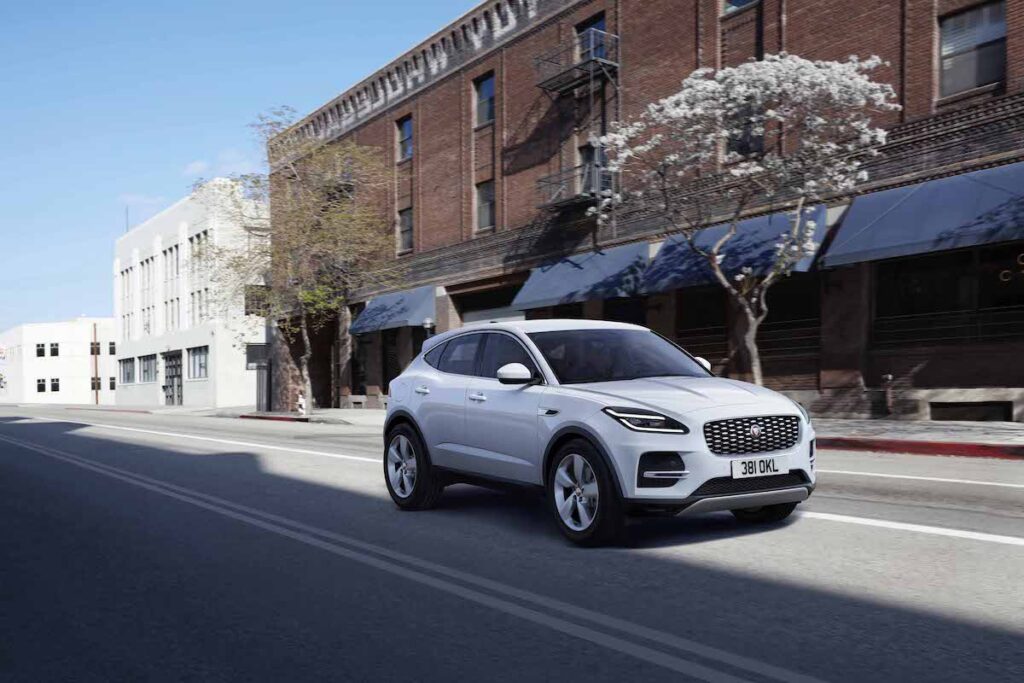 The Hybrid Powertrain: Combining Two Power Sources
At the heart of a hybrid car lies its powertrain, which combines two power sources: an internal combustion engine (ICE) and an electric motor. The Jaguar E-Pace, for example, utilises a hybrid powertrain that seamlessly integrates a gasoline engine with an electric motor. This configuration allows the vehicle to operate in different modes, such as pure electric mode, gasoline mode, or a combination of both, depending on driving conditions and power demands. The intelligent control system determines the most efficient and optimal power source to use, maximising fuel efficiency and minimising emissions.
Regenerative Braking: Harnessing Kinetic Energy
One of the key features of hybrid technology is regenerative braking, which allows the vehicle to recover and store energy that would otherwise be lost during braking. When the brakes are applied, the electric motor acts as a generator, converting kinetic energy into electrical energy, which is then stored in the vehicle's battery. This stored energy can later be utilised to power the electric motor and assist the engine during acceleration, reducing the load on the gasoline engine and improving overall fuel efficiency. Regenerative braking is a crucial aspect of hybrid technology, as it helps to extend the range and maximise the efficiency of hybrid vehicles.
Battery Pack and Electric Motor: Electrifying the Drive
Hybrid cars are equipped with a battery pack and an electric motor, which work in tandem to provide electric power and support the internal combustion engine. The battery pack stores electrical energy that is used to power the electric motor and assist the gasoline engine when needed. The Jaguar E-Pace features a high-capacity battery pack that enables the vehicle to drive on pure electric power for short distances, reducing emissions and providing a quiet and smooth driving experience. New Mercedes-Benz models are also incorporating advanced battery technology, enhancing the electric driving range and performance of hybrid vehicles.
Intelligent Energy Management: Optimising Efficiency
Efficient energy management is a critical component of hybrid technology. Hybrid vehicles, including the Jaguar E-Pace and new Mercedes-Benz models, employ intelligent energy management systems that optimise power distribution and usage. These systems continuously monitor driving conditions, battery levels, and power demands to determine the most efficient combination of electric and gasoline power. The intelligent energy management system seamlessly switches between power sources, maximising fuel efficiency and reducing emissions. Additionally, some hybrid vehicles allow drivers to select specific driving modes, such as "Eco" or "Sport," which adjust power distribution and throttle response to suit their preferences and driving style.
Benefits of Hybrid Technology: Fuel Efficiency and Reduced Emissions
Hybrid technology offers several notable benefits over traditional gasoline-powered vehicles. The integration of electric power and advanced energy management systems in hybrid cars results in improved fuel efficiency and reduced emissions. The Jaguar E-Pace and new Mercedes-Benz hybrid models demonstrate the potential of hybrid technology to deliver impressive fuel economy figures while maintaining performance. By utilizing electric power during low-speed city driving or stop-and-go traffic, hybrid vehicles significantly reduce fuel consumption and emissions, making them more environmentally friendly options for daily commuting.
Enhanced Performance and Driving Dynamics
Hybrid technology not only prioritises fuel efficiency and reduced emissions but also offers enhanced performance and driving dynamics. The integration of electric power in hybrid vehicles provides instant torque and acceleration, resulting in a responsive and exhilarating driving experience. The combination of the gasoline engine and electric motor in the Jaguar E-Pace and new Mercedes-Benz hybrid models creates a powertrain that delivers impressive performance while maintaining fuel efficiency. The electric motor assists the engine during acceleration, providing an additional boost of power when needed. This hybrid powertrain configuration ensures that drivers can enjoy a balance between performance and eco-conscious driving.
Flexibility and Range
One of the advantages of hybrid technology is its flexibility and extended driving range. Hybrid vehicles like the Jaguar E-Pace and new Mercedes-Benz models offer the convenience of using both gasoline and electric power sources, allowing drivers to adapt to various driving conditions and needs. The hybrid powertrain provides the option to operate in pure electric mode for shorter commutes or in hybrid mode for longer journeys. This flexibility eliminates range anxiety often associated with pure electric vehicles and offers drivers peace of mind, knowing they have the capability to cover longer distances without the need for frequent recharging. The extended driving range of hybrid cars makes them a practical choice for individuals who require the versatility and freedom to travel beyond the limitations of fully electric vehicles.
Conclusion
Hybrid technology is revolutionising the automotive industry by combining the best of both gasoline engines and electric power. Vehicles like the Jaguar E-Pace and new Mercedes-Benz hybrids showcase the advancements in hybrid technology, providing improved fuel efficiency, reduced emissions, enhanced performance, and driving dynamics. With regenerative braking, intelligent energy management, and a combination of power sources, hybrid cars offer a sustainable and efficient driving experience. As the demand for greener transportation solutions continues to grow, hybrid technology is playing a significant role in shaping a more sustainable and eco-friendly future. Whether it's reducing emissions, enhancing performance, or providing extended driving range, hybrid vehicles are paving the way for a new era of automotive innovation.