iOS 7 is a big deviation from what iOS used to be in terms of appearance and at first, the new look was exciting as the old UI was getting boring already. The redesigned UI looks great but there are still a few things here and there that could've been adjusted. For example, I've never been comfortable with the large icons sitting on the Springboard… I've always wished they could be smaller and well spaced. The dock too should be able to contain more than four icons.
Springtomize used to be the perfect solution on iOS 6 but it's not yet updated to work with iOS 7. Of course, there are other Cydia tweaks available to customize iOS 7 user interface, giving you a better experience while using your iDevice. Sixteen tweaks are listed in this article out of which I currently have fifteen installed.
1. CCControls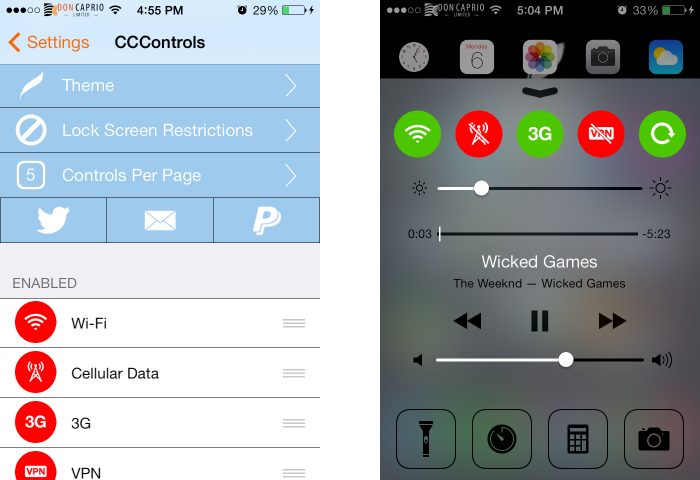 This tweak lets you customize your control center and add more toggles. It also comes bundled with some nice looking themes. It's an alternative to FlipControlCenter and works equally great but the theme feature gives it an edge.
2. Barrel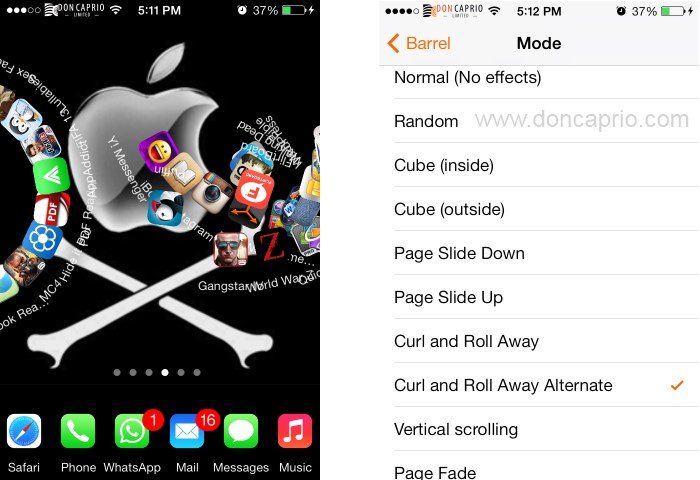 This tweak is one of the oldest tweaks known and it remains one of the most appreciated in the jailbreak community. This awesome tweak adds cool transition effects when you scroll through your springboard. There lots of options to choose from.
3. Iconoclasm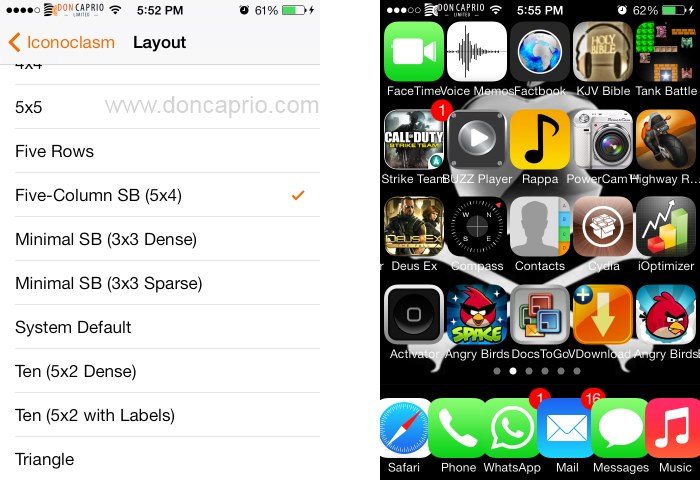 If you own an iPhone, there comes a time you get bored with the grid 4×4 or 4×5 Springboard layout. Iconoclasm gives you the freedom to change this layout as you wish. You may add or remove rows and columns depending on your choice. The screenshot above shows a 5×4 layout on an iPhone 4s.
4. Bigify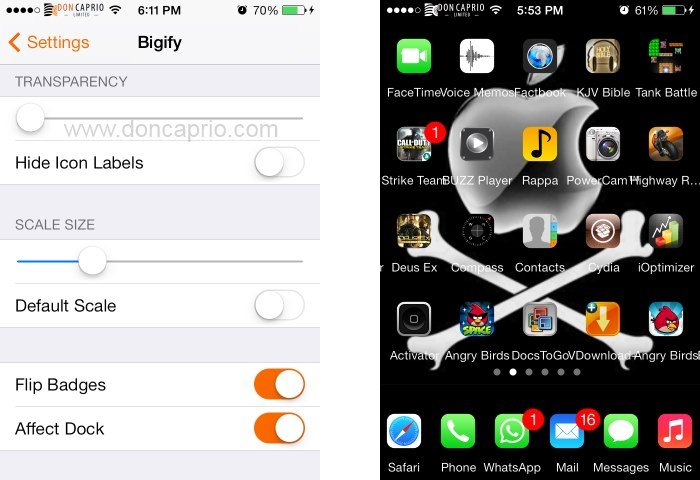 Iconoclasm might make your Springboard pretty ugly without a tweak like Bigify. Bigify can make your icons smaller or bigger. There's also Bigify+ to add cool and crazy effects to your Springboard icons.
5. Infinidock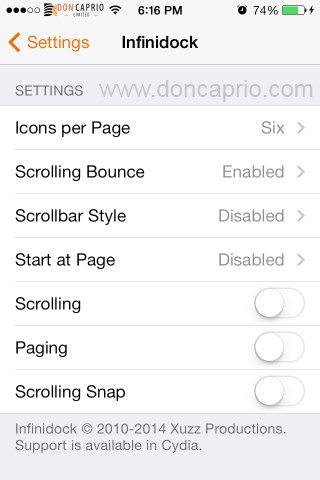 Want more than four icons on the dock? Or you just want a paginated dock where you can scroll through icons? Infinidock does these and more.
6. NCAllOnly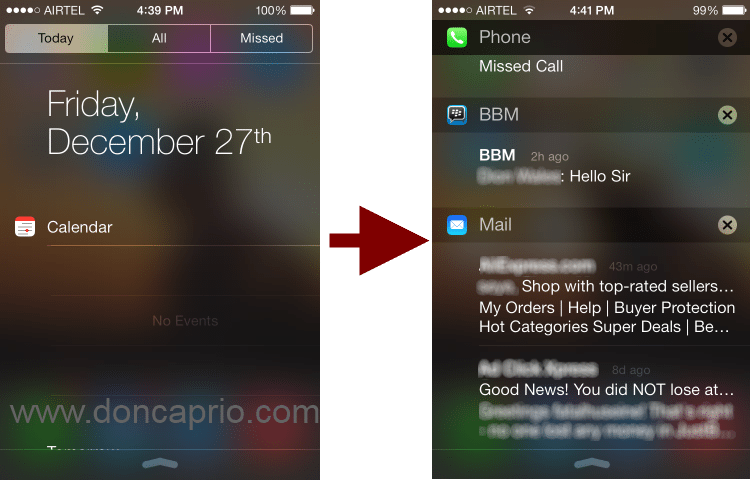 If the "Today" and "Missed" tabs are getting in the way while trying to access your Notification Center, this tweak will remove them and let you access NC directly.
7. CleanCC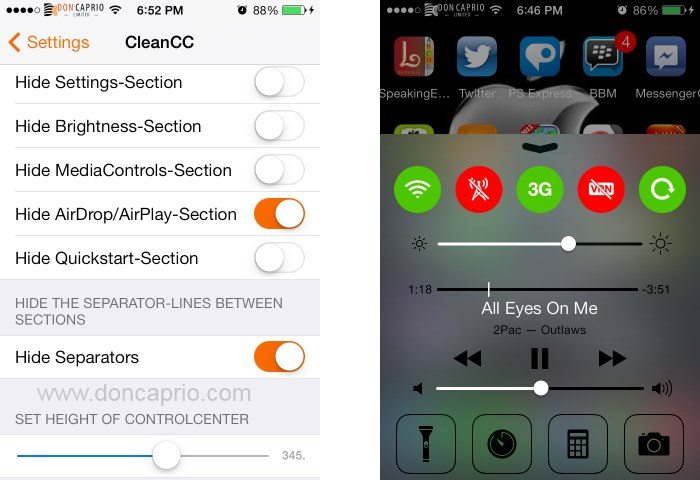 This tweak lets you remove seperator lines from Control Center, set a custom height and even hide sections you don't need.
8. DockShift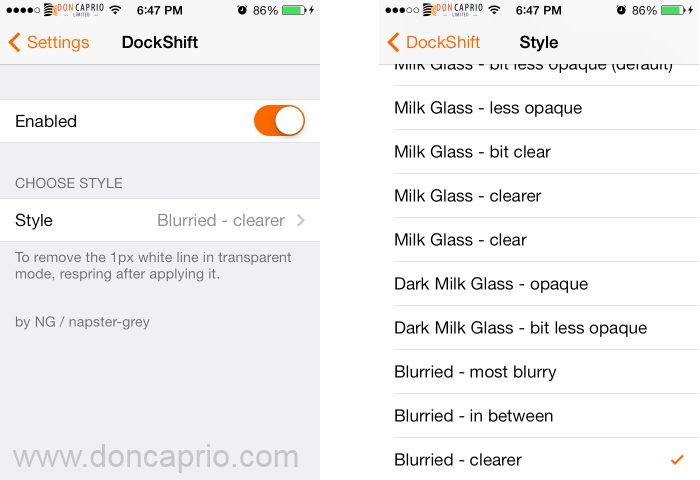 iOS 7 dock looks rather ugly but this tweak beautifes it. There are different shades of effects to choose from and if you like, you may even make the dock completely transparent.
9. Messages Customiser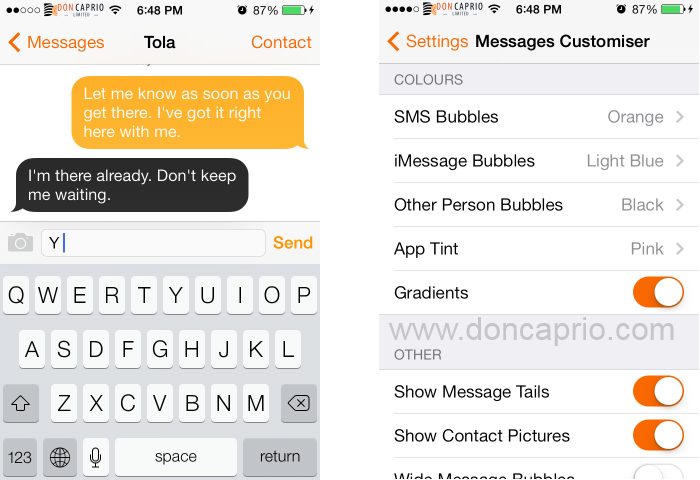 Miss the colored message bubbles on iOS 6? This tweak brings it back and even adds more. You can choose custom colors for sent and received messages and iMessage as well.
10. Zeppelin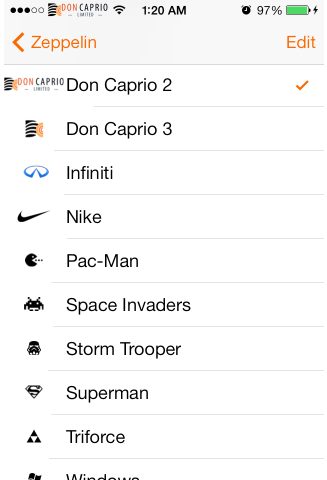 It's old but still, it remains golden. Zeppelin lets you replace your carrier name or operator logo with a custom image. There are stock images to choose from and you can as well create your own Zeppelin logo.
11. Circulus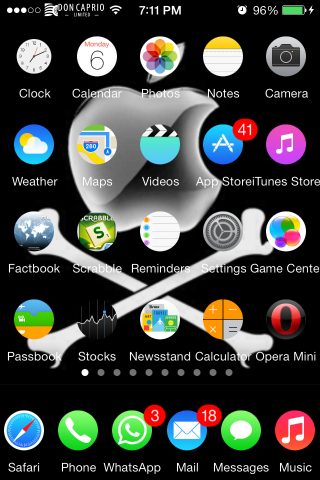 This tweak simply makes your icons round in shape. It has to be applied through Winterboard which is not fully compatible with iOS 7 at the  moment but still works. The only noticeable bug is that you device may go into safe mode when you try to use Spotlight Search.
12. Emphasize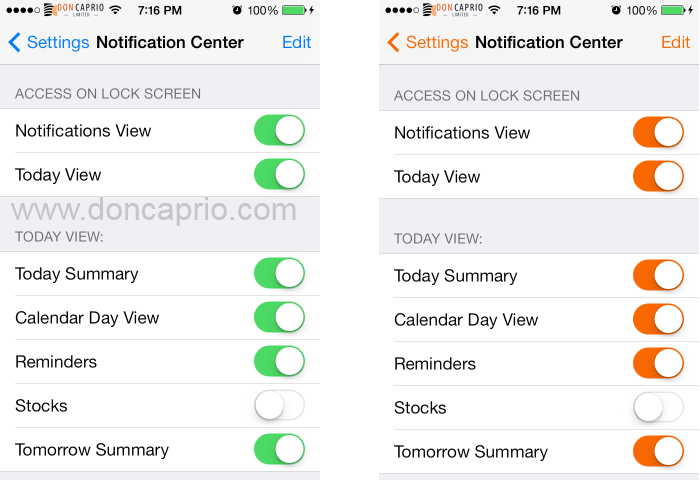 Emphasize lets you customize your device control color schemes. Got a favorite color? This tweak lets you show that off.
13. customLS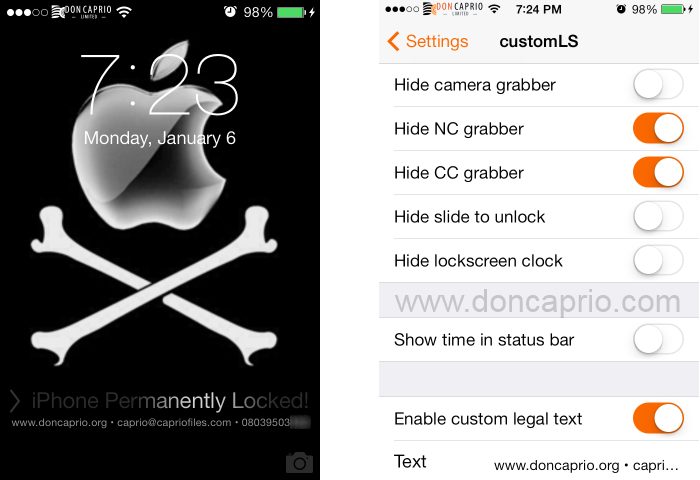 Your lockscreen says a lot your device and this tweak lets you personalize it fully. You can remove NC and CC grabbers, define a custom unlock text, a custom legal text, hide camera grabber and more.
14. Color WhatsApp for iOS 7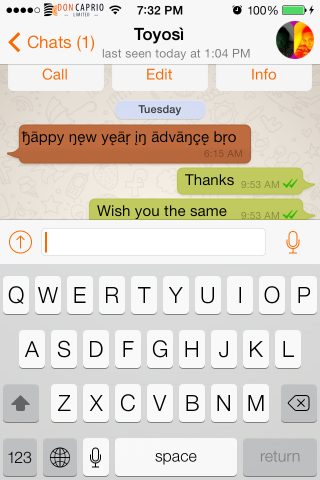 This is only useful if you use Whatsapp a whole lot and you really want to give it a new look. Like the name suggests, it adds colors to your message bubbles on Whatsapp and you can select different themes for Whatsapp through Winterboard.
15. SBRotator 7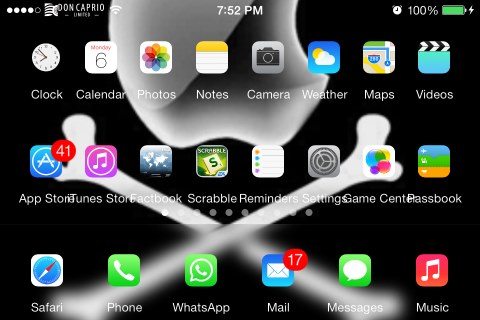 SBRotator is about 3 years old in the jailbreak community but it still remains useful as ever. If you envy the way iPad users can use their devices at any orientation on the Springboard, this tweak is what you need. You can view the lockscreen, springboard and settings page in landscape mode.
You may have issues though if you're using a custom Iconoclasm layout. Apart from this, it's fully working on iOS 7.
16. Fancy
Well, this tweak colorizes almost every part of your iDevice. You can select custom color for NC and CC backgrounds. You can also colorize spotlight, keyboard, banners and more. This tweak isn't yet available for download but it should hit Cydia in the next few days.