Getting a massage is one of the best treatments to ease sore muscles, especially when you have someone skilled enough that knows precisely how to do it right. However, this isn't always an available option. The truth is, you won't always have someone around to help, and there are times when it's not feasible to go out there and get it done in a massage parlor. This is when having a capable massage gun can be pretty handy—basically, all you need to do is power it on and give yourself the treatment you long for. It saves you the time you would need to commute to visit a masseur, and you get to keep the money you would have to pay for the service.
With hundreds of massage guns in the market, finding the right one for your needs may not be easy. What a bodybuilder might require would be different from what ordinary folks might want to use after a long, stressful day at work. Besides, budget is another factor to consider when hunting for any device, including massage guns. While top-tier massage guns pack the highest punch imaginable that might set you back by as much as $500, and entry-level ones let you sacrifice usability for some savings, some sit somewhere in the middle and let you have it both ways.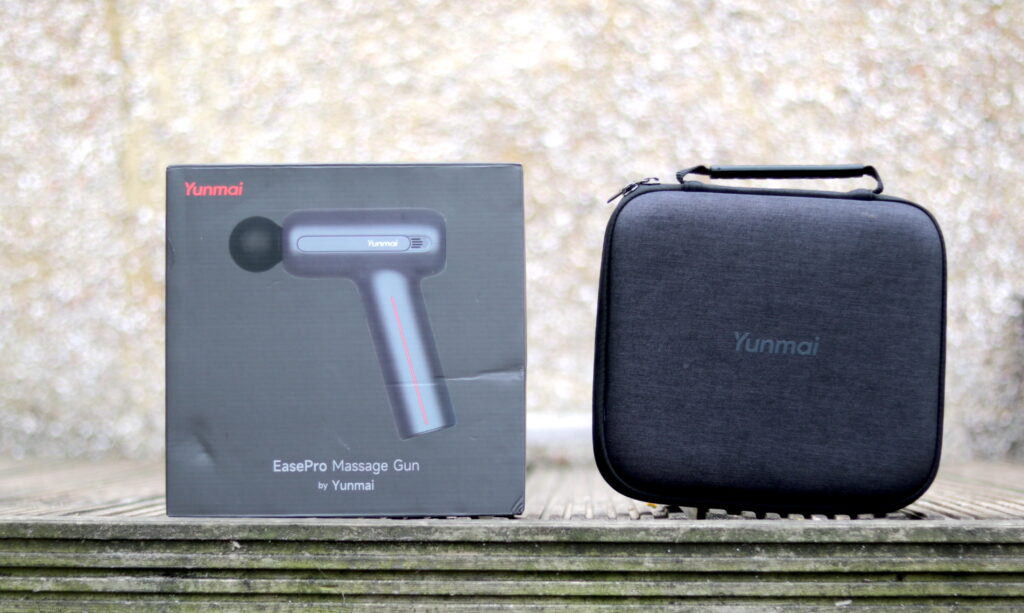 This is where Yunmai EasePro Massage Gun stands in their product line of their massage guns. Released earlier this year, the EasePro is one of those mid-range massage guns in the market that tries to balance features, power, and usability with user budget. I got this portable massage gun unit recently, and I've had some time to evaluate it.
First Impressions & Design
The EasePro massage gun comes in a smooth carry case, making it a comfort. If you move around a lot, this soft carry case lets you pack the massage gun and all its accessories with ease.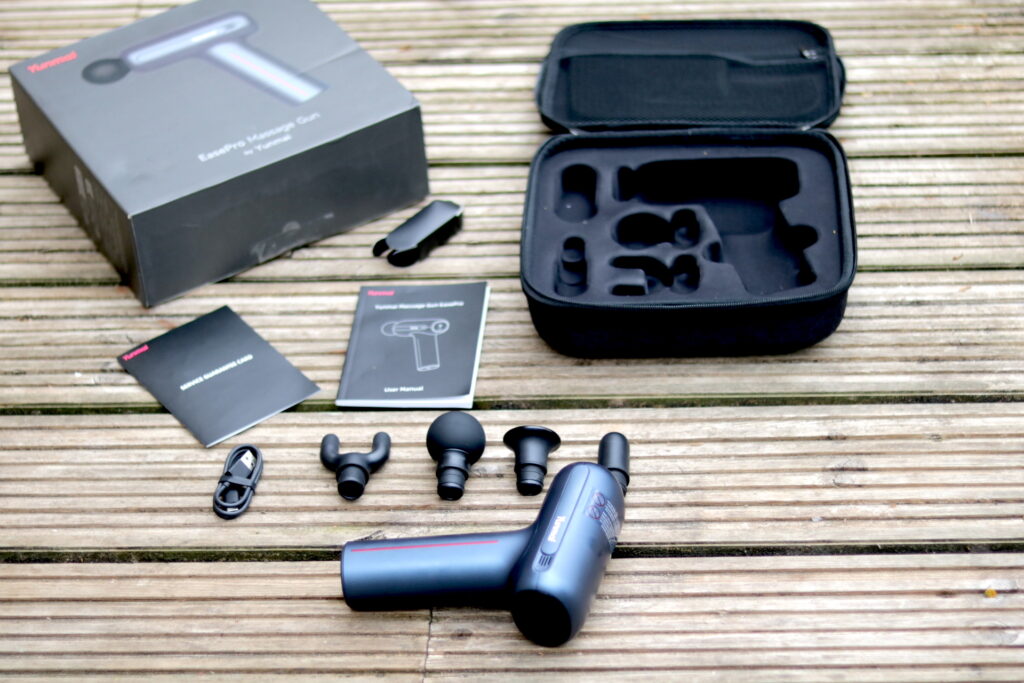 Apart from the massage gun, there are four different massage heads (flat, ball, U-shaped, and bullet). Also, there is a USB type-C cable, a product warranty card, and a user manual.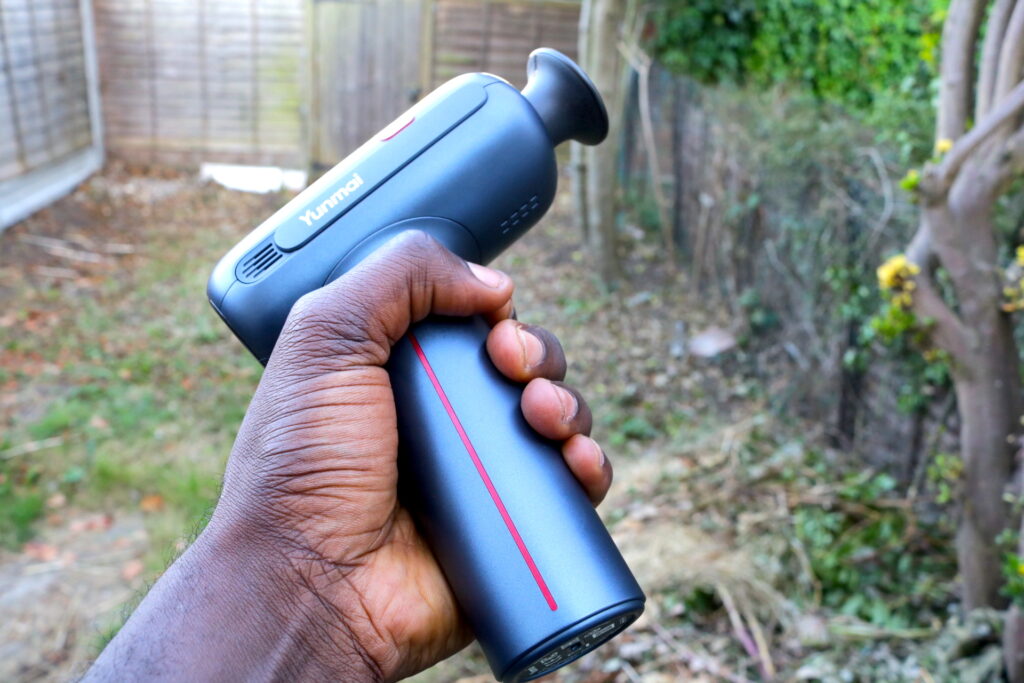 One of the best features of this device is how compact it feels in hand. Weighing only about 0.6kg, the Easepro feels good to hold and use. The first thing you notice about the form factor is that the handle isn't the conventional 90-degree design you may be used to. The slanted ergonomic grip lets you massage areas that may be hard to reach, such as the back and the lower part of the shoulders.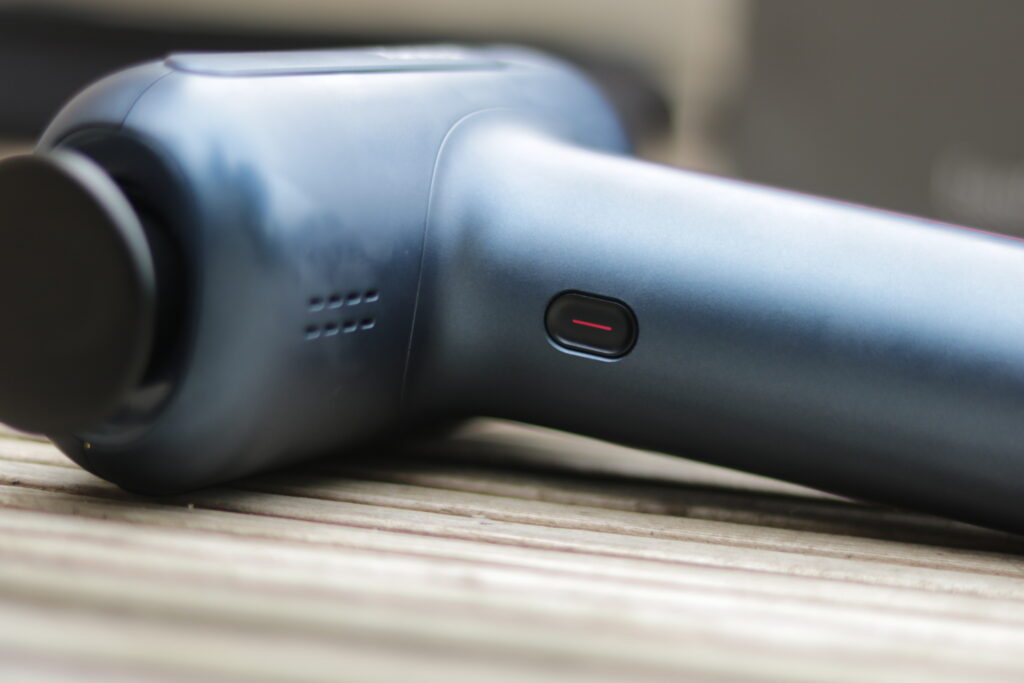 At first glance, you will see just a button at the front of the grip where the index finger is held; this is only the button that powers the device on and off.
When turned on, there's a small LED panel at the back with another capacitive button that controls the speed. This panel also has indicator lights signifying the power and speed level. The ring light around this panel indicates the amount of stall force being applied, which, in turn, provides valuable information on when to ease the pressure.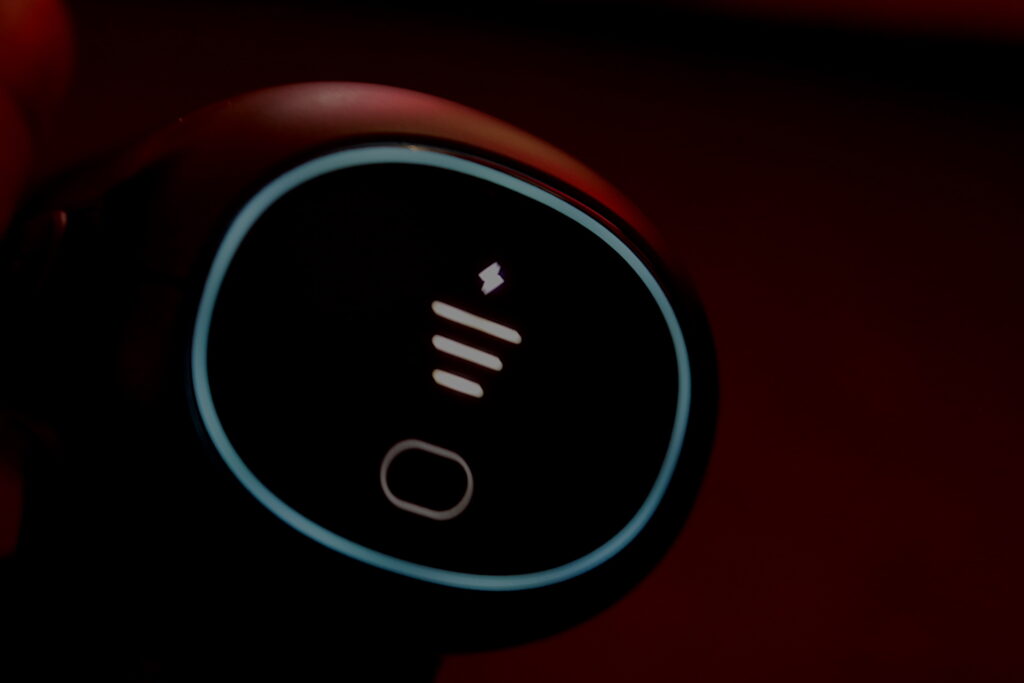 Features & Technical Specifications
The Yunmai EasePro Massage Gun is compactly designed with 6.7"x 5.1"x 2.6" dimensions. It exhibits an impressive thrust range of 15-20kg, making it powerful enough to soothe your aches and pains effectively. One key advantage this model holds over others in the market is its motor life which boasts more than 20,000 hours, showcasing its durability and longevity for regular usage.
An important aspect worth noting is the massage gun's three-speed settings: at first gear, you have a speed of 1,800 RPM; ramping up to the second gear gives you an RPM of 2,400; finally, reaching maximum power in third gear delivers 3,000 revolutions per minute. Despite all these features implying that this isn't a cheap, underpowered massager device, user comfort isn't compromised as noise production stays below the acceptable limit under forty-three decibels (<43dB). This makes the operation as quiet as possible.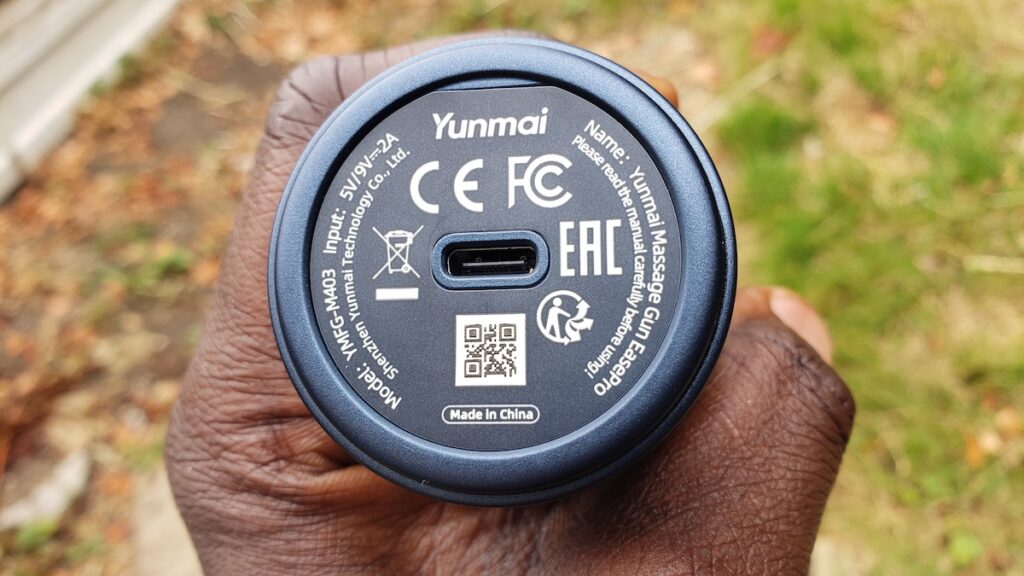 The EasePro Massage Gun charges using a USB-C cord with 9V/2A and 5V/2A voltage options. The device's maximum power output is rated at an impressive 45W. At the same time, the battery's capacity of this model stands tall at approximately 2600 mAh, which further means that even after one year, it holds up to about as much as eighty-five percent (85%) of its charge.
This massage gun features heads made from ABS (Acrylonitrile butadiene styrene) for flat and bullet head types. Round-head and u-shaped head models utilize food-grade silicone material, ensuring safety and comfort during usage.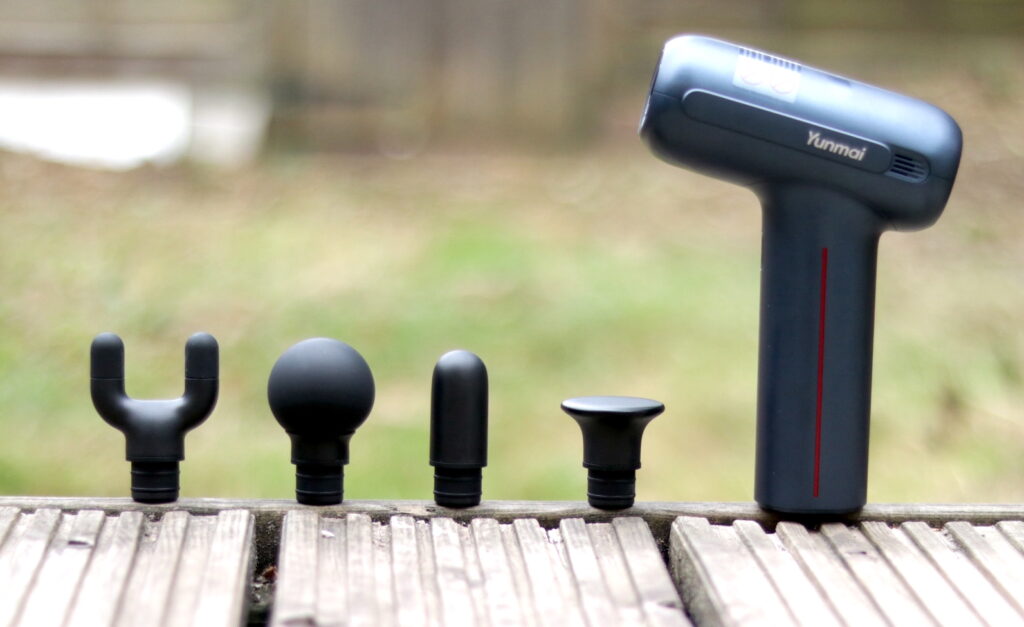 An easy-to-use operation button has been incorporated in the design just on the grip, which powers the device on and off. The capacitive button at the back includes a gear switch function via a single tap and a pause/play function via double tapping.
This massage gun can also be utilized across different temperatures ranging from minus twenty degrees Celsius (-20°C) to sixty degrees Celsius (60°C). Despite packing in so many powerful specifications within such a compact unit, the product only weighs a comfortable 600g.
Each purchase of the EasePro Massage Gun comes with a one-year warranty for quality assurance and peace of mind.
These extensive specifications make Yunmai's EasePro Massage Gun an excellent tool that provides powerful relief from muscle tension while ensuring durability and long-lasting usability packaged within an aesthetically pleasing design structure.
Performance & Effectiveness
With any massage gun, regardless of the price, features, and all the bells and whistles, the most important aspect is if the performance meets one's needs. The Yunmai EasePro Massage Gun offers three different levels of intensity, ranging from a gentle 1,800 rpm to a powerful 3,000 rpm. This range of intensity settings suits users of all fitness levels, from beginners to professional athletes. The massage gun also features a high-torque motor that delivers a deep and penetrating massage, targeting deep muscles and providing effective pain relief.
Although the lowest amplitude I've seen on a massage gun is about 7mm, the 10mm amplitude on the EasePro might seem moderate when compared to the high-end devices in the market. Generally, one might call it average, but a massage gun's stall force and maximum revolutions per minute can make all the difference. The amplitude determines how deep the massage gun travels into your muscles, but without enough stall force and motor speed to back it up, you might feel no more than a vibrating sensation rather than a proper massage. During my use, Yunmai EasePro didn't feel this way at all. As a matter of fact, with the 20kg (44lbs) stall force (which is quite a lot), it is a breeze to use and does its job quite well. So far, in everyday use, I haven't needed to apply enough stall force to stop the device, and the 10mm amplitude is more than sufficient for my use case.
Besides, the pressure indicator ring LED is a nifty feature that sort of eliminates the need for a smartphone app. With Yunmai's "magic pressure sensing" technology, the color of the LED corresponds with the stall force being applied: light blue denotes normal stall force, a deeper blue represents medium pressure, and red infers that the maximum limit is almost reached.
The three different speed options are reasonable, but I sometimes wish there were more options. You have to choose between low (1,800 rpm), medium (2,400 rpm), or high (3,000 rpm) speed settings.  I would've loved to see two more options between low-medium and medium-high; I mean it doesn't hurt to have more variations.
User Experience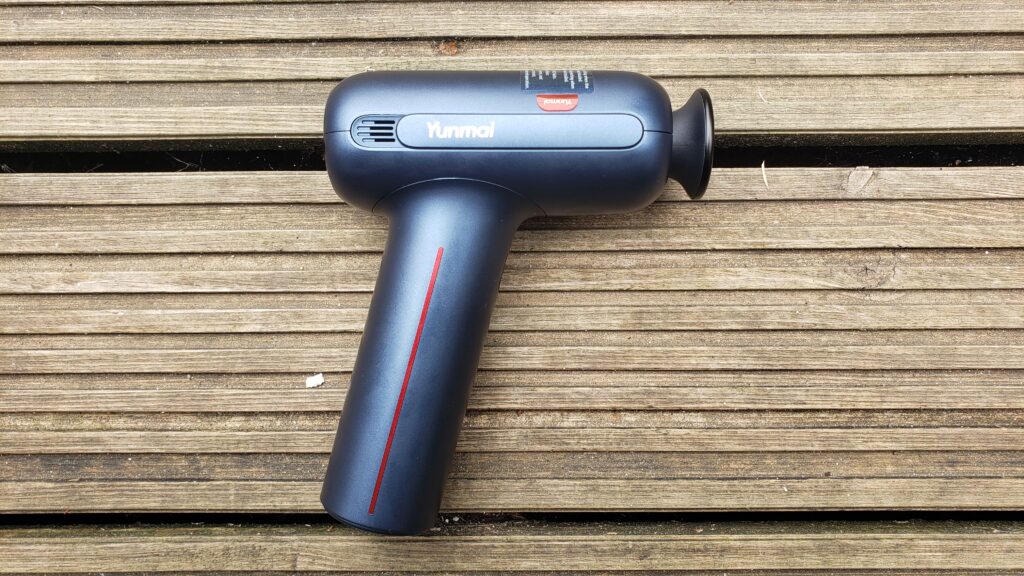 EasePro's unique ergonomic design and lightweight factor really shine when in use. During my trial, I found it easy to use for an extended period without feeling tired. The slanted grip made it easier for me to reach different parts of my body, significantly improving the overall usability and experience.
The four different types of massage heads also provided a varied experience. The round head is perfect for general muscle relaxation, but the bullet head, which is more focused, helps target deep tissue and small muscle groups. The U-shaped head is excellent for the neck, and the flat head offers an all-around application.
Battery life with these devices can be a concern, but with the EasePro, I found it quite satisfactory. The 2600 mAh battery offers an impressive battery life of about 46 days (according to the manufacturer). While this sounds like a ridiculously big claim, I haven't had the need to charge the device for about ten days now. However, my main gripe is that I haven't figured out how to reliably check the remaining battery juice left. Regardless, from my experience, the EasePro massage gun packs enough power, you won't have to worry about charging it after every use, and it also makes it an ideal travel companion. Also, if you left it on and forgot to hit the power button, the device automatically shuts off, saving your battery.
While the capacitive touch button offers an easy way to change the speed and pause/resume operation, the button can be quite finicky to use. I've had times when I double-tapped to pause the device but switched gears instead. However, with time, I've learned to use it properly without triggering the wrong function. Apart from this, there isn't an actual dealbreaker for me.
In terms of noise level, the EasePro massage gun performs admirably. At noise level less than 43dB, it operates quietly, which is a significant plus for those who prefer a more peaceful and relaxing experience.
Value for money?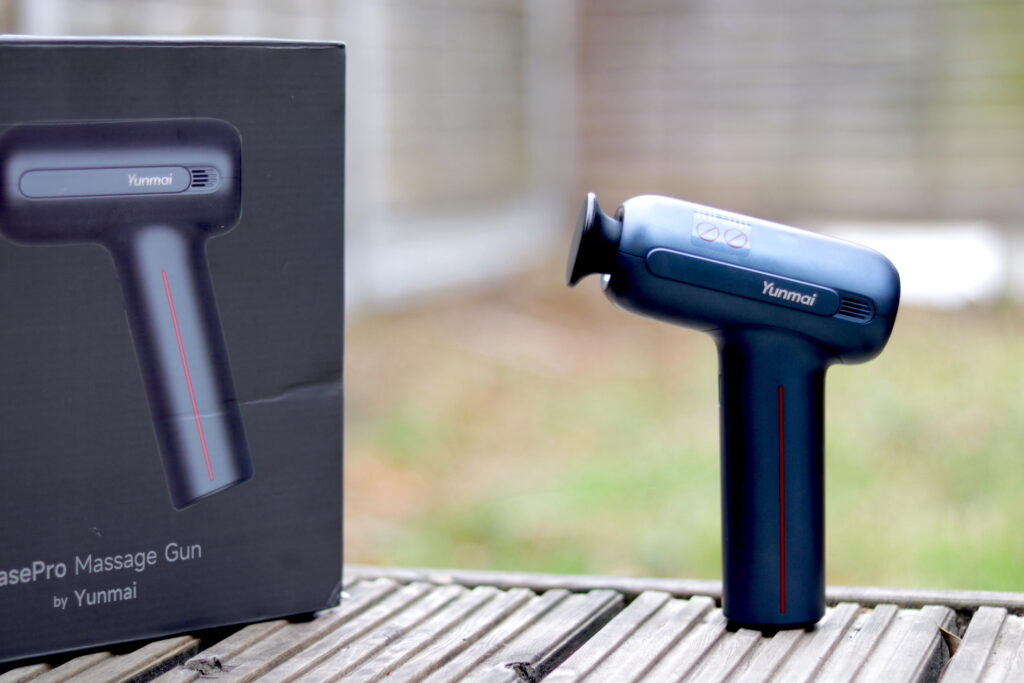 Yunmai EasePro Massage Gun is a solid mid-range option for those looking for a powerful and versatile massage gun. Its compact and ergonomic design, along with the included variety of massage heads, make it easy to target specific muscle groups and achieve the desired level of relief. The intuitive controls and long-lasting battery life add to its usability and convenience.
While there may be other massage guns on the market with more advanced features or higher price tags, the EasePro massage gun strikes a good balance between price and performance. It provides an effective massage experience that meets the needs of both beginners and more experienced users.
While a quality massage gun isn't cheap, the Yunmai EasePro Massage Gun provides considerable value for its price. Retailing at $179, it is a reasonable price when compared to high-end massage guns that can cost over $300, but with similar features.
Although a more premium massage gun might offer a greater range of speed and power settings or more sophisticated handgrip designs, the affordability of the EasePro makes it an excellent choice for those who cannot justify spending large sums of money on a massager and would not want a cheap $50 massage that might not meet their needs.
Moreover, the durability of the EasePro, with its robust motor life, ensures that this is an investment that should last for a long time, providing value over the long term. It comes complete with a one-year warranty, increasing its value proposition and ensuring peace of mind for users concerned about durability.
Verdict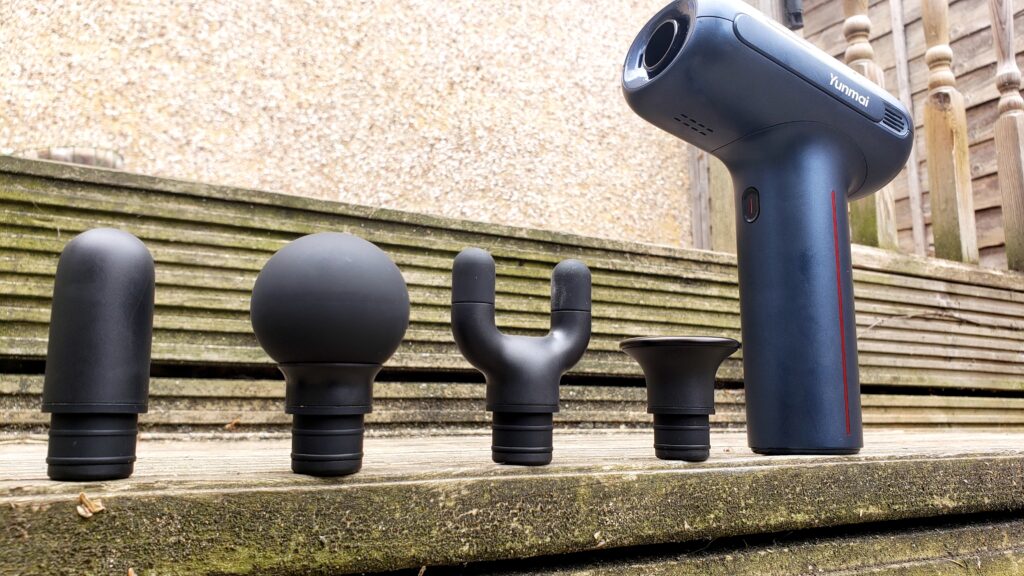 To wrap up, Yunmai EasePro Massage Gun is a durable, efficient, and user-friendly device that I'd highly recommend for those looking for an affordable yet effective solution to muscle tension and pain. Based on its performance during my trial period, I'd rate this massage gun as 8.5/10. The machine creates a seamless blend of power, style, and user comfort.
However, it is essential to remember that everyone's needs and preferences when it comes to massage guns can be different — what works well for me may not necessarily work the same for you. Therefore, it is always recommended to do your homework, read reviews and understand your requirements before making a purchase. Whether you're a fitness enthusiast, a professional athlete, or just someone looking to relieve everyday muscle tension, the Yunmai EasePro Massage Gun could be an excellent choice.