So, you're looking to create an online presence and figured out that the best way to go about it is by having your own website. Awesome! But the problem is, you practically don't know how to code, neither do you have the time to start learning or the resources to pay someone to do it for you. So, what to do now? Well, Wix is certainly your problem solver in this case. The Wix website builder is basically a set of tools integrated together to allow you to easily create your own website, customized to your tastes, all without having to get into the nitty-gritty of coding. Creating and hosting your own website has never been easier, thanks to Wix. The amazing thing about using Wix is that it's reliable and it has all the tools you need to make your website stand out, give it that professional look and add on to it a modern touch. And the best thing about using Wix and its tools is because they are all free.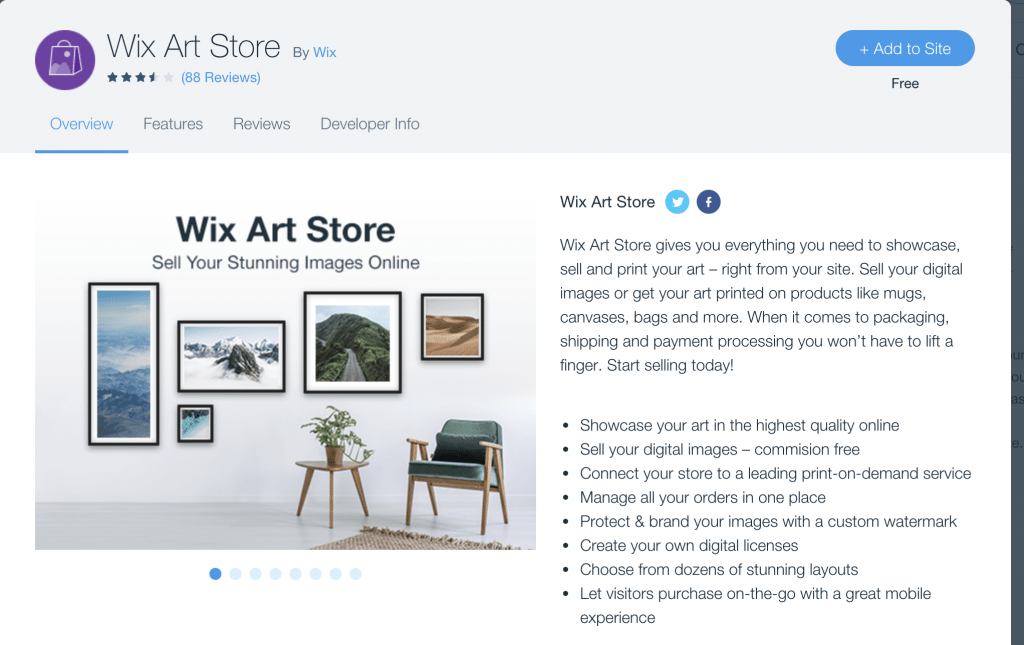 How better can it be? Making a website is not enough. We have to find a way for it to market your business and make it stand out. That being said, engineers at Wix are always at work to ensure that your business grows and scales to its highest possible potential. In order to do this, they are constantly coming up with awesome tools and features to help you market your business and to help you reach out to as many clientele as you can.
Wix Art Store
The Wix Art Store is a tool that has been designed to help anyone with an artistic eye to manage themselves and to be able to promote their artwork online, straight from their website. The tool is extremely simple to set up and get the niche of how to work with it. If your artwork requires being printed, with this tool, you can easily connect your site to a third-party which will handle all your printing and process all your payments for you. Worried about the costs you'll incur? Don't be. With this tool, you will sell your artwork commission free. How awesome is that?
Other awesome features offered by the Wix Art Store include the watermark tool which allows you to brand your products and give them that unique factor that makes them your own. You also get email notifications, accept online payments for your work and on top of it all, you are at liberty to perform full customization of your products and give your customers the best mobile experience they can get in the market. Since the control is in your hands, you get to choose what kind of license to allocate your artwork and be the one to decide what price to retail each of them at. Given the massive demand you're set to be open to the public once you start using this tool, you don't need to worry about how you're going to handle the traffic.
Features of Wix Art Story
Advertise Your Art
This platform allows users to market their digital art and photography products online. The site has an exceptional exposure level, which makes it perfect for marketing your digital products. Plus, you can sell your products from your site.
Wix does not take away your marketing power from you. Instead, it makes it simple to reach your desired clients from all corners of the globe. Simply put, it allows users to set up an online store easily. This makes it easy to sell digital image files and products directly from the site.
Easy Printing Resources
Furthermore, this platform also allows one to connect their store to a third party printing platform. As a result, users can conveniently print their media for convenience. The site provides this feature which makes it simple to gain first-hand access to the digital products. They are responsible for the entire procedure including packaging, printing, shipping and payment processing. That means that you can worry less, and sell more.
Commission-free and Watermark Protection
This platform is also ideal since it has a commission free service which makes it affordable for your needs. You don't need to let go of a certain commission amount for you to enjoy the services at Wix. In fact, the site makes it simple for users to gain access to various resources easily. They have affordable service packages which are customized to suit your performance needs. The inclusion of the special watermark protection lets you protect your products.
What are you waiting for? Get signed up on Wix today and make use of the Wix Art Store to propel your business to the next level.