Drones have gone mainstream, and it's normal to see a DJI Mavic Pro flying above your head these days. If you own one of these drones, you would understand that learning to fly a drone is just a part of the whole process of capturing stunning aerial footages. There are several issues you might encounter when it comes to working with videos from a drone.
Whether you have a very expensive drone like DJI Mavic Pro or a budget-friendly unit like the DJI Mini, the fact remains that your footage will not always come out the way you hoped. There are times you will end up with grainy, shaky or jerky videos due to weather conditions, bad flight skills, or some other factors beyond your control. Without the proper tool to fix this, a whole day's effort might be rendered wasted.
It's also common knowledge that working with 4K videos from drones isn't always easy especially when you don't have the right software or a really powerful machine to work with. Sophisticated video editing programs like Final Cut Pro and Adobe Premiere Pro are for powerful machines and on top of this, they don't come cheap. You have to pay a heavy sum to get a license to use these programs.
Get Video Editing Software for free
Digiarty, a multimedia software developer, and its product VideoProc, also offer a good solution in 4K large video editing and processing. The good news is that you can get VideoProc for free at the video editing software review page. There's a time-limited giveaway that gives you a valid license for free. For now, you won't need to purchase the program if you quickly take advantage of this giveaway. What does VideoProc offer?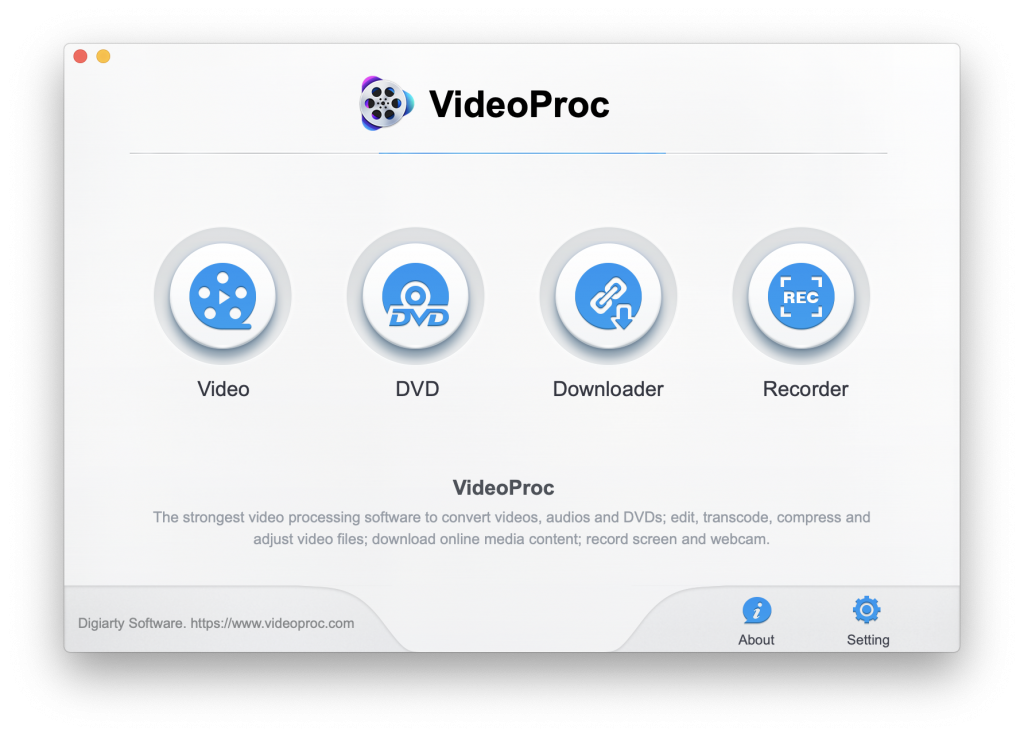 If you need to process 4K or 2.7K videos from your drone with ease using your not-so-powerful computer and without splashing a fortune on an expensive video editing software, you should consider a program like VideoProc. VideoProc is an all-in-one lightweight video software that should take care of all your needs. This DJI drone video editing software lets you do several things with your video, be it editing on conversion.
Basic video editing
You are bound to have parts in your footage you definitely do not need. This is why a standard video editor is expected to perform certain basic functions such as video cropping, cutting, and trimming.
VideoProc lets you cut your drone large footage into smaller videos. It also lets you trim off unneeded footages and you can as well crop your videos.
– To do this, all you need to do is load up the video and in the video details, hit the Cut button.
– After this, choose the Cut tab and drag the slider to your desired position.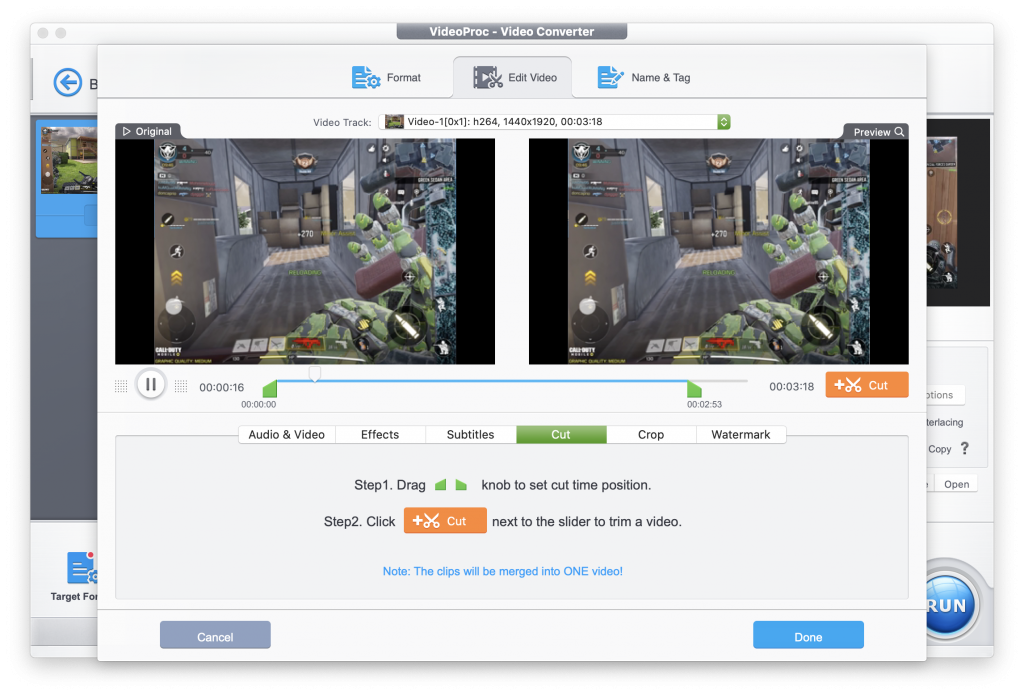 – You can preview the result before proceeding.
– To finish it up, click the "Cut button next to the slider and you're done.
Advanced editing
Apart from these basic features, VideoProc lets you fix poor footages with its denoise and deshake features. These can be found in the Toolbox tab at the bottom of the Edit screen. You can also speed up or slow down footages by adjusting the play speed. Since 4K videos are usually huge in size and not easily shareable on social media, you have an option to resize your videos to your desired size.
– To reduce the size of a 4K video, click the Codec button.
– This displays a screen with several options. If you know exactly what you're doing, you can play around with the options.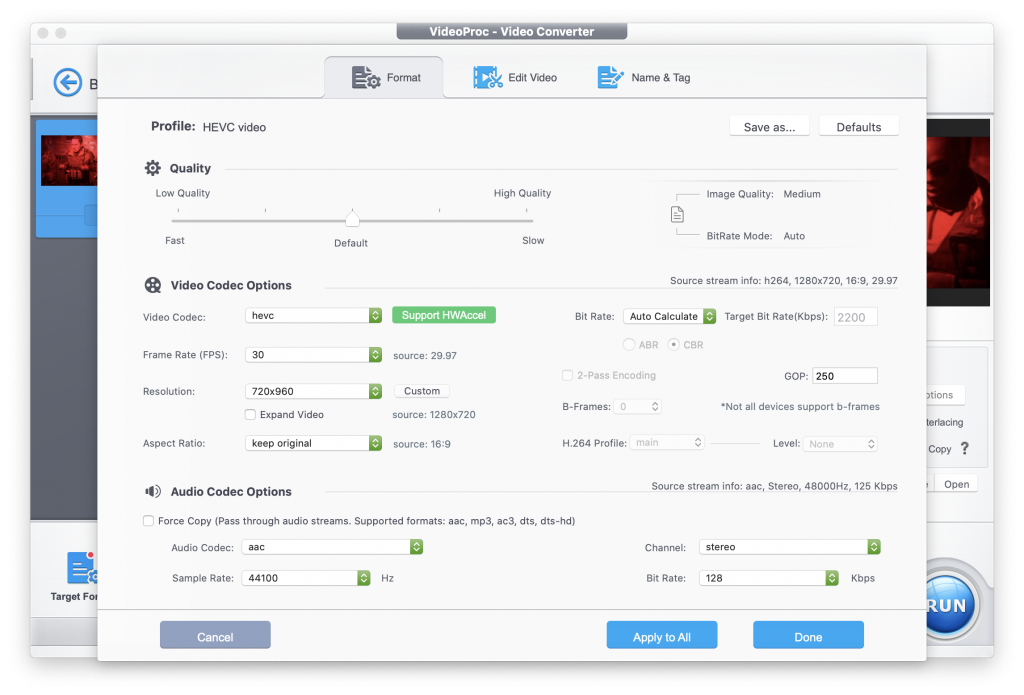 – If not, you should exercise some caution and use just the resolution option. This lets you scaled a 4K video down to preset options like 1280p, 480p, etc.
– For best results, keeping the original aspect ratio is advised.
If this is done right, you should have the video with a much-reduced size but still the same video quality.
Video conversion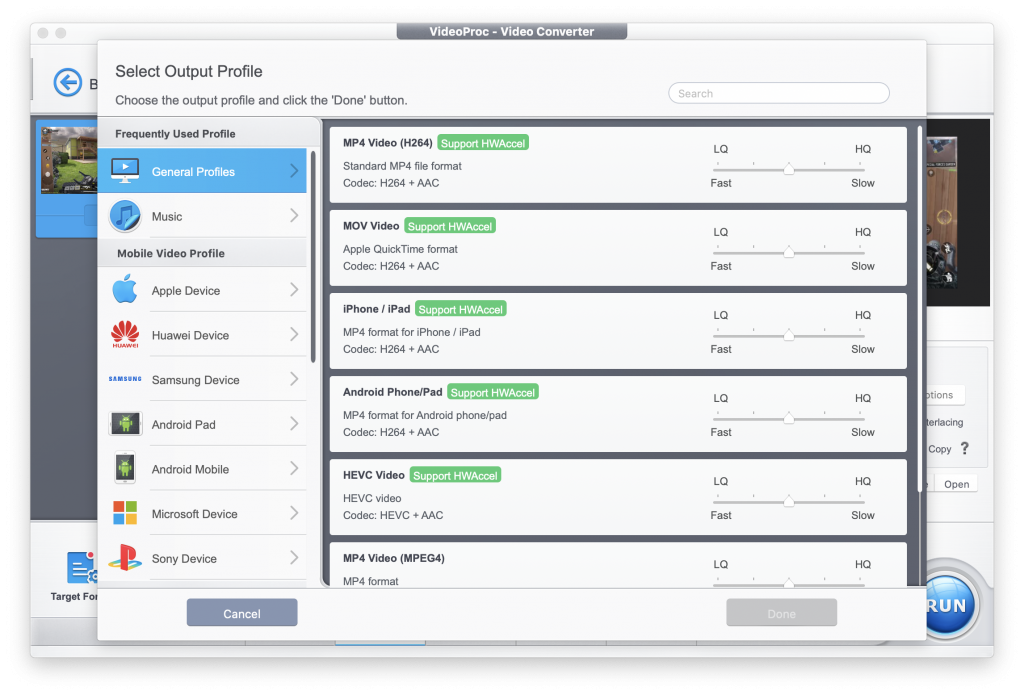 Quite a lot of drones record in MOV format and this may not be compatible with all video players and devices. To fix this problem, VideoProc has an inbuilt video converter that offers you loads of options.
The inbuilt converter supports hundreds of video formats and there are preconfigured output options for popular devices.
Full GPU acceleration
Video processing can put a huge demand on your machine and it's generally known to be a slow process. However, VideoProc comes with full GPU acceleration and this makes a lot of difference. With its level 3 full GPU acceleration, VideoProc makes your DJI 4K video conversion really fast by putting your graphics card fully to use for the process.
Conclusion
Although this program is essentially a video processing tool, the truth is that it packs more than similar programs designed to do the same. Apart from video editing, VideoProc has several other features that make it easier to process 4K videos from your drone or other video capturing device.