iTunes lets you perform the basic functions Apple wants to do with your device but there are times when you realize iTunes alone is not enough to effectively manage your iDevice. For instance, if you're trying to transfer music from your iPhone to a new computer, this is impossible with iTunes because synchronizing the device with a different PC wipes off all your data.
While it is impossible to own an Apple device without using iTunes, the limitations sometimes can be annoying. Even if you know how to do almost everything with iTunes, you should know already that performing advanced functions is impossible with iTunes and this is where the need for  an alternative iOS manager like Wondershare TunesGo comes in.
Introducing Wondershare TunesGo
I've been using this device for a while now and it has really allowed me do more with my device. I never thought things like editing my contacts directly from my PC while my device is connected was possible. Wondershare TunesGo is an iOS device management software that does most things iTunes does and a lot more. With TunesGo, you can easily manage your device even without iTunes. You can manage your playlists, contacts, photos, SMS and videos.
What makes this software even better is that you can easily transfer content from one device to another while both are connected without the need to wipe off either completely. All this can be done without needing to jailbreak your device.
Managing your device without iTunes
Here are just  a few of what you can do with Wondershare TunesGo:
1. Exporting iPhone/iPad playlist to another computer: With TunesGo, you can comletely transfer our music collection from your device to a PC. This can be useful if you formatted your PC or you just need to copy out the songs on your device to a PC.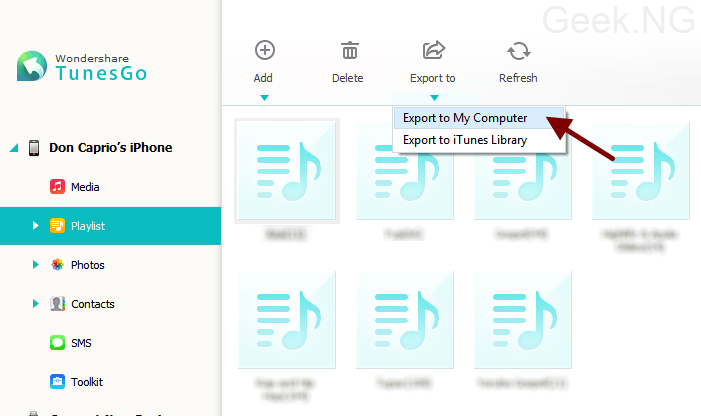 You can as well add new playlists and import songs  from your computer.
2. Edit, Import and Export Contacts: TunesGo lets you edit your contacts right on your PC. You can as well back them up by exporting and restoring them later to the same device or to anoter Apple device. There are different formats to choose from when exporting.

3. Manage Photos: TunesGo lets you manage your photos, create albums and add photos with it's simple and easy-to-understand user interface.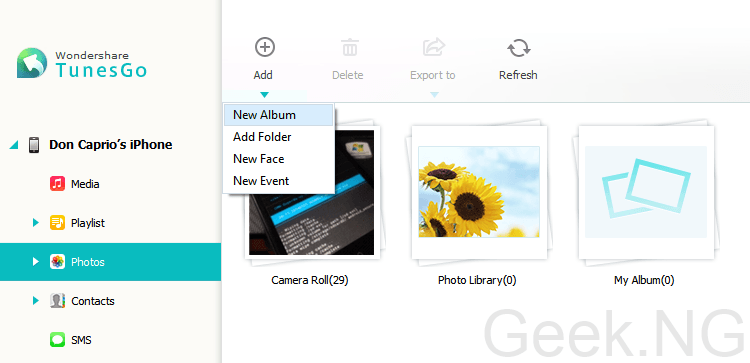 You can also export existing albums and photos to your PC.
4. Easily backup SMS threads for record purpose: If you wouldn't want to lose you SMS ever, Tunes Go lets you do this.
5. Manage all media files: Audiobooks, TV SHows, Videos, Podcasts and all media types supported by your iDevice can be managed straight from TunesGo. You can add, delete and export.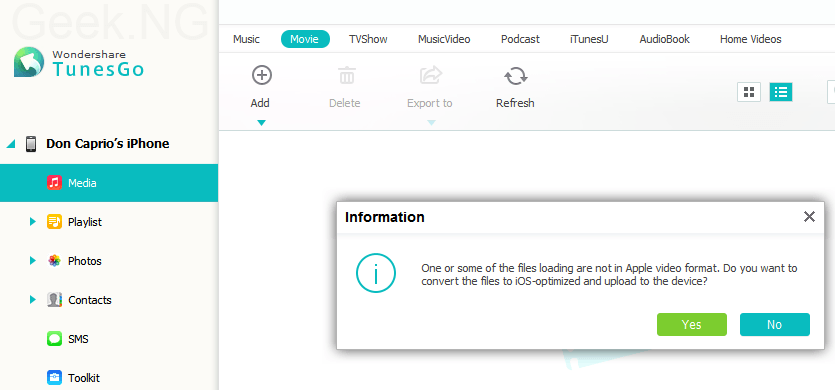 The in-built converter can even convert your movies in other formats to the format supported by your Apple device before import.
I've been using this software to manage my device since I got it and I must confess it's been great. If you have to deal with multiple Apple devices all the time, this software is good news. It's the one-stop shop for backing up your devices. Unlike iTunes where the backup can't be accessed, TunesGo backups can be viewed on your PC anytime and transferred to other devices. It doesb't come free though you're allowed to use the trial version before deciding to purchase it. The full license can be purchased for $39.95 at the moment.