Before you pull out the local SEO stick and angrily hit me on the forehead for this outrageous post title, perhaps you should read this post down to the last full stop. Alright then, let me rephrase this:
Using a ccTLD sucks for certain projects.
Better? Great!
Using a ccTLD (Country Code Top Level Domain) isn't for everyone, I knew this before building a brand on one, I'm not just waking up to that realization. Back in 2014, I took that plunge, thinking I was making a great decision. I was trying to target the local market (when my Alexa global ranking was already hitting 15k globally), and I was hoping the .NG ccTLD adoption rate would pick up and skyrocket like crazy in a few years to become one of the most popular in the world.
Why I decided to go for a ccTLD
Back in 2014 when I moved doncaprio.com to geek.ng, I gave certain reasons that sounded, well, legit. If you just got to know this site after 2014, you probably wouldn't know it was originally doncaprio.com. As a matter of fact, that was the name since 2010.
When I made the switch to geek.ng, I argued that I was trying to target the local market with a brand name that sounded Nigerian. I was trying to create a brand I could sell because I couldn't sell doncaprio.com; it's a pseudonym I adopted even before I started blogging in 2009. I even went ahead to convince myself that the domain name was rather a mouthful and there was no keyword in the domain name (forgetting websites like Hongkiat).
Well, I achieved my aim, I was able to penetrate the local market I was trying to reach at the expense of losing more.
.NG domain name isn't for everyone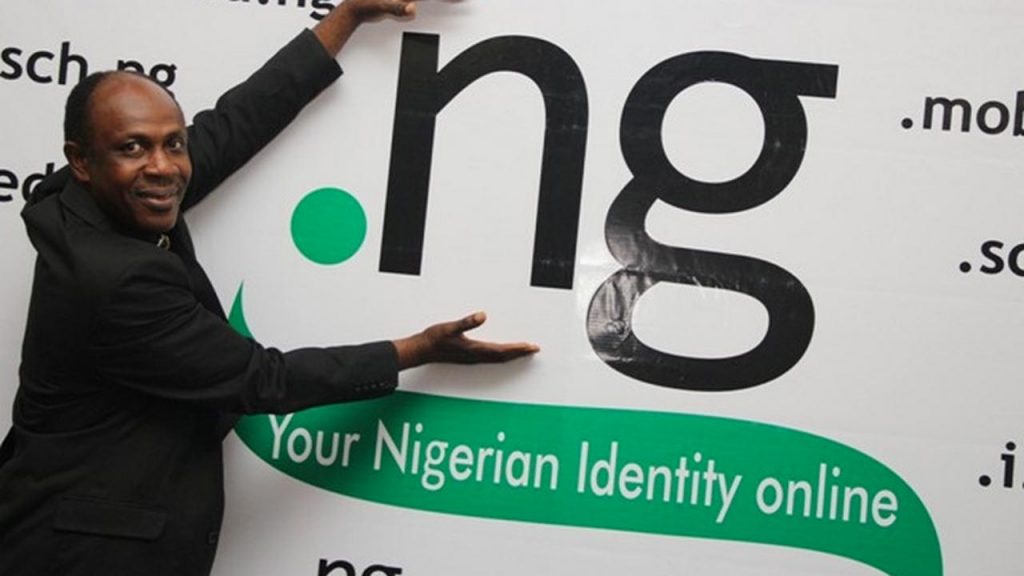 if you're considering going for a .NG domain or some other ccTLD or geoTLD, you need to really put certain things into consideration. I was fully aware of these dangers before making the switch, thinking I was taking a calculated risk.
If you're a local business and you have no intention of reaching the global market, you might consider getting a .NG domain name. As a matter of fact, if you are trying to reach only the people within your country, it might be the perfect TLD for you. In a nutshell, if you plan to restrict your traffic to just Nigeria, you are safe.
However, if you run a virtual business with the tendency to reach a global audience, you have no business using any ccTLD no matter how good it looks. This tweet from Mr. Mo of MobilityArena summarizes everything:
The greatest digital products and services tend to transcend geographical boundaries. So, unless your service is country-specific, ditch that .NG domain and pick a .COM.

Open your business to the world. Adopt global standards. Rise above your locality. #contentcreation

— Mr. Mo (@moverick) May 10, 2018
Why I still took the plunge
Knowing that I was running a virtual business, I still went ahead and moved to a ccTLD. When the .NG domain name became affordable (at about $100 per year), it felt like it was the right time to secure a short domain name.
Before then, Microsoft had already picked up bi.ng (for probably millions of dollars), the most creative .NG domain name in existence. Google picked up googli.ng. Websites like shoppi.ng started coming up and the future looked bright for the .NG ccTLD. With big names like Microsoft already adopting it, I assumed it was only a few years before it became a globally acceptable ccTLD like Montenegro's .ME extension. This is a domain extension Google no longer treats as a ccTLD in SERP ranking because of it's global adoption rate.
I was looking forward to seeing names like searchi.ng, lovi.ng, flyi.ng and others flood the world wide web within a short time. I was already thinking it would be the next big thing like .ME ccTLD. I was wrong.
Unfortunately, Nigeria Internet Registration Association (NIRA) killed whatever potential. NG ccTLD had with greed and short-sightedness. First, they put a huge price on it. Then, they made a huge list of premium .NG domain names you are not allowed to register unless you pay millions. There have also been reports of domain names being seized after purchase because they were either reserved or supposed to be sold as premium domains.
SEO, a major factor to consider
Geek.NG wasn't the first major Nigerian site to drop the .NG ccTLD. Mobility.ng dumped it years ago and rebranded to mobilityarena.com. Techcity.ng also switched to techcityng.com.
My guess might be wrong, but I think it all had to do with search engine optimization. When you use a ccTLD, Google already associates your site with that particular country. You are stuck and there's nothing you can do about it.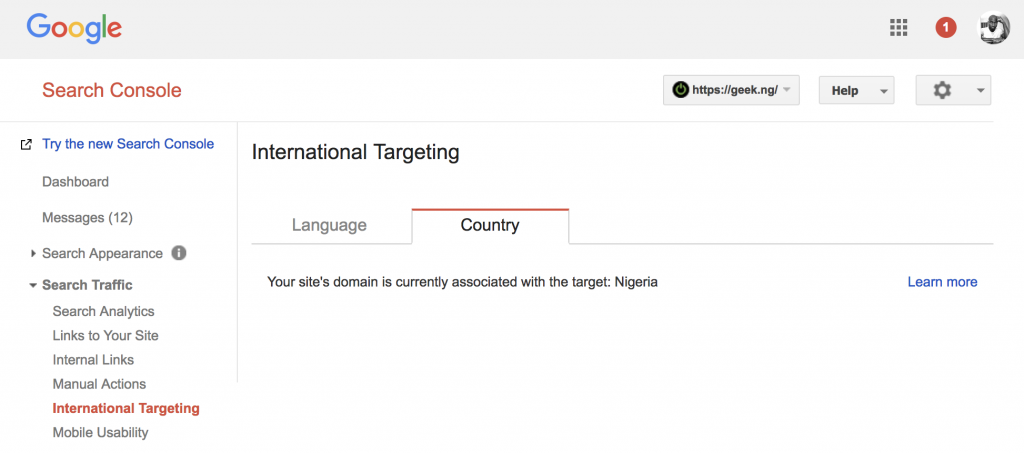 When you use a general TLD, this is what happens. You can still choose to target a specific country or just leave it at default and target the whole globe.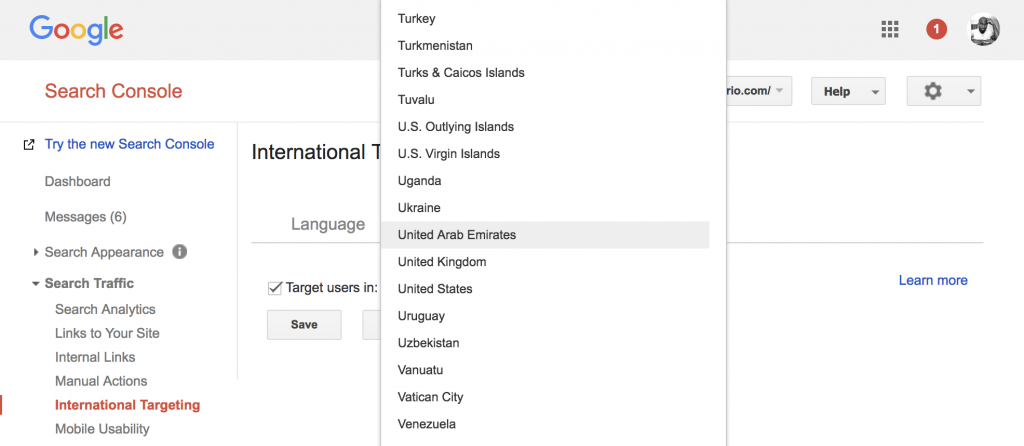 You might rank well and appear on the first page of Google when users search from Nigeria using google.com.ng. But when someone from the US uses google.com, you might be sitting on the 5th page of SERP. If your content isn't restricted to your country of origin, you are losing lots of traffic and money.
This has been my experience. After making the switch, I lost a great deal of traffic since the content on this blog is not strictly Nigerian. Articles that are supposed to be sitting on the first page of Google are buried deep in the 2nd or 3rd page.
Why go back to the old name?
Well, I could've bought a new .com domain name instead of going back to the first domain name, right? Well, I had no intentions of starting from the bottom with zero domain authority and absolutely no link juice. The name I would've gone for was already in use. The old domain name (doncaprio.com) still has great backlinks from high DA sites like Mashable, Zdnet, and a few others.
I chose to ignore the fact that the name sounds bogus and it's too personal. Hongkiat and Labnol have been doing great for years.
I chose to ignore the fact the domain name has no keyword. This is not 2005 when all that mattered for SEO.
It still has some solid weight and ever since I made the switch, it appears my international traffic is getting back on track.
Here is the bottom line: Don't use a ccTLD unless you're are a Lagos plumber or an Oshogbo bricklayer. You can still get a .com domain name and target your country if you have to. In Mr. Mo's words, "Open your business to the world. Adopt global standards. Rise above your locality."