The value of bitcoin has increased significantly over the last few years. Although it is still not widely accepted, some businesses and customers are beginning to accept bitcoin. However, if you find yourself in a place to do so, there are a lot of strong considerations in favor of converting bitcoin for naira. You may exchange bitcoin for Nigerian Naira using the Qxchange app.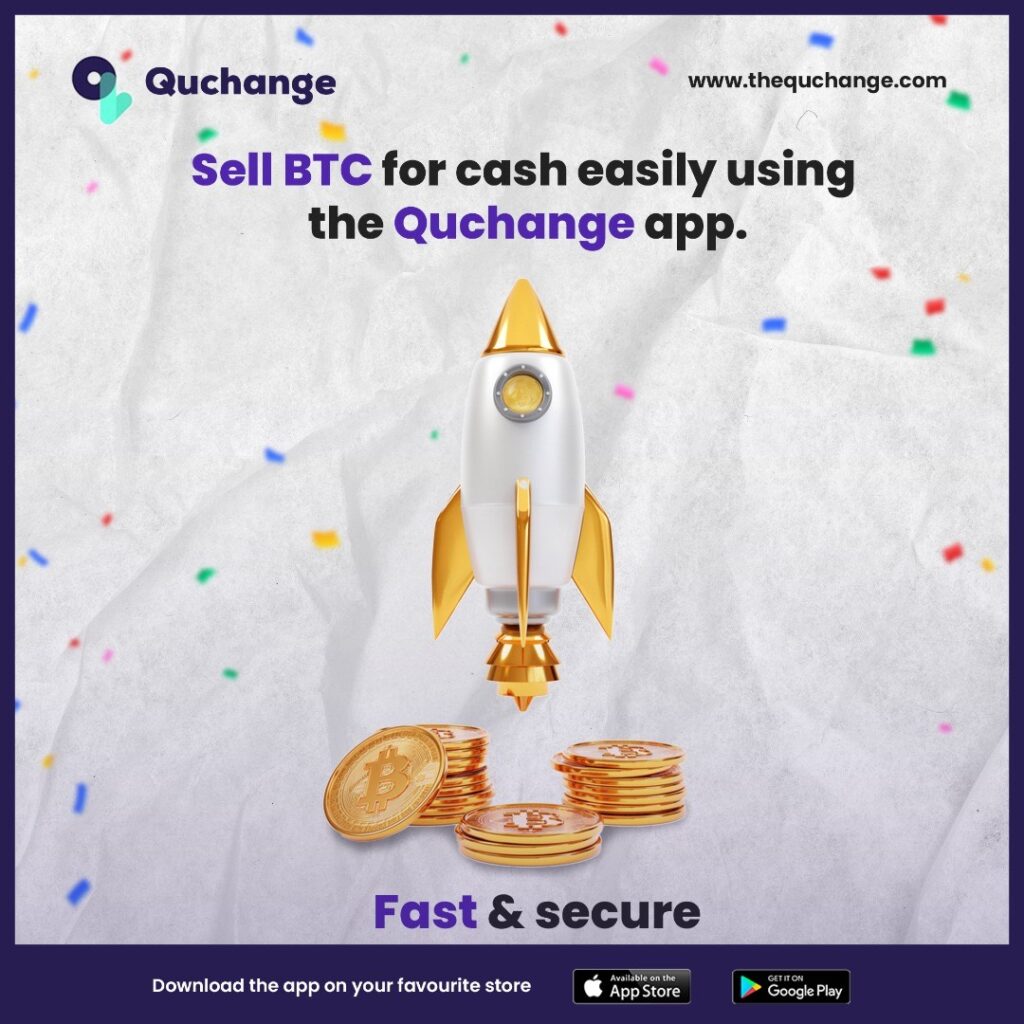 Naira is a reliable alternative for exchanging for bitcoin because it is a typically stable currency. Bitcoin's value can, however, vary greatly, and it is not unusual for the price to increase sharply or decrease in a single day. Because of this, figuring out the actual value of your bitcoin could be difficult.
If you are looking for the best app to sell your bitcoin in Nigeria securely for instant payment, then qxchange.app is your best bet. The cash you receive when exchanging bitcoin for naira can also be used to purchase other assets. Due to Nigeria's developing economy, investing there makes sense. The money made from the sale of bitcoin could be put to use by purchasing real estate or shares in a Nigerian company.
You can also use the Qxchange/Quchange app to sell other cryptocurrencie,s such as USDT and Ethereum for instant cash to your bank account. The accessibility of immediate funds is the third and last advantage of trading bitcoin for naira.
Changing bitcoin into naira, the national currency in Nigeria, is simple with the Qxchange app. It only takes a few minutes to receive your money, and the procedure is simple. This is a significant advantage over other bitcoin sales methods, that can take days or even weeks to complete.
Therefore, selling your bitcoin for naira is a great idea if you want to profit from the present market conditions. With the Qxchange app, you can quickly and simply convert your bitcoin into instant cash
APP LINKS
GOOGLE PLAYSTORE: https://play.google.com/store/apps/details?id=com.pixels.qtrader
IOS APP STORE: https://apps.apple.com/us/app/quchange/id1579616139
Website link: https://www.qxchange.app
STEPS ON HOW TO USE THE QXCHANGE APP TO SELL YOUR BITCOIN IN NIGERIA
HOW TO SELL BITCOIN
1. Tap on the orange icon that says BITCOIN or open the side bar menu and click on "BITCOIN WALLET."
2. Every user is given a unique bitcoin address, meaning the address you see on your quchange bitcoin wallet is yours and yours alone. Your BTC wallet balance will be updated soon as any bitcoin is sent to your quchange btc address.
3. Tap to copy your bitcoin to be used at anytime whenever you wish.
4. To sell bitcoin, send bitcoin into your unique quchange bitcoin address, after the bitcoin transaction hits 3/3 confirmations on the blockchain network, your BTC wallet balance will be updated by the amount you have sent.
You can then click on sell, you will asked to input the dollar value of the bitcoin you wish to sell from your balance. Make sure to allow $0.5 for blockchain transaction fees, when you hit the sell button, your Wallet is instantly credited in seconds, and you can then proceed to request a withdrawal.