Planning on starting your website or blog without draining your wallet? You should definitely go for this awesome offer from DomainKing. For a limited period of time, you can get up to 30% off on all hosting plans if you take advantage of this offer.
DomainKing has been helping a lot of businesses get online with their very flexible and affordable hosting packages. You pay as low as ₦93 per month for the Civillian plan or as high as ₦1199 per month for the King hosting plan depending on your need. Below is a summary of the flexible hosting packages: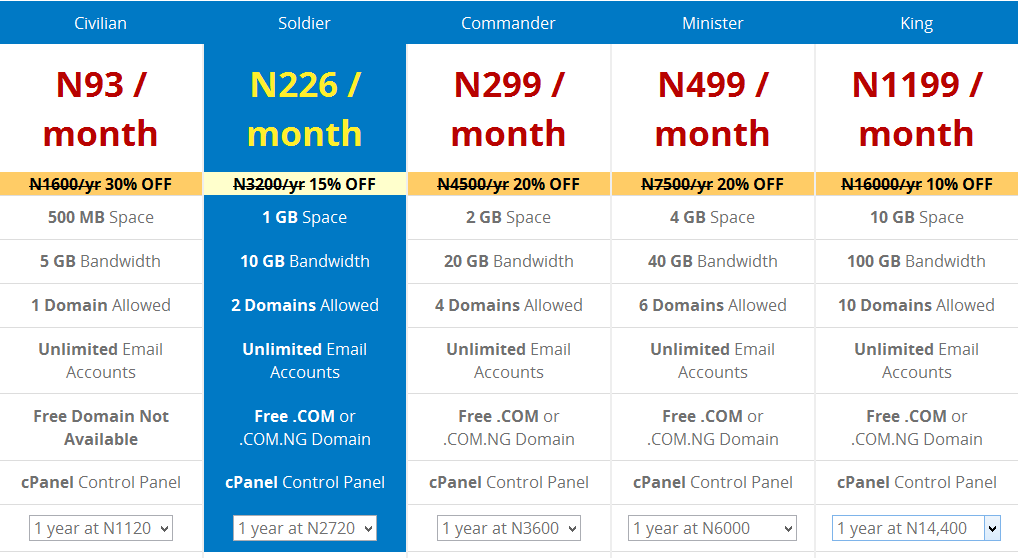 Hosting Plan Features
Every hosting plans comes with a free domain name except the Civillian hosting plan. Here are other features you get:
Free .COM or .COM.NG Domain*
99.9% Uptime Guarantee
24X7 Technical Support
Fully Managed WordPress Support
1 Click Installation for CMS Softwares like WordPress, Joomla using Softaculous
Powered by cPanel, CloudLinux, Apache, MySQL, PHP, Perl & more

Fast and Reliable Web Hosting
Increased Website Speed using Cloudflare
For more details on this, you can check the order page here.
A Special Discount for Our Readers on Domain Name Registration
DomainKing is also offering a special discount on Domain Name Registration for Geek.NG readers till 31st July 2015.
You can register a .com domain or .com.ng domain using the coupon: DKNGGEEK100OFF and you will get N100 discount on Domain Registration for 1st year.
The .COM domain price is N1750 which is the lowest in the industry so this discount coupon DKNGGEEK100OFF will make the price N1650 for 1st year. Most of the leading domain providers in Nigeria & globally offer .COM domain for N2400.
The .COM.NG domain price is N1700, the discount coupon DKNGDOM100OFF will make the price N1600 for 1st year. You can register the .com.ng, .ng domain here.

Why you should register your domain name with DomainKing
With every domain name you register with DomainKing, you also get certain services for free. You should note that several domain name registration companies do charge extra for these services.
1. Free DNS Management (Create Manage DNS Records like A, CNAME, MX, TXT Records). You can easily do this without needing to create a ticket and wait for support. you can edit your DNS records freely.
2. Free Whois Privacy Protection with every domain for which all other providers in Nigeria are charging $5-$6 for. With this whois information of the domain owner is hidden from spammers online who use whois details to spam people.
3. 2 Free Email Accounts (Create brandable emails like you@yourdomain.com)
4. Free Domain Forwarding, Free Email Forwarding & a lots more
Also, Bloggers can move from blogspot.com to their own custom .com domain using their Free DNS Service. They can also create 2 email ids with our Free Email service which is offered with every domain.
DomainKing's support team will also help them in moving their blog from blogspot to a custom domain if assistance is needed.
Convenient Payment Options
DomainKing accepts a wide range of payment methods like: local Bank Transfer or cash deposit in Nigeria, Voguepay (Interswitch/Debit Cards), Cash Envoy and many other international payment methods to make it easy for Businesses, Bloggers, Designers, Individuals in Nigeria, Rest of Africa to buy Domains, Web hosting & other online services.
For more information on all the payment methods that we accept, please visit here.
Currently Valid Coupon Codes
Tilll the 31st of July, you can use any of these coupon codes:
.COM at N1650 ($8 approx): DKNGGEEK100OFF
.COM.NG at N1600: DKNGDOM100OFF
30% OFF on Hosting (DKNGHOST30OFF)
About DomainKing
DomainKing is a Global Domain Registrar & Web Hosting Company accredited with many Asian & African Registries. They are accredited with NIXI/.IN (Indian Domain Registry), ZACR/.CO.ZA (South African Domain Registry), DOTPH/.PH (Philippines Domain Registry), CentralNic, .PW, .UG (Ugandan Domain Registry), .LA, .FM & several other Domain Registries.
DomainKing started business in Nigeria in September, 2014. With them, you will experience best prices & service in Domain Name & Web Hosting Industry.