Today, we are going to learn to resolve one of the most annoying and frustrating problems that exists and that is how to reset a forgotten Windows 10/8/7 password. Microsoft did a great job when it comes to securing your computer as you have several options. You can secure your computer with an alphanumeric password, a picture password or a PIN password but unfortunately, it made no loopholes to reset the password if you forget it.
If you are a very cautious person, you should be changing the password of your Windows computer regularly and not only that, you should be choosing strong and secure passwords so that no one will be able to hack it. But here is the dangerous part: you could forget the password yourself someday and put yourself in a situation where you will have no other option but to format the computer.
Now, re-installing Windows operating system is a valid way to remove the password from your computer but it does have a huge demerit – it will totally wipe out your hard disk and your computer will be totally empty like a newly bought system which means all your pictures, videos, music collection, software, documents and other precious data are gone just like that.
So, to overcome this disadvantage, we are going to introduce you to an amazing little program that can reset Windows 10/8/7 password without even deleting a single item from your computer at all. That's right; iSeePassword Windows Password Recovery tool is that program that can totally remove the password from any Windows computer and laptop without even touching any other data on your computer.
The basic principle of this program is to remove the registry entries that are in control of password-protecting your computer. Now, this cannot be done manually since you won't have access to your computer. The best thing about this software is that it works offline – meaning you won't need any Internet connection to reset your computer password.
Why should I use Windows Password Recovery Pro?
It can reset/remove/bypass all Windows passwords which includes Windows XP, Windows 7, Windows Vista, Windows 8, Windows 10, Windows server and all other older versions.
It works with both local and administrator accounts.
It can change the priorities of your user profile accounts like changing root domain account to standard account.
You can add and remove user profiles from your computer directly using this tool.
100% safe and secure way to reset your computer password without losing any data.
Works with every brand of computer and laptop such as HP, Dell, Lenovo, Samsung, Sony, etc.
Eligible with all types of hard disks like SATA, IDE, external hard disks and so on.
100% password recovery guaranteed or you can have your money back.
Any issues? You can contact the support to get immediate help.
Tutorial on how to reset Windows 10/8/7 password with iSeePassword –
This program is developed very sophisticatedly so that every level of users can use it. Still, we will take everything on the account and will explain how to use this program to bypass Windows login screen password.
Step 1. You will definitely need a different set of laptop or computer to download this program since your computer is currently locked out. Just grab or lend any computer from your siblings or friends for only few minutes and install this program on their computer.
Step 2. Launch iSeePassword tool on the distinct computer and insert an ordinary USB stick to the computer.
Tip: You can even use a CD/DVD. This program supports making bootable disk in both ways.
Step 3. Now, burn the required ISO image file to your USB stick by clicking on "Burn USB" from the main interface of this program. Similarly, if you are using CD/DVD then click on "Burn CD/DVD".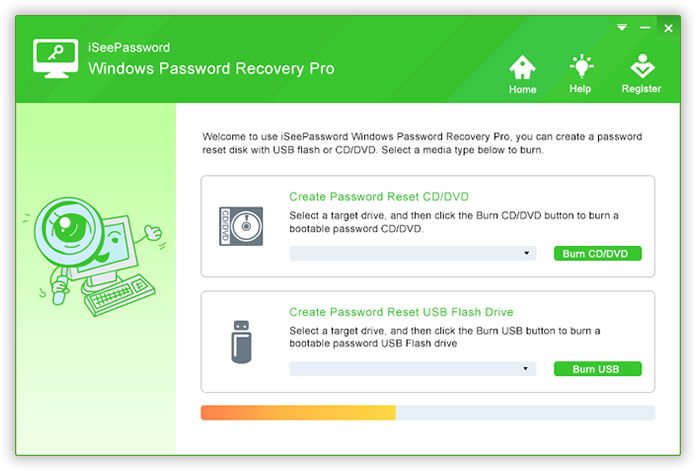 Tip: This part will burn the files from the program to your device to make a password reset bootable disk. So unless, the operation is 100% completed, make sure not to remove it from the system.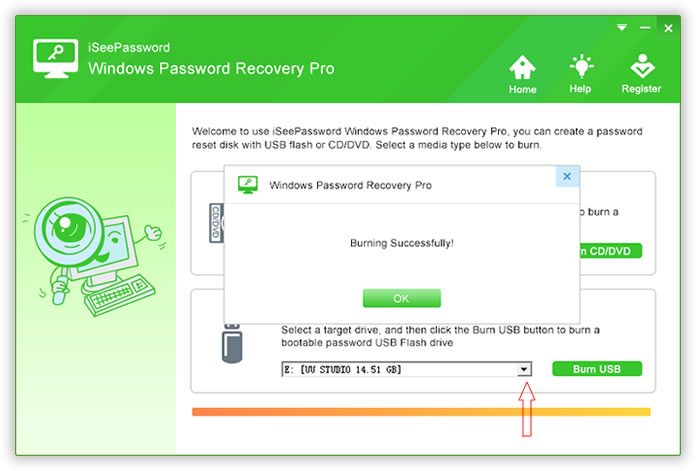 Step 4. Now, use this bootable disk on your locked computer and reboot it. The computer should automatically launch the program on the startup window but if it doesn't then simply change the boot priority to the password reset disk and it should work fine.
Step 5. On the main program interface, select the OS version that you are using like Windows 7 then select the username from the middle column and click on "Reset Password".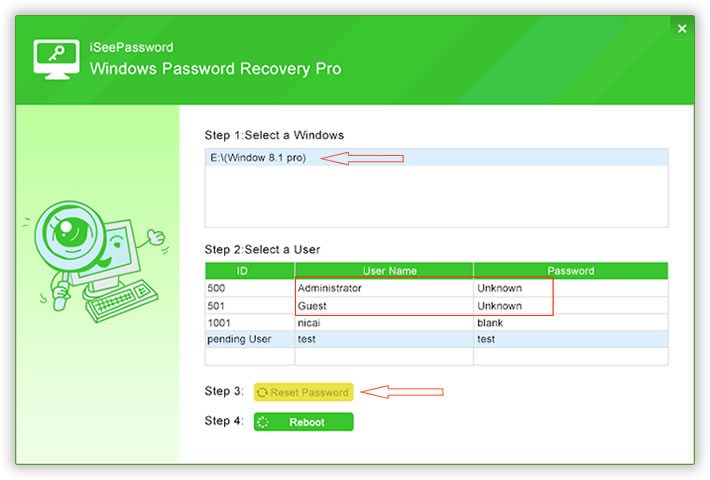 Finished! Now, restart the computer and enjoy because it will not ask you to enter the password again.
Conclusion:
iSeePassword actually nullify the password to nothing and that's why the login screen is completely removed from the system. But, it is recommended that you setup a new password again for your computer so that no one can access it except yourself. Next time, try to create password reset disk as a backup plan or if you face this issue then you can use iSeePassword to bypass your computer password again.