A gaming headset is one of those gadgets you go for if you're the least bit serious about gaming, as it allows you to better immerse yourself in the gameplay and appreciate minute details that would otherwise be left out. As with any tech gadget, there are numerous options and price sections to choose from, and the whole process of choosing a gaming headset suitable for your needs might get frustrating.
If you're not willing to create a dent in your pockets when getting a gaming headset and still do not want to compromise on the overall gaming experience, the Onikuma K6 might just be the one you've been looking for.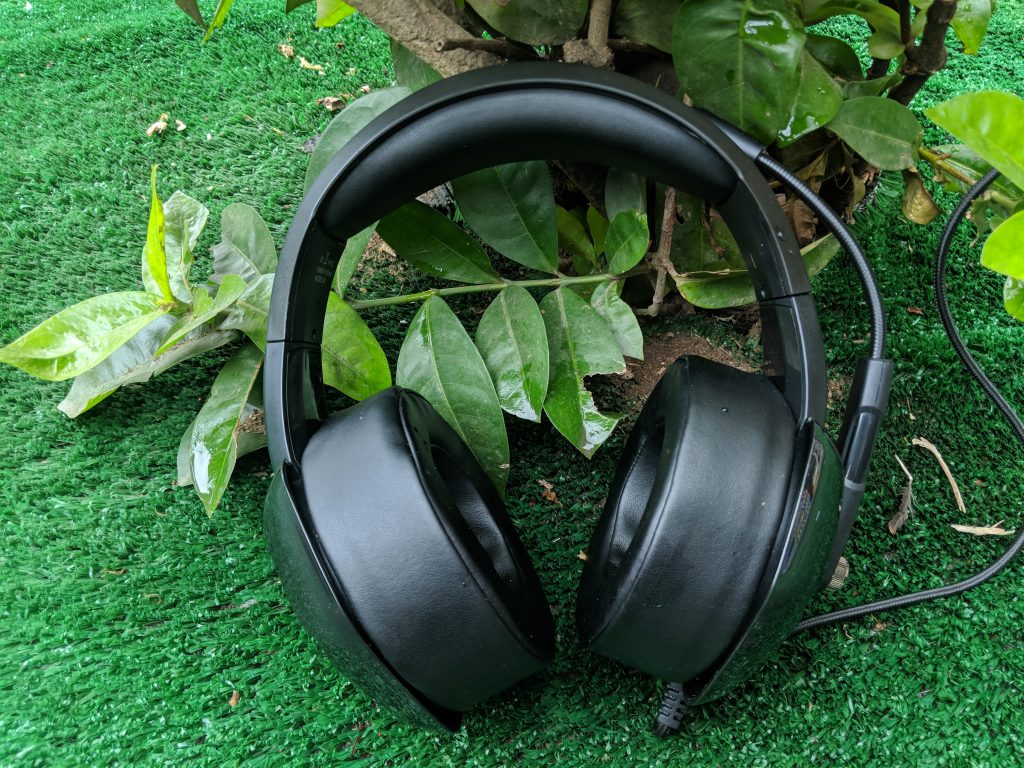 Onikuma has been in the gaming accessories business for a long time, and they have a couple of mid-range and budget gaming headsets, of which the K6 is the latest.
I've had the Onikuma K6 for almost a month now, and I'm quite impressed with the gadget. It's a wired headset that comes with RGB gaming lights, a decent microphone, and great build. But all of these aside, how does it perform when it comes to real-life gaming? We find out in this review.
Pros  

Decent audio quality.
Good microphone design and quality.
Decent build.
Widely compatible.
Easy-to-access controls.
Long multifunctional cable.

Cons  

Causes discomfort around the ears after prolonged usage.
A bit too heavy.
Technical Specifications
| | |
| --- | --- |
| Model | Onikuma K6 |
| Speaker Size | 50mm |
| Speaker Sensitivity | 108dB +/- 3dB |
| Speaker Impedance | 32Ω |
| Speaker Frequency Range | 20Hz – 20KHz |
| Microphone Diameter | 6.0mm |
| Microphone Directionality | Omnidirectional |
| Microphone Sensitivity | -38dB +/- 3dB |
| Microphone Frequency Range | 100Hz – 16KHz |
| Cable Length | 2.2m |
| Price | $27.99 (N10,000) |
In The Box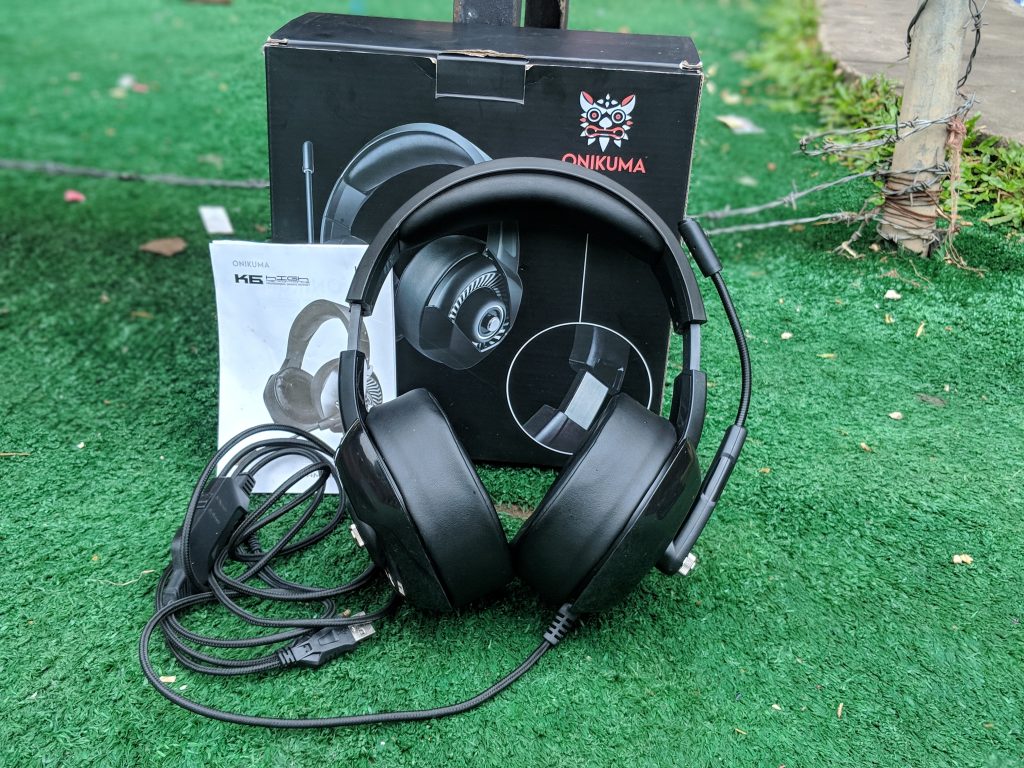 The packaging is nothing to write home about; it's a black cardboard box that leaves out the bells and whistles.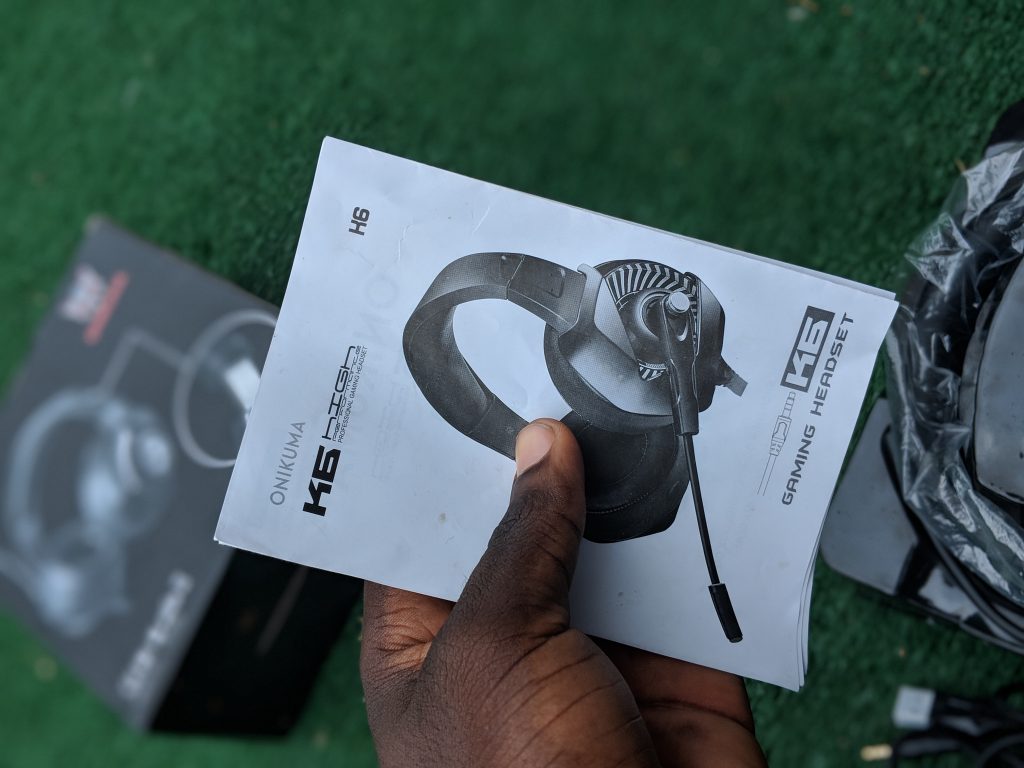 The device itself is nested in a semi-plastic container inside the box, along with a user instruction manual and extra microphone+audio jack cable.
Design and Fit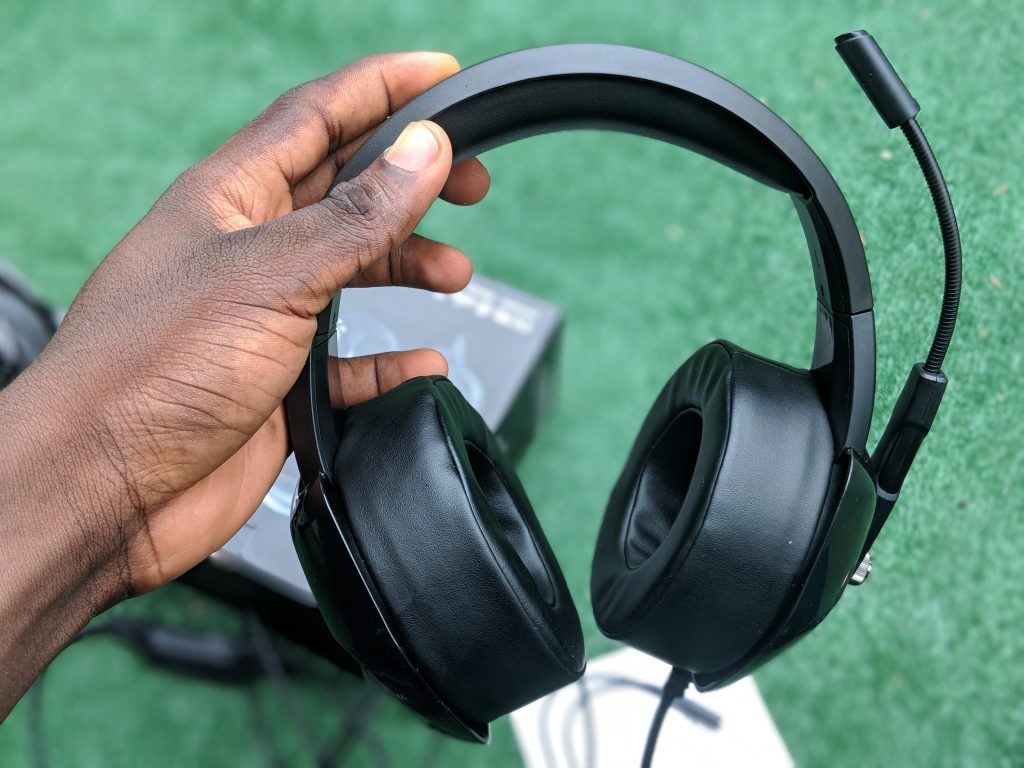 Comfort. That's what you feel the first time you put the Onikuma K6 headset on your head. The ear cups come with a lot of padding that put your ears at ease, and the headband also contains a sizeable amount of padding.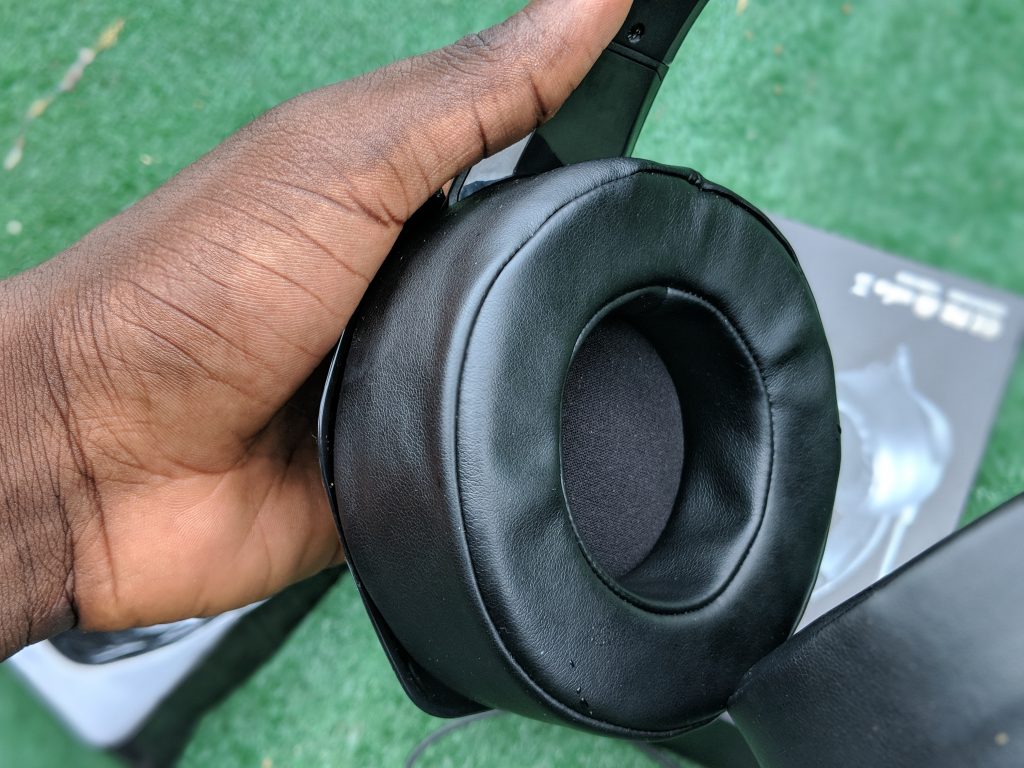 The headset fits very well on the head and the headband comes with five levels of adjustment, sufficient for just about any head size and shape. The ear cups fit all the way around your ears, and this gives you a sense of immersion when playing games.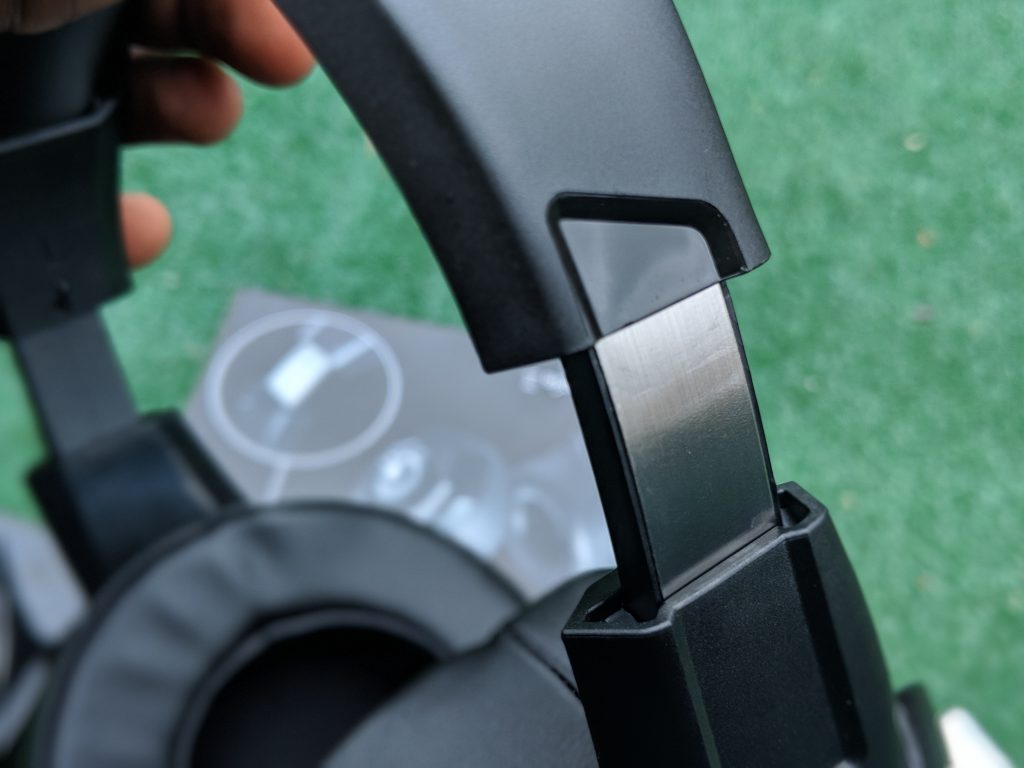 The Onikuma K6 is designed pretty well for a budget device, even though it's made of plastic. Both ear cups have LED lighting on the outside, and you can't help but appreciate the attention devoted to making the headset look like what it's made for.
But that's where the problem lies. The headset is a tad too heavy, and it's mostly due to the weight of the components in both earcups. There's a lot of extra plastic that could have been stripped out to make it less bulky, but you can't fault the company for making the best use of what they could afford for the device's price.
As I mentioned earlier, you feel comfort the first time you put the headset on, but after using it at a stretch without removing it, I noticed that the headset hugs your head a little bit too tightly. Higher-priced headsets have a second adjustment option to correct this, but I guess you get what you pay for.
This effect is more pronounced when the headband is at its default (unadjusted) level, and it leads to discomfort when used for long periods of time. Combined with its weight, you'd need to take a break at intervals if you intend to game with this headset for a long time.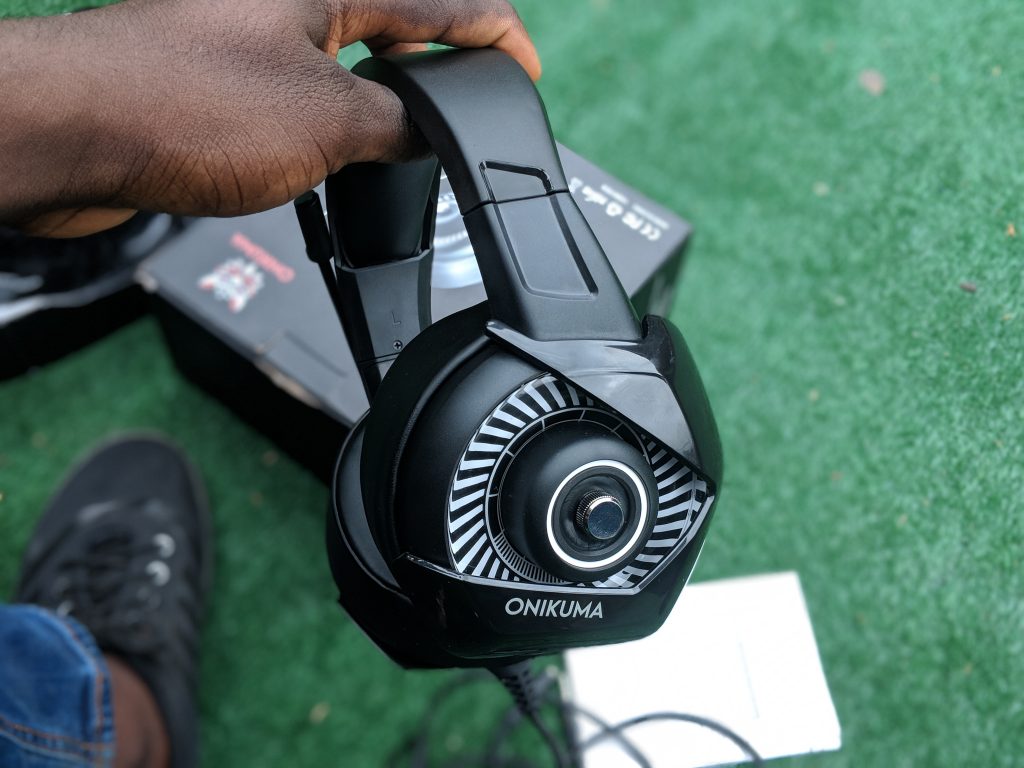 Overall, Onikuma did a great job with the K6's design. It doesn't feel or look cheap, and it fits well for most of your gaming needs.
Audio Quality & Microphone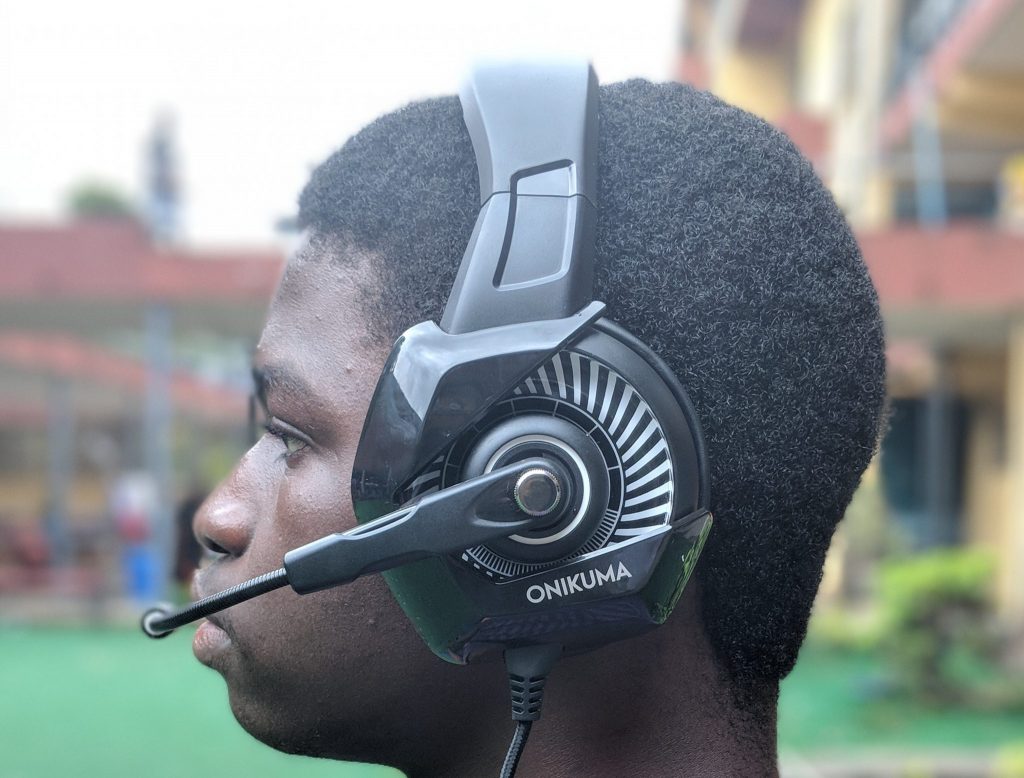 The design of the Onikuma K6 gives an expectation of quality sound, and I'd say the headset doesn't disappoint on that front. It surely doesn't deliver the best sounds I've heard on a headset, but it's actually good and comparable to some higher-priced headsets.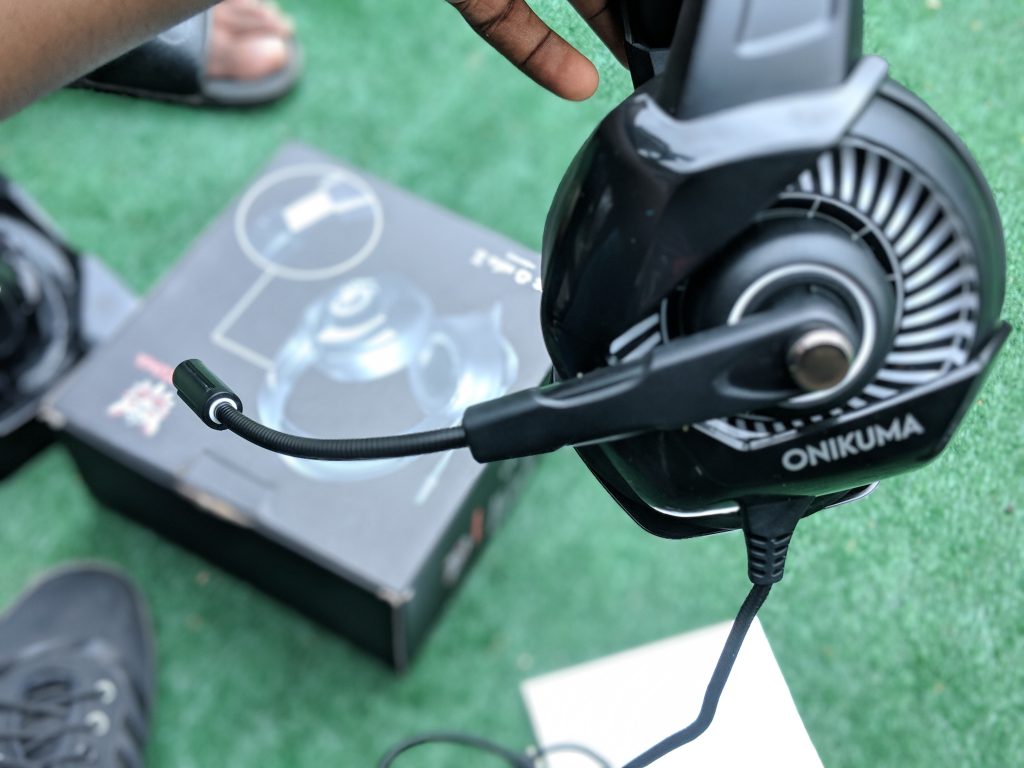 The K6 comes with a microphone boom that's attached to its left earcup and has a flexible arm which can be directed to and from the wearer's mouth as desired. The boom itself isn't fixed to the earcup; it can be rotated 135-degrees downwards from the point of attachment.
I played a couple of games with this device, and the Onikuma K6 delivered well in all respects. The background music blended well with the screech of tires and revving of engines when playing Blur (PC), and gunshots and subtle footsteps behind me were well represented in Call of Duty: Black Ops (PlayStation 4).
I was able to communicate clearly with my online team in the H1Z1 Battle Royale game on the PlayStation 4 with the microphone. The headset had no troubles conveying messages to my ears, and the microphone relayed my commands to the team seamlessly.
The microphone is omnidirectional, meaning it picks up sound from every direction. This results in background sound being picked up in your online multiplayer games, but the interference is usually not very much, and you can rotate the mic all the way up to mute it. If you plan to use it to record audio as I've done a couple of times, it's best to do it in a silent room.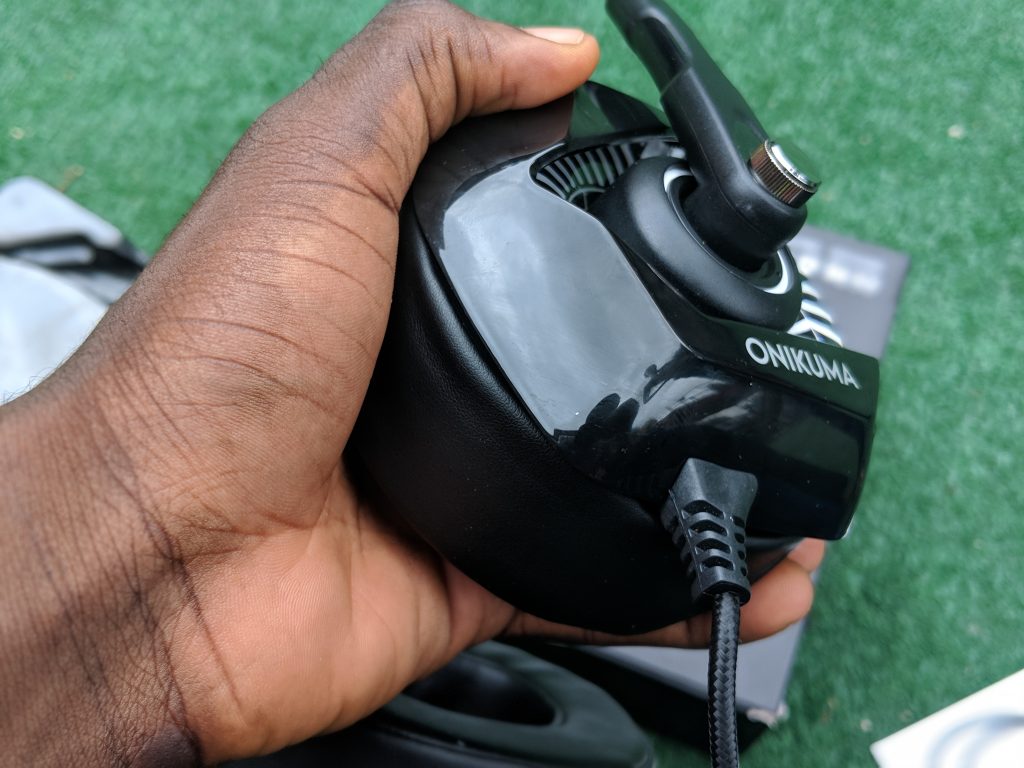 The device's design makes it look like a closed-back headset, but it actually operates like an open-back headset; it leaks out audio to the surrounding environment and lets some in. In fact, I use the headset as a personal speaker sometimes, when I'm not willing to burden my head with in-ear earphones or headphones; just set the volume on the headset and your device at the highest level, and you're good to go.
As you would expect, the headset doesn't come with virtual surround sound or noise cancellation. Attempts to include these technologies in budget devices usually turn out awful, so it's a good thing the company didn't bother with the Onikuma K6.
Connectivity & Features
Its cable is about seven-feet long, giving you the freedom to play games far away from your console or TV set. The cable is designed to last and prevent tangling, and it comes with easily-accessible inline controls that allow you to adjust the volume level, and turn the microphone and LED lights on/off.
Talking about LED lights, the ones on the outer sides of the Onikuma K6's earcups are just there for aesthetics; they can't be programmed or customized, and they output six colors: red, blue, green, yellow, purple and teal. Personally, I wouldn't mind if the LED lights were left out as they constitute extra weight on the headset.
The cable splits at the end into a USB Type-A port (for the LED lights) and a 3.5mm audio jack. There's an extra cable in the box that also splits into separate 3.5mm audio and microphone jacks, and can be hooked up to the main cable's audio jack for use on PCs with a separate mic-in port.
Compatibility
The Onikuma K6 is compatible with just about any device you'd want to play games on, excluding the Xbox and Xbox 360. You need an additional headset adapter to use the device on an Xbox One.
Final Verdict
The Onikuma K6 won't win awards for audio or microphone quality, but at a price of just $27.99, the device delivers your money's worth, and more.