Unlike Android OS, iOS file system only lets you do little with your device when connected to a computer. It's only detected as a media device and all you have access to are your photos. iTunes too limits what you can do. For instance, if you need to transfer the music on your iPhone to a new computer, you're out of luck if all you have is iTunes.
This is why every iPhone or iPad user needs a capable iPhone management software like IOTransfer. Over the past couple of days, I've been using this program to manage my iPhone on the Windows Boot Camp partition on my MacBook and it's been great.
IOTransfer 2 is an iPhone transfer software that makes it easier managing your iPhone and dealing with all the restrictions Apple puts on iOS and iTunes. Apart from being just an iPhone manager software, IOTransfer 2 also has other useful features I found very useful.
File Transfer & Management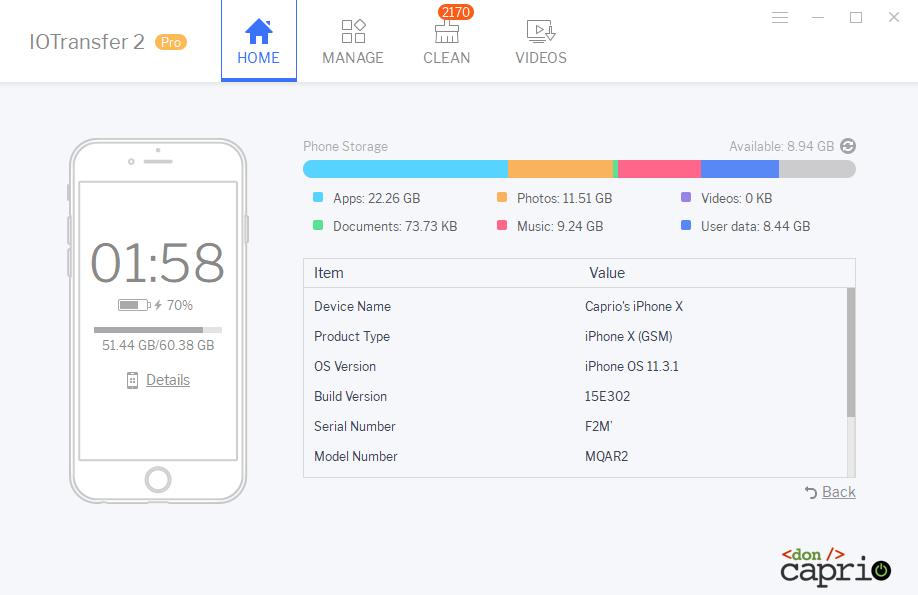 With IOTransfer, you can easily transfer files between your iOS device and your computer. For instance, iTunes does not allow you to move all the music files on your iPhone to a new computer. Again, trying to sync an iPhone library with a new PC will erase every song on your device.
With IOTransfer, you can copy all the songs in your phone library to your computer. To do this, all you need to is
1. Click the Manage tab.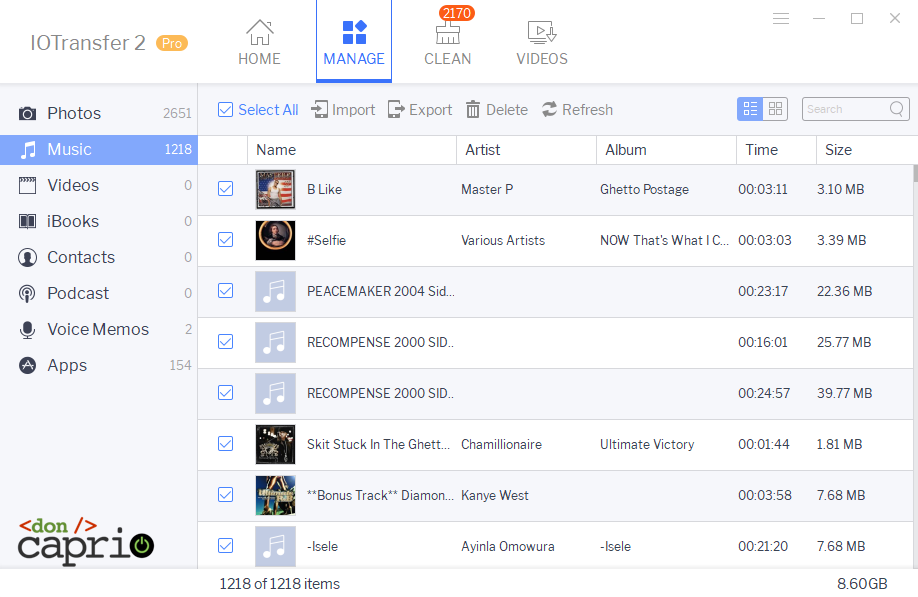 2. Select the songs you wish to move.
3. Click the export button and choose the location you want the songs copied to.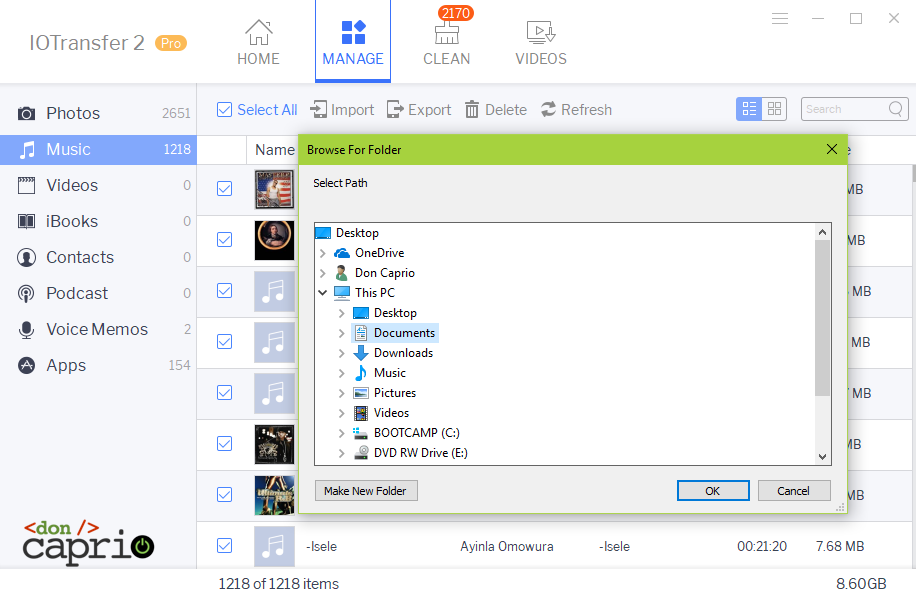 The process is the same for every other file type you which to export. At the moment, this program lets you manage videos, photos, iBooks, contacts, podcasts and voice memos. It also lets you delete apps from your device.
Instead of using iTunes to synchronize songs to your device, the import function lets you update your iPhone music library without necessarily synchronizing it with your iTunes music library.
Cleaning Junk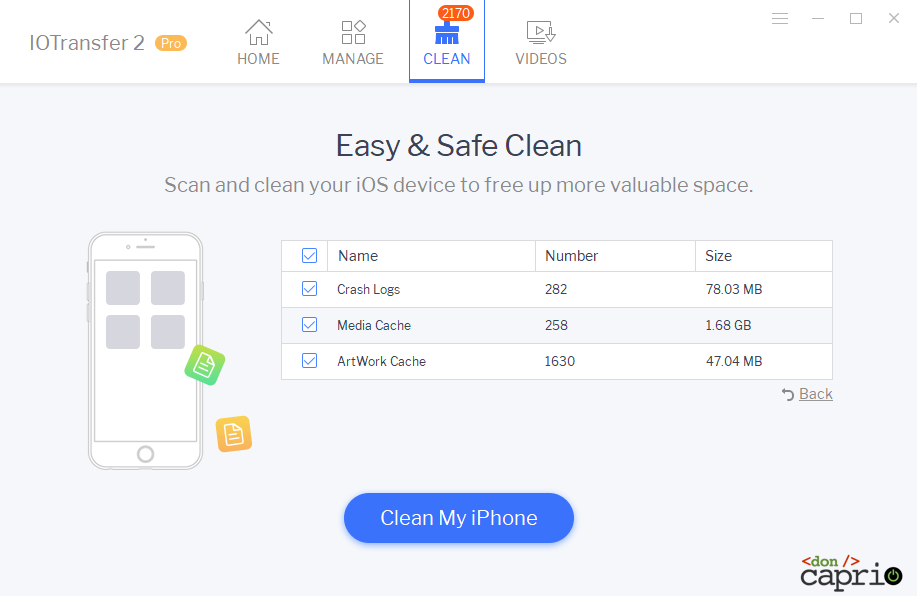 iOS doesn't let you clean junk by default. Unless you jailbreak your device, you may find it difficult to clean out useless system files and free some space. This program solves this issue by letting you clear iPhone system storage. You can easily remove crash logs, media cache, and artwork cache.
Using this feature can let you reclaim GBs of storage.
Online Video Download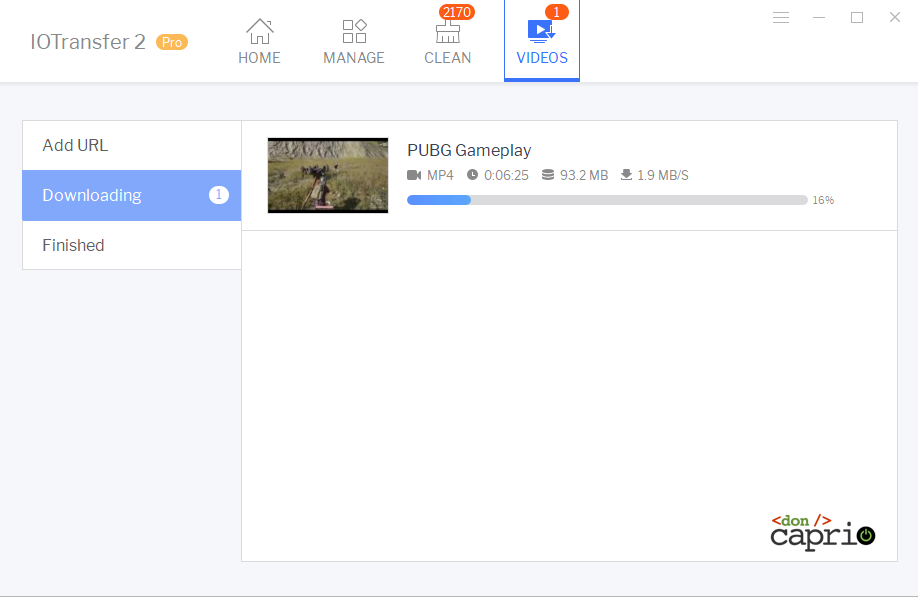 With IOTransfer, you can easily download from video streaming websites. I tried doing this on YouTube and it worked great. Apart from YouTube, the online video downloader feature works with several other other sites like Vimeo, Facebook, Instagram, Vimeo and lots more.
The app can as well transfer the downloaded video to your iPhone or iPad. This is one of the features I appreciate most about the software.
Verdict
If there's anything lacking in this program, it's the inability to backup messages. But asides that, it does everything else pretty nice. Before deciding to buy the full version, there's a free version you can try out. You can get 46% off the 1 yr/ 1 PC license right now and buy it for only $24. This is a limited time offer you might want to take advantage of right away. IOTransfer is worth every penny and I recommend it.