With the release of the iPhone 13, there are certainly many people switching from Android to iOS for the first time. Of course, these users need to deal with several things, and on top of that list is moving data from their old Android phone to the new iPhone. For Android devices, WhatsApp offers a way to back up and restore your chats through Google Drive. Also on iOS, this can be easily done through iCloud. However, for some reason, WhatsApp does not have a cross-platform backup and restore functionality. If you're moving from Android to iOS or vice versa, you need to use third-party software to move your WhatsApp chats to your new phone. From our experience, the easiest way to do this is by using AnyTrans. This program easily lets you move your WhatsApp chats from Android to iOS.
Why use AnyTrans?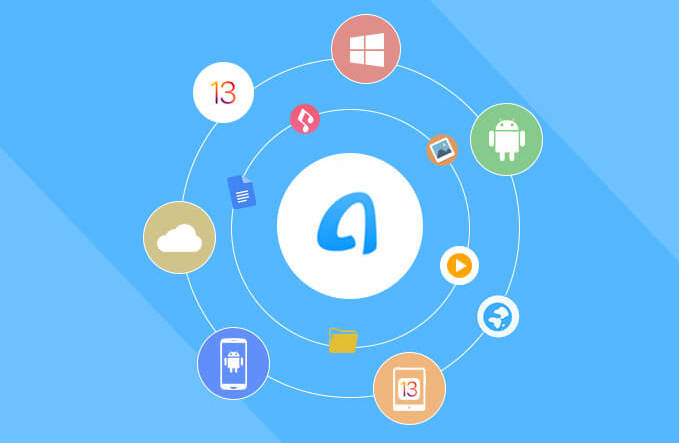 Although several programs also let you transfer your data from one phone to another, we chose AnyTrans due to what it has to offer and how it goes about this. AnyTrans lets you directly transfer WhatsApp chat from an Android device to an iPhone. In a case where all you have is a WhatsApp chat backup from your Android, you can still put the data into your iPhone using AnyTrans.
It's worth mentioning that using this software will not reset your phone. Apart from your newly moved chats, everything should be just the way it was before restoring your messages. While some other programs might only be able to move WhatsApp chats in text format, AnyTrans copies everything including photos, videos, and other attachments.
AnyTrans is not restricted to certain Android phone brands or iPhone models, it works with every Android smartphone brand and iPhone model as long as the operating system supports WhatsApp installation. Using the software is quite simple as the GUI is self-explanatory. The process is fast and straightforward, and the seamless transfer takes just a couple of clicks and a minute or two of waiting.
Steps to transfer WhatsApp chat from an Android Device to the iPhone
1. First enable USB Debugging on your Android device from Developer Options settings.
2. Connect your iPhone and Android device to your computer through USB. Be sure to acknowledge the prompts displayed on your Android device.
3. Launch AnyTrans and select Social Messages Manager from the side panel.
4. Select your Android phone in the first dropdown options and the iPhone in the second one.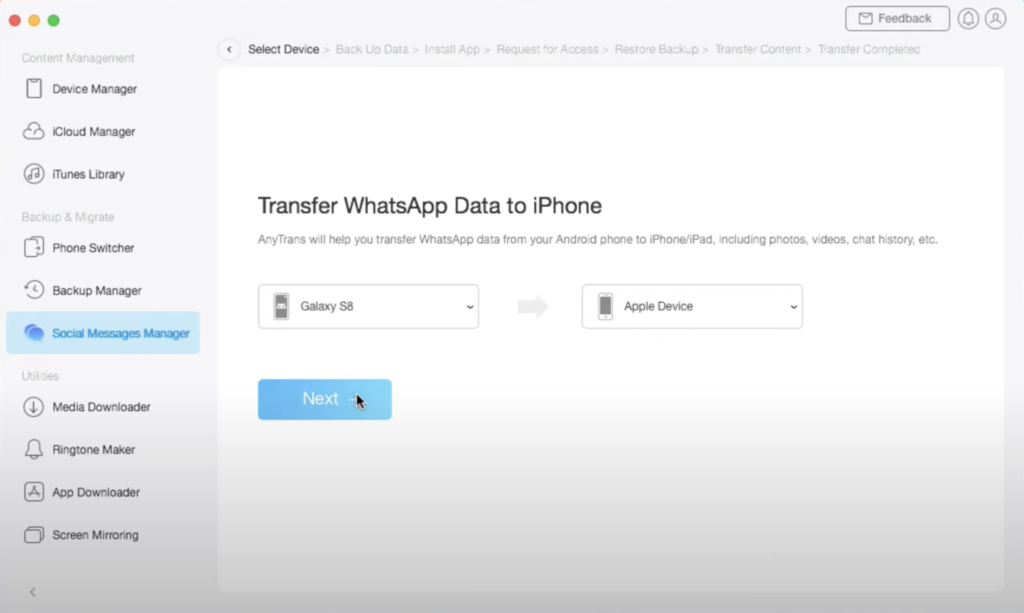 5. Be sure to turn off Find My iPhone on your iOS device before clicking the Next button.
6. Follow the screen prompt to manually back up Android WhatsApp chat.
7. Click the Next button and allow the installation of WhatsApp enhanced version on your device.
8. Change permission settings to allow the custom WhatsApp installation access phone storage.
9. Log in to the enhanced version of WhatsApp and restore the backup.
10. After this is done, hit the next button and simply wait for the chats to get transferred to your iPhone.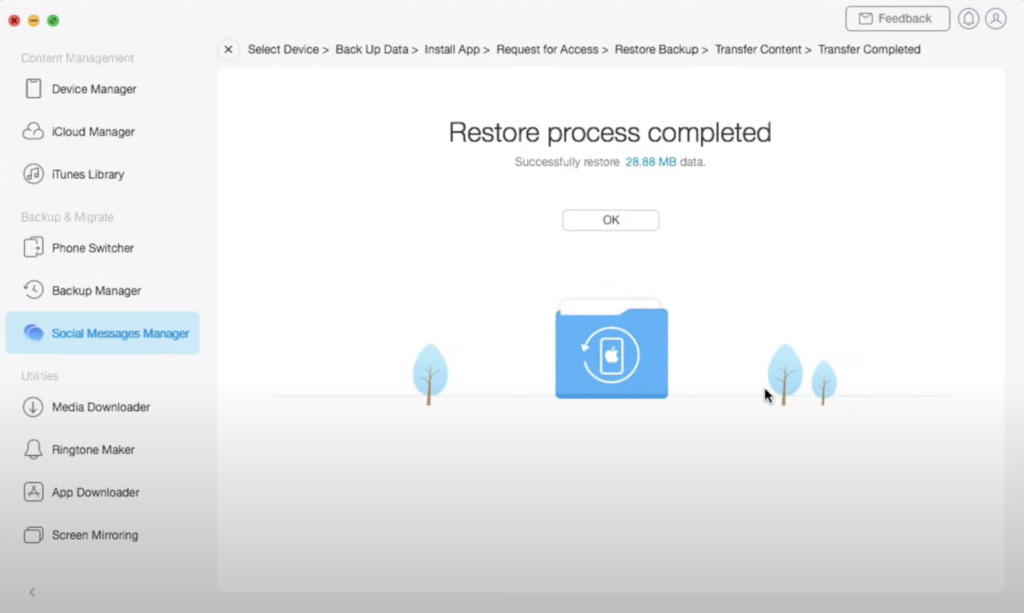 Below is a video that explains this video in detail:
What else does AnyTrans have to offer?
AnyTrans wasn't designed solely for the purpose of transferring chat messages between devices. This program can also help you in moving other content such as photos, videos, text messages, ringtones, documents, and more. it should also be noted that AnyTrans isn't just a one-time tool to move content from Android to iOS, it is a fully-fledged iPhone manager to help you create scheduled backups automatically, create ringtones from your music files, install, upgrade and uninstall iPhone apps, add multimedia files and documents from your computer to iPhone, and much more. There are other useful tools like screen mirroring.
If you're moving from Android to iOS for the first time, AnyTrans is the program to ease you into the world of Apple. Although Apple's walled garden can be a source of annoyance, AnyTrans makes it all easier as a competent iPhone manager.