Fax used to be the most reliable way of sharing sensitive data among work colleagues and directors of larger firms. It's assured that no one can reach out to your data shared using fax. The trustworthiness of fax made it a preferred communication mode in earlier times.
Even after many years of the fax machine invention, it is still used by people for the love for old technology. Millions of faxes are exchanged globally to share important data. However, people are not willing to use fax machines anymore. They are looking for more convenient ways of faxing.
For this reason, many digital solutions have been introduced which offer easy ways of sending and receiving a fax. You don't have to stick to your workspace anymore. Go through the article to find more about the latest methods of sending and receiving the fax.
Can I Send a Free Fax without a Fax Machine?
Yes, it's the most compact and uncomplicated answer to this question. Skip all the efforts and investments of fax machines, ink, paper, and telephone connection. You can exchange fax online without all these hardware tools.
Sending and receiving fax online is a piece of cake. You can do faxing from your Android smartphone, iOS device, and laptop, irrespective of their specifications. If you are wondering why have you not done this earlier, you should know that there is no built-in faxing feature in any modern device.
Fax works on analog signals whereas modern devices work on digital signals. Therefore, they need a third-party fax service to interact with each other. The online fax service providers offer the service to send and receive fax without any fax machine. Keep on reading to learn about how to use online fax services
CocoFax Lets You Turn your Digital devices into a Fax Machine
When it comes to sending and receiving fax online, you cannot rely on random third-party services. To send and receive online fax with the best and most trusted service, you should choose CocoFax. Millions of users are using CocoFax for free faxing as it is the most-reputed online fax service provider. It is an online faxing solution which works without a fax machine.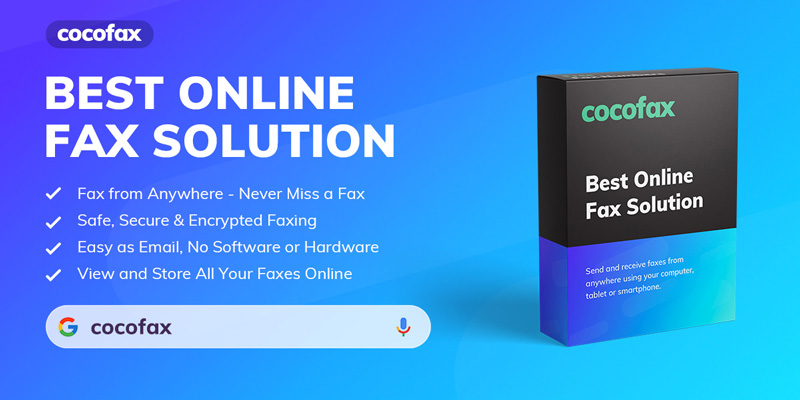 CocoFax has been recognized by many international platforms as best online fax service providers such as CNET, PCMag, Life wire, New York Times and Forbes. It is the most established brand for online faxing.
CocoFax works as a translator between fax machines and modern devices. All sent and received faxes are routed safely through CocoFax servers to make them readable for both devices. In this way, CocoFax converts analog media into digital and vice versa.
What is required to Fax online without Fax Machine
To send and receive fax online, you must have immediate access to your fax machine. After the introduction of CocoFax for sending and receiving fax online, you can do faxing on the go instead of sitting at your workplace round the clock.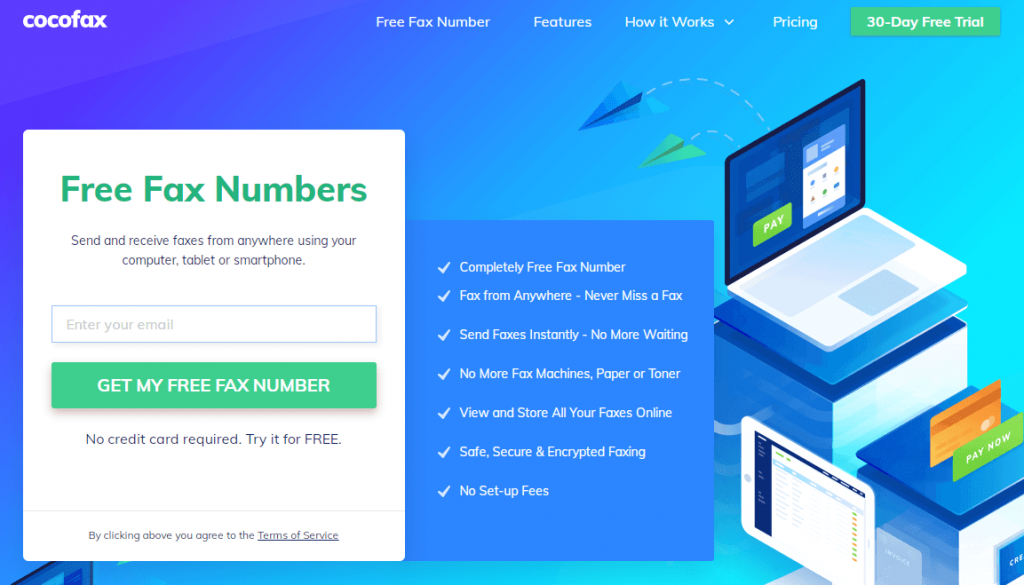 You should set up the following things first to get started with online faxing
Laptop/ Smartphone with an active internet
Fax Number
CocoFax account
Once you have these things, you can use multiple ways to send fax online without a fax machine
CocoFax, Web-based solution to Exchange Free Online Fax
CocoFax offers a web-based solution to send and receive fax online without a fax machine. To send and receive a fax with CocoFax, check it here in the next sections of this article. You will not be wasting your money on fax machines, ink and papers anymore after using CocoFax.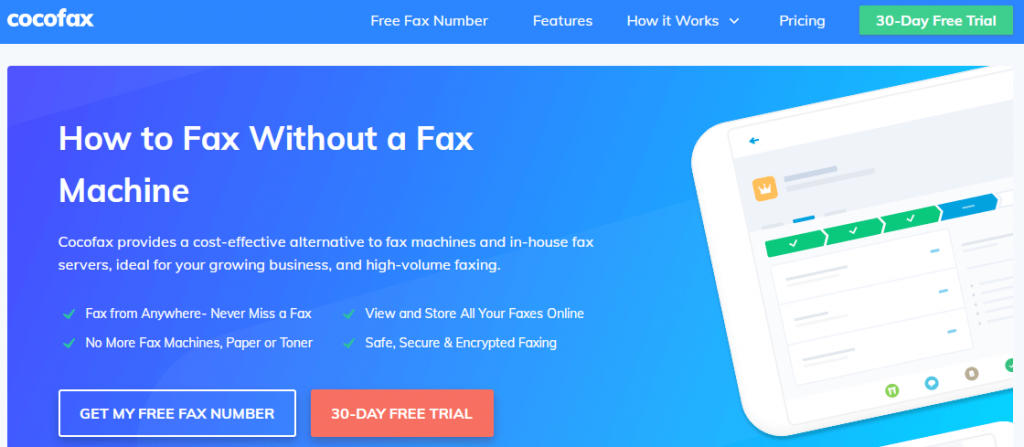 Sending Fax from web-browser using CocoFax
Step 1: Register your account
Register your CocoFax account and get a free fax number. CocoFax offers a free trial of 30 days before subscribing to 30 days of free trial.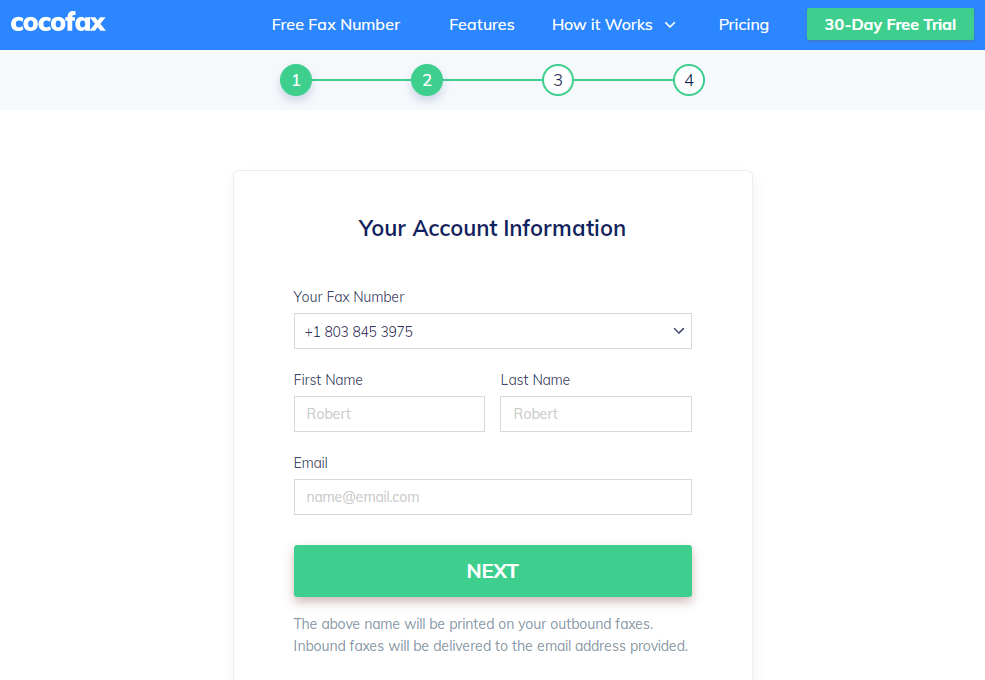 Step 3: Create New Fax
After signing up, open the CocoFax dashboard using your login credentials and select a new fax option from the corner. Enter the required data in mandatory fields after the new fax popup appears. You should enter the correct fax number of the receiver in the "To" field.
If you want to upload fax as an attachment, you can enable the Google Drive Option as well. You can also share links of online documents from Dropbox instead of downloading and sending them.
Step 4: Send Fax
Hit the send button and CocoFax automatically dials the receiver's fax machine. After the successful delivery of the fax document, you will get confirmation messages which can be opened from the CocoFax dashboard. Unsent messages are also followed by message alerts.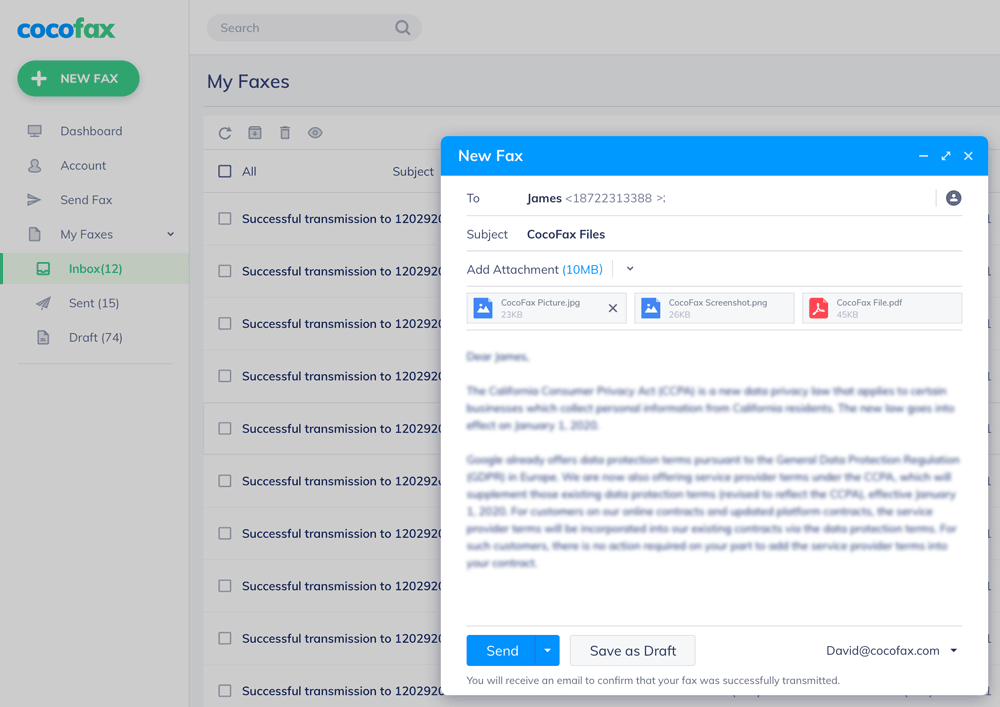 Receiving Fax from a web-browser using CocoFax
Receiving a fax with CocoFax web-based solution is easier than sending. Navigate to CocoFax inbox from the dashboard using your login credentials and all received faxes will appear shortly.
The sender details are attached along with the received faxes. You can also track transmission logs, time and date of received faxes. CocoFax web-based solution could be opened from a laptop, Android and iOS devices.
Email-to-Fax solution by CocoFax
CocoFax has also introduced email to fax solutions to send and receive fax using your email account. All you need is a valid email address, a smartphone/laptop with an active internet connection. You can send fax wirelessly without a fax machine.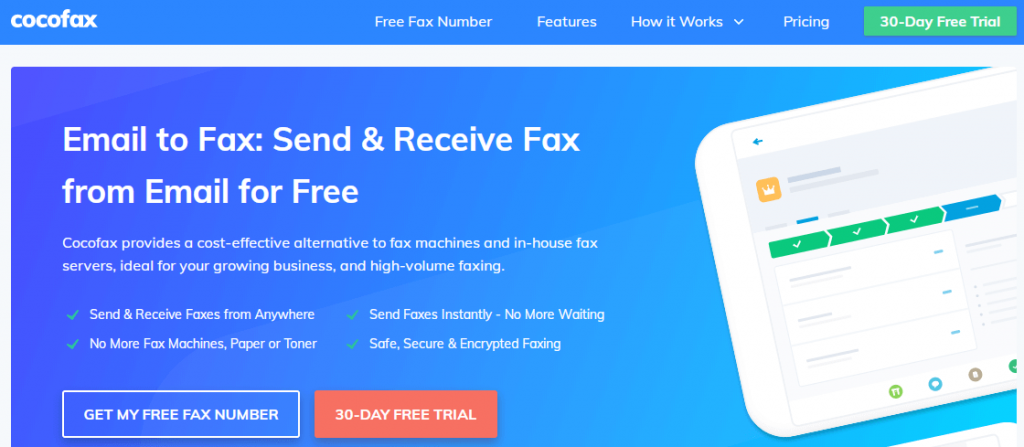 Sending Fax from email using CocoFax
Step 1: Signup with CocoFax
Signup your CocoFax account using the valid email address and receive a free trial for 30 days and a fax number
Step 2: Compose Email
Open your email using any email client and compose a new email. You can attach multiple files to be sent as fax such as pdf, Xls, doc, png, and jpg. Multiple files are amended into a single fax document so that you don't have to send them one by one.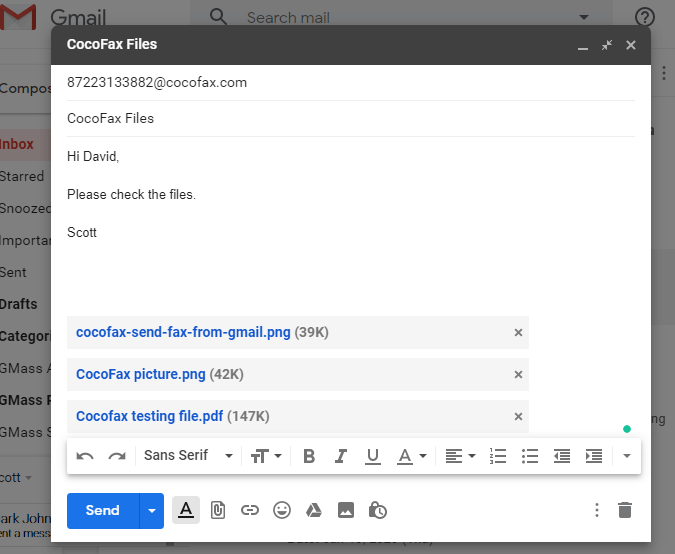 If the fax number is 12345, you should add 12345@coocfax.com in the To field for providing the receiver's address. Fax title and cover page could also be added in Subject and email body area respectively
Step 3: Send Email
Hit the Send button once you are done with the above steps. These send documents are received by CocoFax servers and converted automatically into Tiff file format. Afterward, the faxes are forwarded to the receiver's fax machine.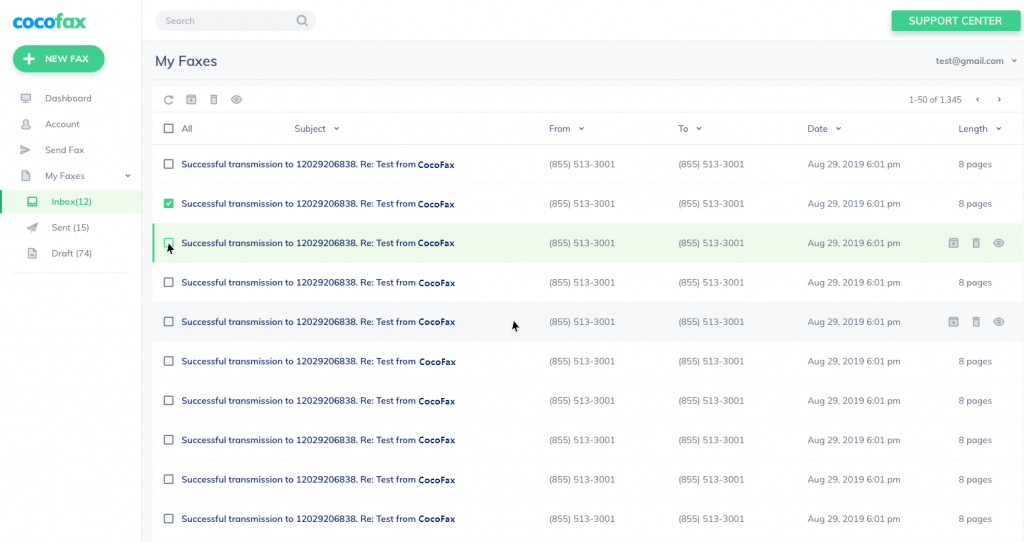 CocoFax sends automated alerts for successful and failed documents so that you can recheck the errors and send them. Most of the documents are not sent due to any special characters as attachment names or entering the wrong fax number.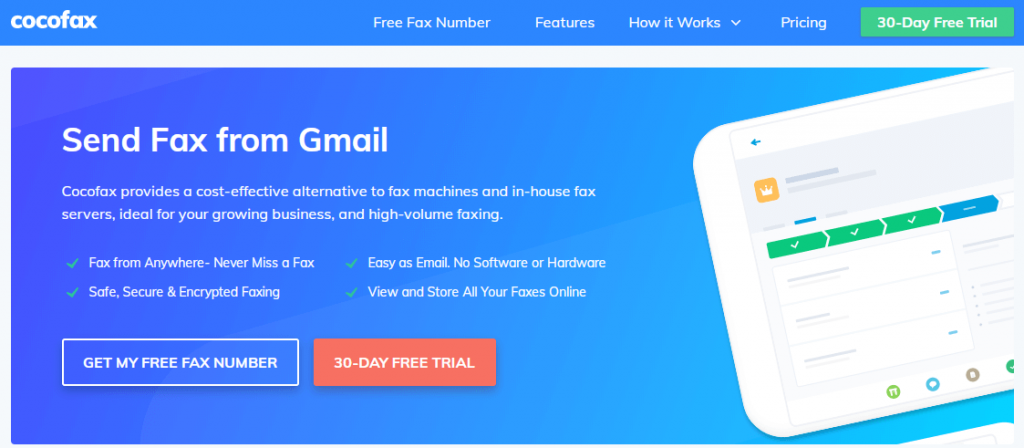 Receiving Fax from email using CocoFax
You don't have to follow any further steps to receive a fax to your email address using CocoFax. All faxes sent to your account appear in your email inbox. CocoFax receives these faxes first and converts them into a pdf document because fax sent from a fax machine is a Tiff document by default.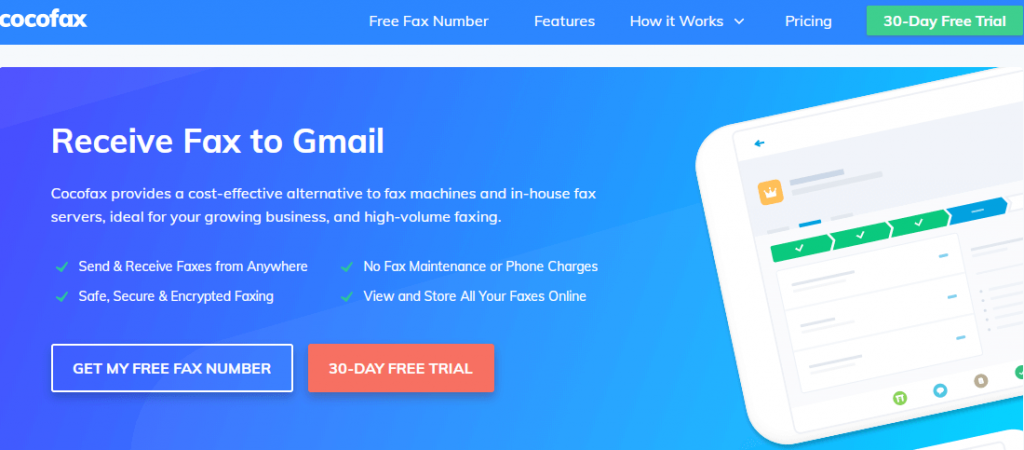 Most of the time, fax is sent as an attachment to email so that you can save it as well. These emails also provide sender details, transmission logs, and timestamps of received faxes.
You will also receive a fax even if your computer or laptop is not turned on. CocoFax sends all the faxes to your email address even if you don't have an active internet connection so there is no chance of missing any document which usually happens with traditional fax.
Conclusion
CocoFax is the most reputed brand in the market of online fax service providers. You do not have to buy a fax machine to send and receive fax. The hassle of managing papers and ink toners is not there anymore. CoocFax relieved you from all these efforts. To convey confidential information, CocoFax is a top-rated online fax service provider to send and receive fax on the go.