You can now root and unroot your phone easily. Brought to you by Doomlord (an XDA developer). If you're still wondering what rooting an Android phone means  and why you should do it, I suggest you go through the post I previously wrote. I aso you make a backup of your data before rooting your Android device by following this guide.
Note: Actually this method of rooting is firstly created for Sony Ericson devices but when this method is applies to other phones as well, it works same as for Sony Ericson devices.
KINDLY NOTE: LATEST .62 FW CANNOT BE ROOTED
Easy Rooting Toolkit is for WINDOWS ONLY & WILL WORK ON BOTH LOCKED & UNLOCKED BOOTLOADER DEVICES!
Easy Rooting Toolkit will work on the following devices:-
* Sony Xperia X10 (GB firmware)
* Sony Xperia Arc (.42 firmware)
* Sony Xperia Arc S
* Sony Xperia Play [R800i/R800x]
* Sony Xperia Ray
* Sony Xperia Neo
* Sony Xperia Mini
* Sony Xperia Mini Pro
* Sony Xperia Pro
* Sony Xperia Active
* NTT Docomo Xperia ARCO SO-02C
* Samsung Galaxy S2 [GT-i9100/GT-9100P]
* Samsung Galaxy S II for T-Mobile (SGH-T989)
* Samsung Galaxy S II for AT&T (SGH-I777), Skyrocket (SGH-i727)
* Samsung Galaxy S II LTE Rogers Canada (SGH-I727R), Android version 2.3.5, Baseband version I727RUXKJ7
* Samsung Galaxy S II Epic 4g Touch
* Samsung Galaxy S2 HD LTE (SHV-E120S)(korea)
* Samsung Galaxy i9100G
* Samsung Galaxy S [i9000B] & [i9000 2.3.3 (PDA I9000BOJV8, Phone I9000XXJVO, CSC I9000GDTMJV7) and german T-Mobile branding]
* Samsung Galaxy S Plus (GT-I9001) OS 2.3.3 and 2.3.6 (I9001ZSKP6)
* Samsung Galaxy Mini GT-S5570 (GB only)
* Samsung Galaxy Mini Pro i5510
* Samsung Galaxy W [i8150]
* Samsung Galaxy Y
* Samsung Galaxy Tab [P1000] (2.3.3 firmware), [P1000N]
* Samsung Galaxy Note [N7000]
* Samsung Galaxy Player YP-G70 2.3.5 (GINGERBREAD.XXKPF)
* Samsung Galaxy Ace (2.3.3, 2.3.4 firmware)
* Samsung Nexus S [i9023] (2.3.6)
* Samsung Nexus S 4G 2.3.7
* Samsung Galaxy Nexus S [i9020] (2.3.6)
* Samsung Exhibit (SGH-T759)
* Samsung Exhibit 4G (SGH-T759) (2.3.3) Build UVKE8
* Samsung Captivate i897 UCKH3
* Motorola Milestone 3 [ME863 HK]
* Motorola XT860, Bell XT860
* Motorola Defy+
* Motorola Droid X sys ver 4.5.605 w/ gingerbread
* Motorola Droid X2 (2.3.4) Sys ver 1.3.380.MB870.Verizon.en.US Build 4.5.1A-DTN-150-30
* Motorola XT883 (China Telecom)
* Motorola XT862 (Verizon Droid3)
* Motorola DROID RAZR
* Nexus One (2.3.6 stock)
* LG Revolution
* Vizio VTAB1008 Tablet
* Huawei IDEOS U8150 (2.2)
Steps:-
– Download Easy ROOTING Toolkit
– Before rooting your android phone make sure you have:-
* installed ADB (Android Debug Bridge) drivers for your phone, you can download drivers for Xperia phones from here:
USB ADB Driver for Win7/Vista x64 & x86 Eng/Multi
USB ADB Driver for Windows XP – 32bit Eng/Multi
Instructions:
1. Download, unzip and install the included .exe files.(Windows 7/vista users right click on extracted .exe file and select 'Run as administrator.')
2. Enable USB Debugging on your Mobile under Settings > Applications > Development > USB debugging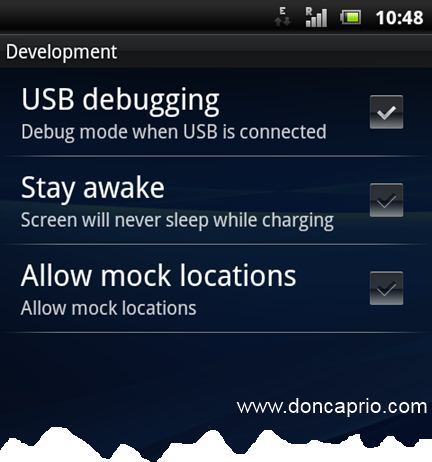 3. Plug in your Phone and windows will start to install your device.
During installation this message may come up: Be sure and select "install this driver software anyway"
* Now go to Menu > Settings > Applications and "enable unknown sources"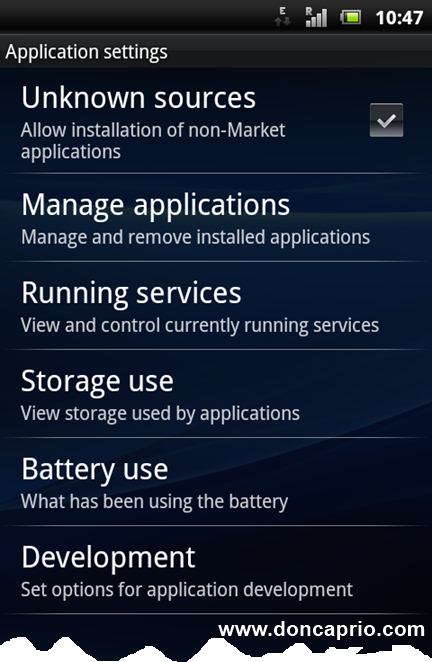 * Also enable "USB DEBUGGING" by going to Menu > Settings > Applications > Development
* Increase screen timeout to 10 minutes [OPTIONAL]
* Connect your phone to pc using usb cable
* Skip "PC Companion Software" prompt on device
– Rooting your android phone with easy rooting toolkit
1. First Extract rooting kit to any safe place like desktop
2. Double click on "runme.bat"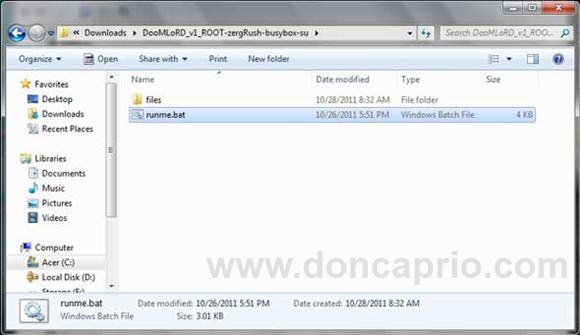 3. It will run rooting script and you will see a command prompt like below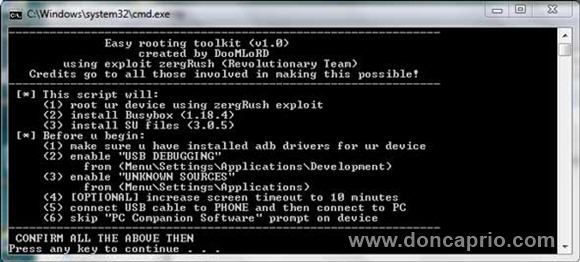 4. Once your phone successfully connected to pc , hit any key to start rooting.
Note:- It will complete in few seconds . During this process don't close command prompt or don't disconnect your phone
5. On completion your phone will reboot , and "ALL DONE!!" message will appear in command prompt that means your phone rooted successfully
6. Now you can press any key to close it
Congratulations you have successfully root your android phone , now you can enjoy your phone's full potential. enjoy all rooting benefits…..:)
You can also UNROOT your Android Mobile it too:::::::::::::::::::::-
– Download easy unroot toolkit by Doomlord
Procedure to Unroot your phone:
i. Unzip the above downloaded file named "UNROOTING SCRIPT v1.0".
ii. Now open the extracted folder and launch the file named "RUNME-UNROOT.bat".
iii. Now follow the on screen instructions.
WARNING: Performing the unroot procedure again and again is on your own risk.
Enjoy!!! And have fun with the new easiest and common method to root/unroot any Android devices….