To root Huawei Honor 6 Plus or any Huawei Phone, the first thing you have to do is to unlock the bootloader. Without this, you won't be able to root the device. To unlock the bootloader, you need to get the unlock code first.
Also Read: Huawei Honor 6 Plus Hands-on Review
This tutorial will be divided into three parts:
Unlocking the bootloader
Installing CWM recovery
Installing SuperSU
A. Unlocking the bootloader
1. You need to get your unlock code from either of these websites:
It's advised you use the Chinese websites as it contains more models compared to the European site. You can use Google Chrome and translate the page to English. Enter the required details to get your unlock code.
2. Download and install HiSuite here. This is important as it installs the necessary drivers you'll be needing.
3. Now enable Developer Options in your settings and enable USB Debugging from there. To do this, go to Settings > About Phone > Tap the build Number seven times. You can access Developer Options from Settings > Developer Options from where you must enable USB Debugging.
3. Download Honor 6 Plus Multi Tool from XDA developer forum and extract.
4. Turn off your phone completely. Hold the volume down button and insert the USB cable to enter FASTBOOT. Don't release the volume down button till the Android robot is displayed.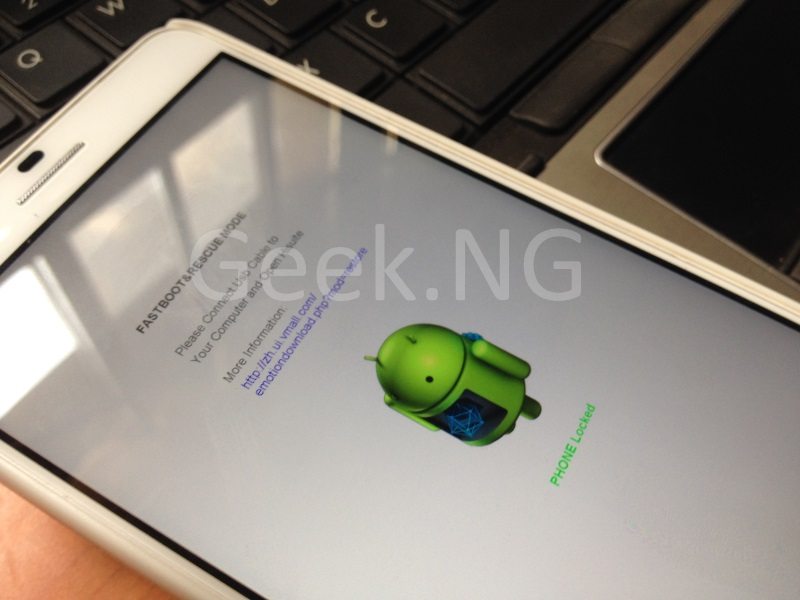 It should show this with a PHONE Locked message.
4. Be sure you're connected to the internet and run Honor6MultiTool.bat. It should download some files after which you may be prompted to install ADB drivers. Press 2 and hit Enter.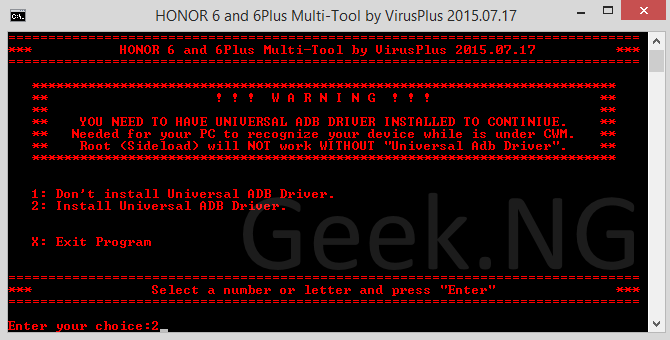 5. Wait till the download is complete and install the drivers.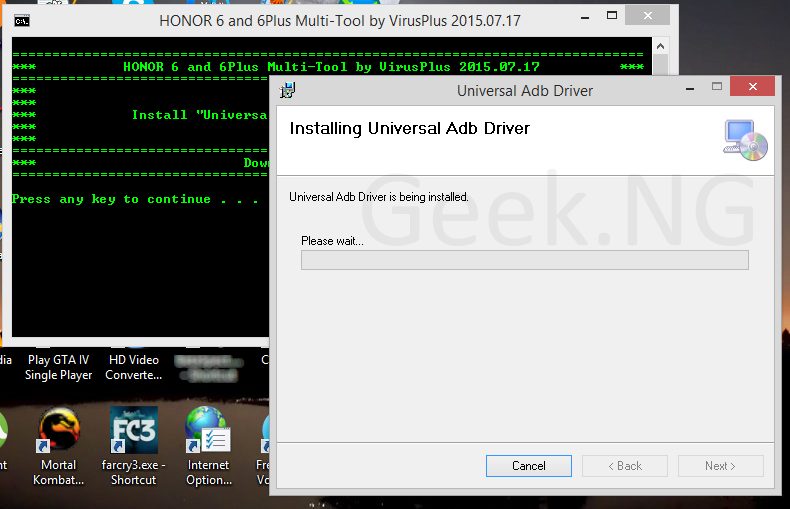 6. Press any key to continue and this should come up.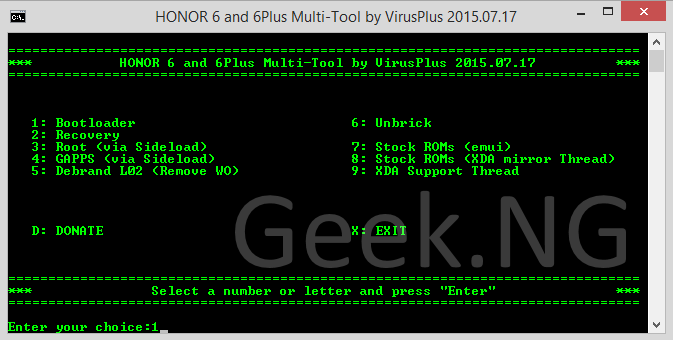 7. Press 1 and hit "Enter" to select Bootloader, then press 2 to select Unlock Bootloader
8. Select 1 to choose I have an Unlock Code
9. Enter your 16 digit unlock code and press Enter.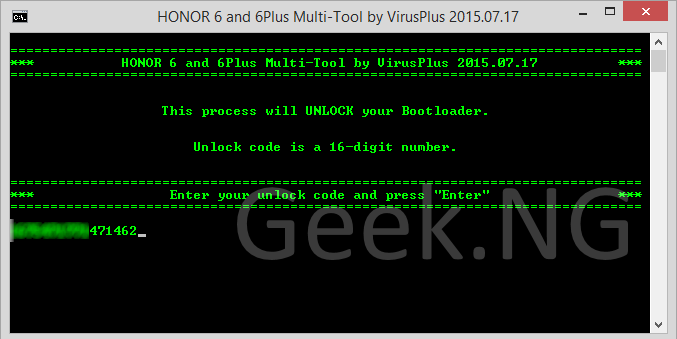 10. Your phone should be unlocked and you should get an "OKAY" message: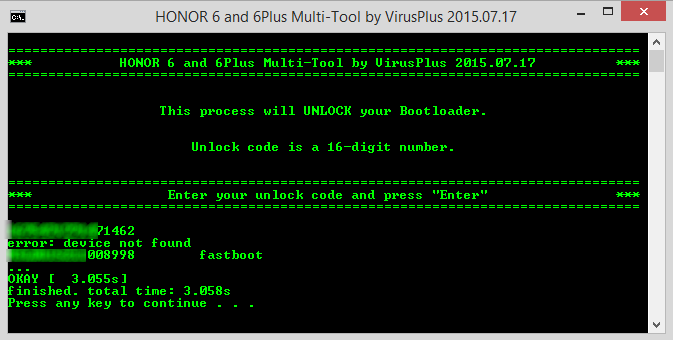 11. You should also get a Phone Unlocked message displayed on your phone screen at this point.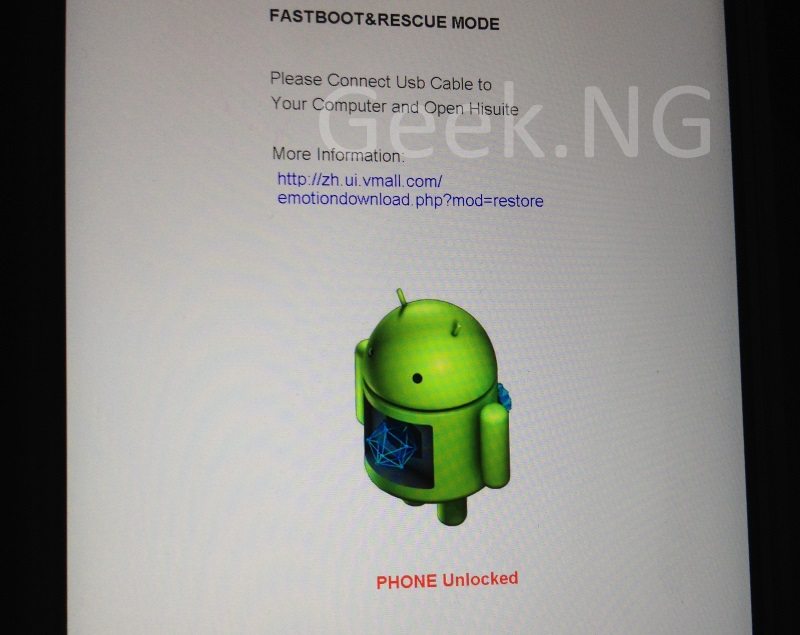 Your phone should power on automatically when you press any key to continue on your keyboard. Close Honor6MultiTool.bat and let's proceed to the next step.
B Installing CWM Recovery
1. Turn off your phone completely. Hold the volume down key and insert the USB cable to enter FASTBOOT. Don't release the volume down key till the Android robot is displayed.
2. Be sure you're connected to the internet and run Honor6MultiTool.bat. Since you've installed ADB drivers already, press 1 and then "Enter" to skip.
3. Select Recovery by pressing 2, then Enter.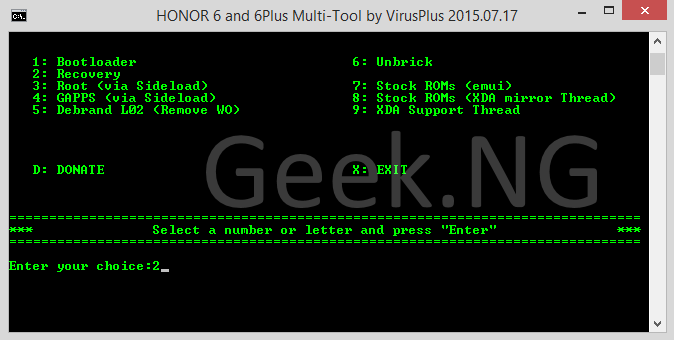 4. Press 1 and Enter to Install CWM or TWRP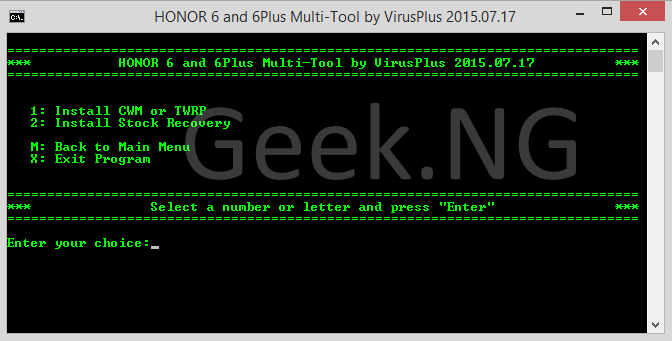 5. Now choose I HAVE an Unlocked Bootloader
6. Now select 9 and press Enter since we're working with Huawei honor 6 Plus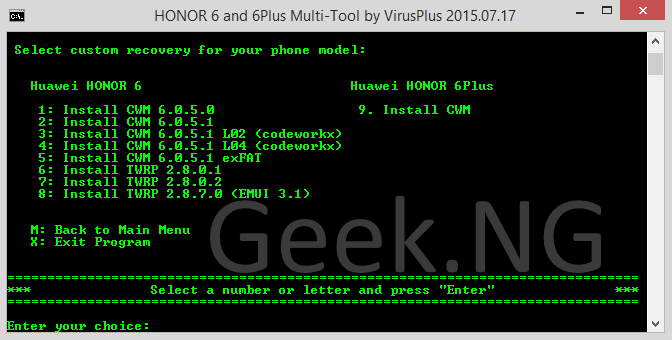 7. The download may take a while. Just hold on while it downloads and installs the CWM recovery.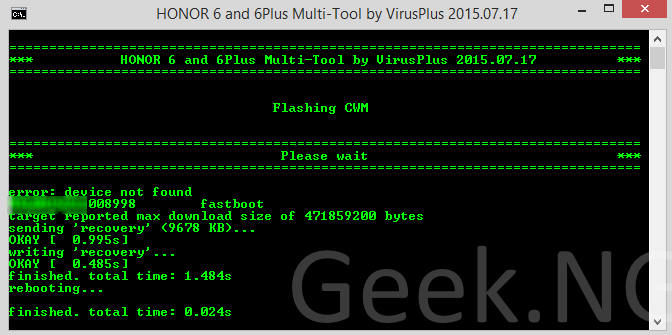 8. After the recovery is successfully flashed, your phone will first boot into normal mode, then reboot to recovery automatically.
C. Rooting & installing SuperSU.
1. On your computer screen, you should get a message asking whether you want to root the phone. Press Y and enter.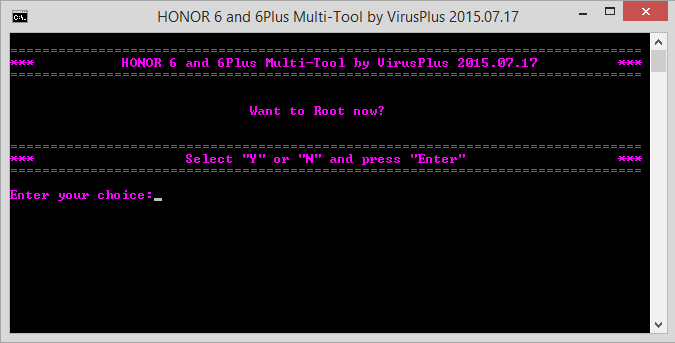 2. At this stage, this should be displayed and your phone should boot into recovery: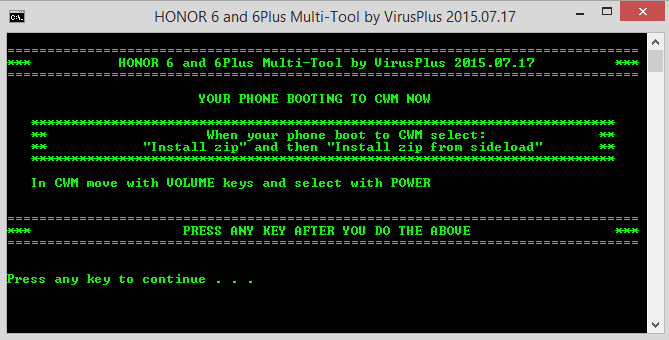 3. On your phone, use Volume up and Volume down to navigate and select using the Power button. Choose Install ZIP.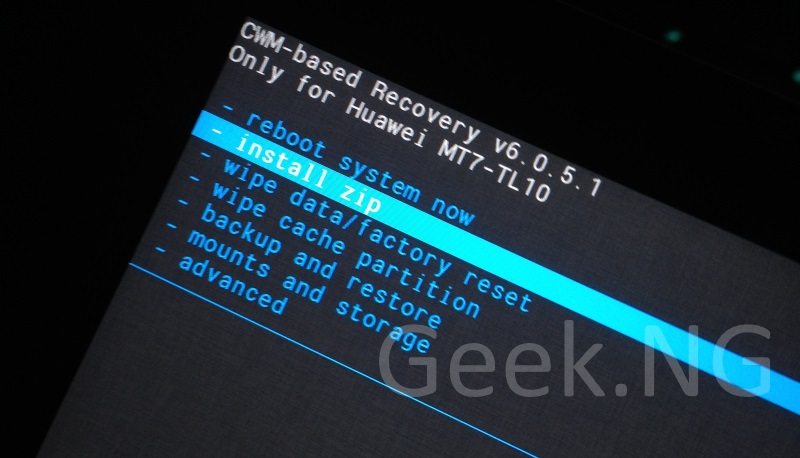 4. Then select install zip from sideload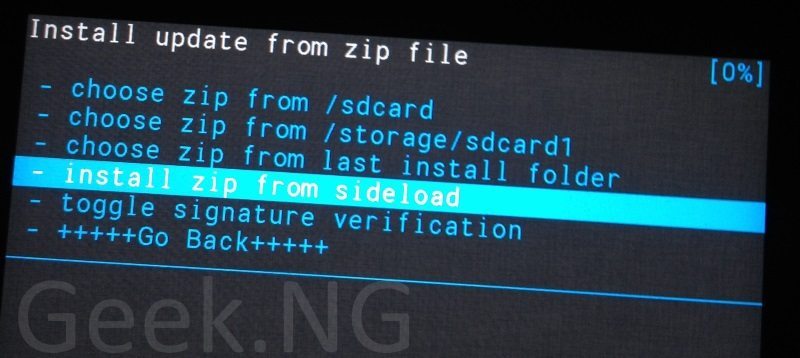 5. The ADB sideload should begin: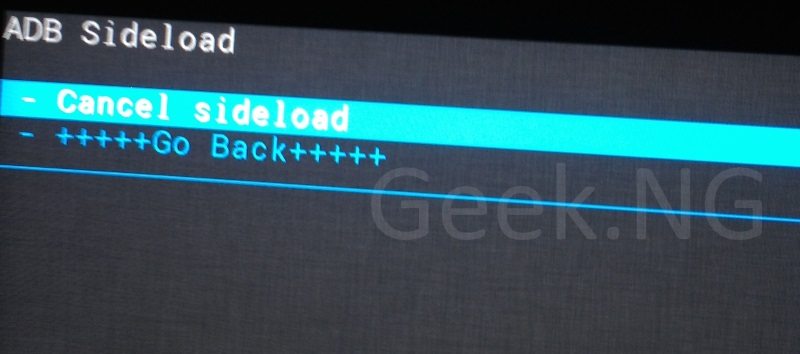 6. After a while the process should complete: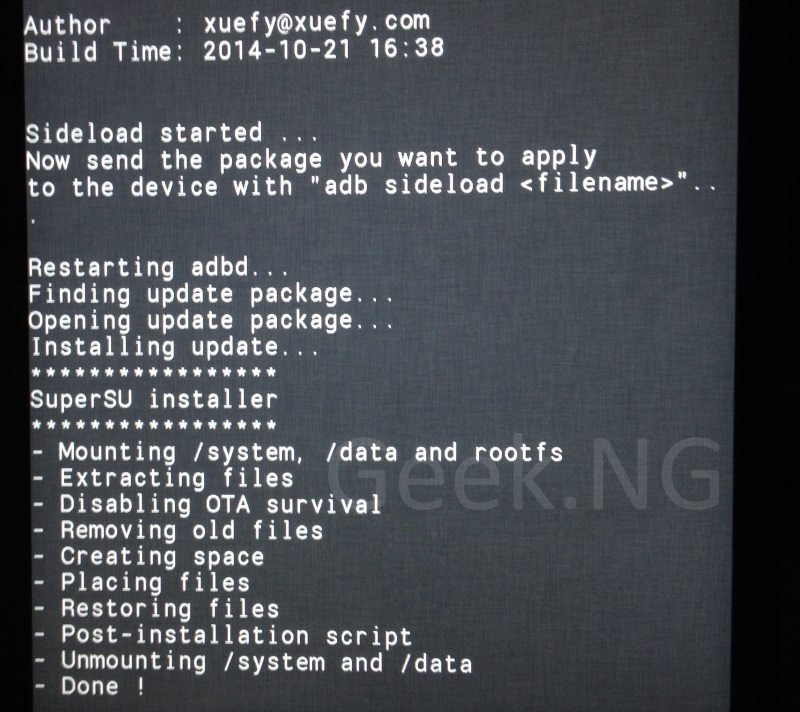 7. Choose reboot system now.
8. If asked whether to Fix Root, select Yes.
After rebooting, your phone should now be rooted and you should see a SuperSU app on your phone.
Here's one last thing, you need to go to stock recovery because if you don't, you may have problems installing OTA updates.
9. With your phone connected in FASTBOOT, click any key on your keyboard to continue with the Multi Tool. You should be asked if you want to install Stock Recovery. Type Y and Enter.: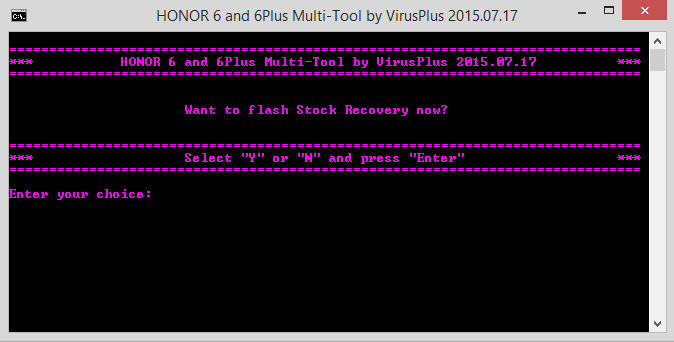 10. Select your phone model by typing the corresponding number and hitting Enter. I own a PE-UL00 and that's what I chose: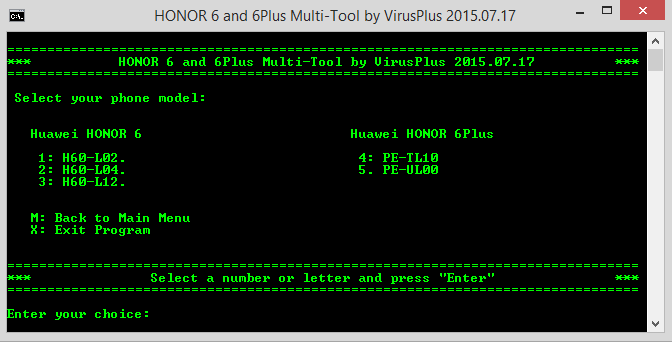 11. Next, select the custom recovery version by typing the corresponding number and then Enter. I chose the latest.
The download and installation may take a while.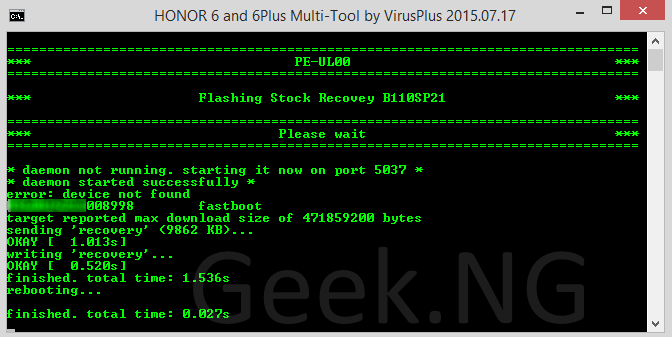 You can now reboot and it's all done. Credit goes to VirusPlus at XDA Developer Forum for creating this wonderful tool.