Watching videos online can be a good experience but it's even better if you can actually download those videos, save them on your hard disk and watch them later. Video streaming websites like Vimeo and DailyMotion allow you to watch these videos freely but then, there's no option to download. There are several ways to download videos from these websites, there are Firefox and Google Chrome Extensions that work just fine. Some of them are listed below:
1. Firefox Add-Ons
There are lots of add-ons for Firefox that work quite well but not all of them are worth downloading. For the past couple of years, two of them have been working great and are always updated. The great thing about these add-ons is that they just don't work on DailyMotion and Vimeo, they also let you download on any video sharing website.
How to Use
NetVideoHunter and Download Flash and Video work quite similarly.
– After installing and restarting your browser, visit either Vimeo or DailyMotion and start the video you want to download.
– Checking either the top or bottom of your browser, you should see a new icon (that's the add-on icon).
– Click on it and you should see a number of available videos for download.
Easy, right? It's not complicated to use but the only setback is that it can be a bit hard figuring out which of the listed links is that particular video you want to download. But I know you're smart, I bet you can figure it out. 🙂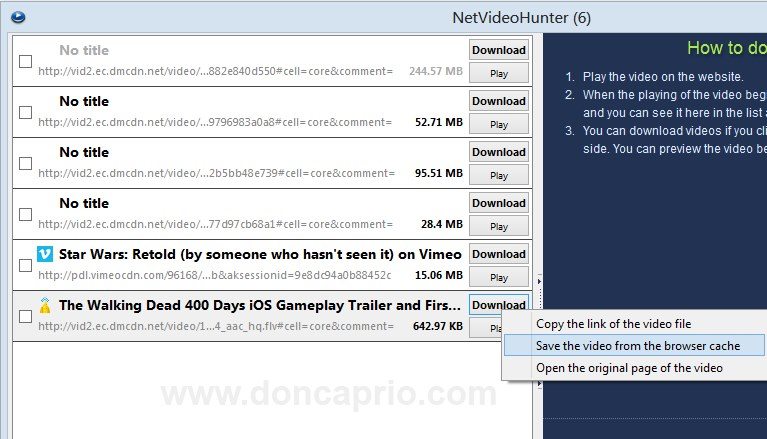 I particularly love NetVideoHunter due to one cool feature it's got: Allowing you to save the video from your browser's cache (if you've already played it) instead wasting your bandwidth and starting the download all over. You only need to right-click on the download button to show this option.
2. Google Chrome Extensions
Perhaps you're a Chrome guy and you really don't have all the love I have for Firefox, there are also a bunch of extensions out there you're gonna appreciate.
Video Downloader professional: Works on Vimeo, DailyMotion and almost every other video websites.
Vimeo™ Download Videos: Works specifically for Vimeo.
3. SaveFrom.net – An Online Service
If you really want to get this done quickly without installing anything on your browser, SaveFrom.net is exactly what you're looking for. This site allows you to download videos from websites like Vimeo, DailyMotion, MetaCafe and more.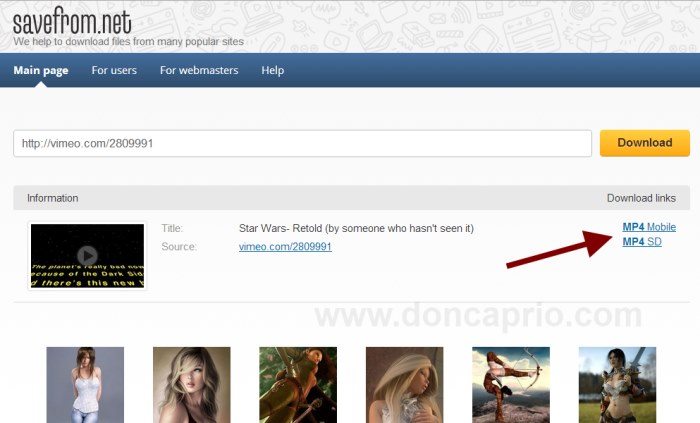 All you need to do is to copy the the URL of the video page, paste it on SaveFrom.net and then hit the download button. So far, it's the easiest way to do this.
4. Download Manager
I personally use Internet Download Manager and it never disappoints when it comes to grabbing online videos. It's easy to use; just visit the video page and a download button appears on the video.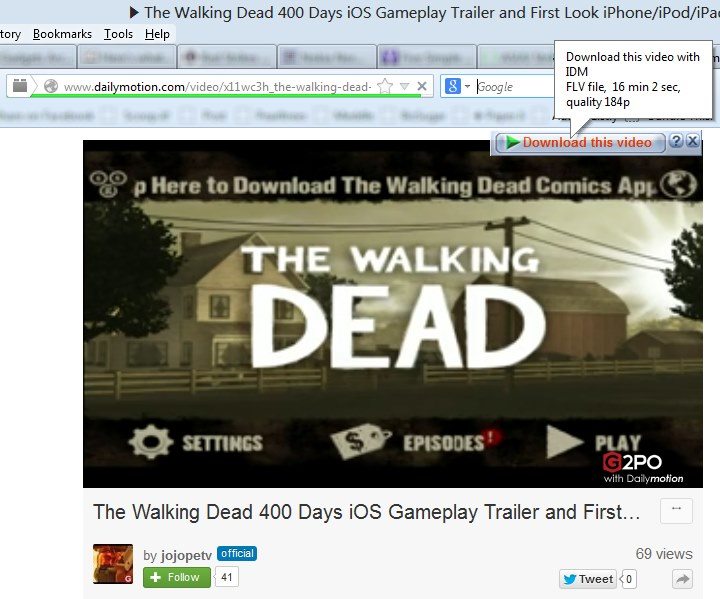 There are other download managers like Orbit and DAP that work similarly.