I know I've been very inconsistent lately and I think I need to apologize. I rarely post anymore but when you're faced with a lot of things that can literally kill your morale, it becomes almost impossible to come up with any sensible piece of writing. Also, if you've ever been faced with the dreaded writer's block, you'll understand how hard it is coming up with anything even if the ideas are right there in your smart skull. That's a story for another day anyway.
I've committed a lot of SEO sins intentionally and I've broken a lot of rules even though I was aware of what the outcome would be.
It's more like playing a game of Russian Roulette that involves a huge amount of cash. You can win big… and you may lose your life over it.
From black hat SEO using software programs to publishing sponsored articles that do not comply with Google Webmaster guidelines, I've learned a lot of lessons and I'm a bit repentant now.
I got hit by Penguin 2.0 and ever since that evil Hummingbird was released, I've been witnessing a steady decline in traffic. Imagine a stone dropping from the sky… that's just how it feels. Google is trying to get smarter and in the process, lots of businesses have been affected especially those that rely on search engine traffic.
How it all started
Since the release of Penguin 2.0, I've been getting serious link removal requests. I've published a huge number of sponsored articles and guest posts on this blog, linking to other sites freely, passing PageRank and breaking Google's rules. There was a time I was making close to $700 monthly from sponsored articles alone. An article gets submitted, you sit back, do a few editing, publish on your blog and a $100 payment makes its way into your PayPal account. Sometime, I would be asked to write the piece and I may charge a little more in such cases.
Don't bother to berate me, I know that's pretty sloppy. I got too lazy and way too careless, and I don't need any bashing to know that. Thank you very much.
Anyway, I started getting those link removal request and there was a day I was surprised to be contacted by an SEO company requesting to remove a link from my comment section. The comment didn't even look spammy, it was a real comment that contributed to the article. These guys too got hit with either a manual or algorithmic penalty and were desperately trying to clean up their backlink profile.
I went ahead to remove links from my comment section, uninstalled Commentluv and eventually switched to Disqus but that wasn't enough. The harm done by spammy links in comments was rather negligible.
On a post where Matt Cutts explained the death of guest posting, a link was dropped by someone in the comments listing customers of GuestPostShop, a guest posting company. Matt Cutts acknowledged it and then also posted a link listing sites that received guest articles from GuestPostshop.
This blog was listed on the page Matt Cutts (head of Google Web Spam team) linked to.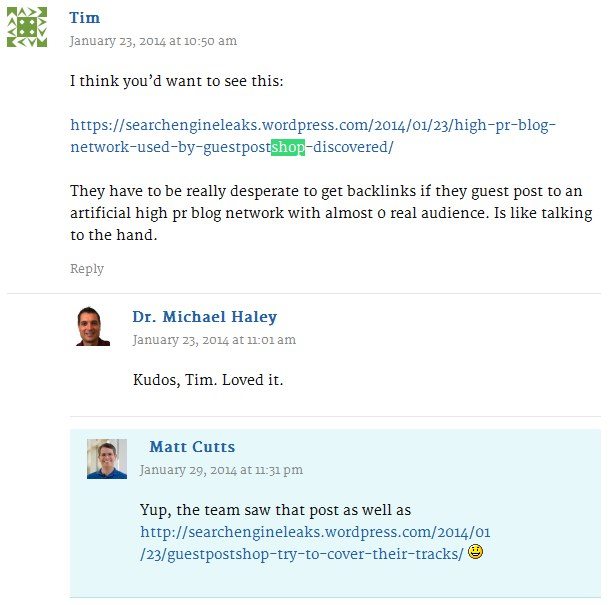 Unfortunately, I didn't receive a dime from that guest post. It was a pretty good piece of writing I was compelled to publish and it was wrong for Tim of SearchEngineLeaks  to assume that all posts published by GuestPostShop was sponsored financially.
A red letter from Google
On January 31st, I got this email from Google: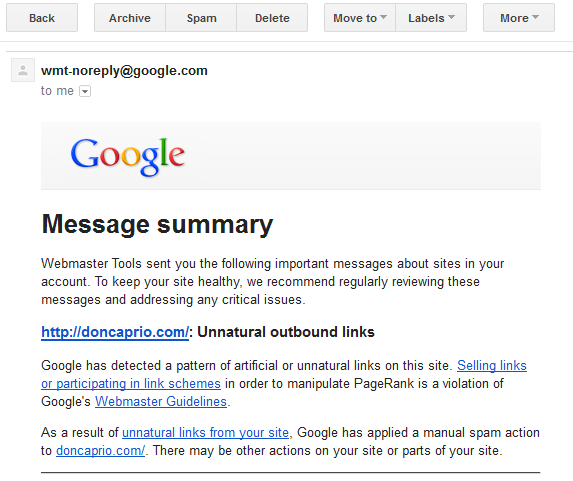 I saw the email and I was like WTF?! I was facing the writer's block, trying to recover from Penguin, and now this? I was staring at my screen and was numb for a minute or so. I knew that wasn't gonna help me so I got myself together and did what I was supposed to do within one hour.
What I did to revoke the penalty
The first thing I did was to identify a few dangerous links and remove them. I was thinking of scanning all my articles but then I knew it was gonna be one hell of a workload. Trying to identify potentially dangerous outbound links in over 900 published articles can't be done by just one person. Besides I had to check over 200 author bios!
Well, thank God I use Worpress, there's always a plugin to fix every problem.
I installed Nofollow for external link and every external link in all  articles got the nofollow tag automatically. Whew! That saved me a lot of hard labor.
That plugin only worked for posts and I still had links in author bios. I simply deactivated the author bio widgets I was using and it was all gone. No more external links.
All done one hour after I got the manual penalty.
I logged in to Google Webmaster Tools and used the appeal form. I explained the changes I made and below is the exact message I sent:
We accepted guest articles in the past and this is the root of our problem though we have addressed this now accordingly. Here are measures we've taken so far:

– We have removed lots of links manually from posts. We have made some effort and this include checking our recent and older posts and manually removing links we suspect got us the manual penalty.

– We have added rel="nofollow" attribute to all external links that are suspicious. This is done site-wide.

– We no longer allow links to author's websites in our website's comment section since this can be a source of problem too. Comment authors sometimes can be spammy.

– Since a lot of guest authors add links to their bio, we no longer display author bio below posts anymore. It has been removed site-wide.

We hope to receive a positive response and we promise to abide by Google's Webmaster Guidelines.

Thanks for the reconsideration.
I was confident I was gonna get a positive response even though it might take a long time. When Google penalizes you for anything, it's better to be honest, accept the blame and do what you're supposed to do. I've received warnings  from Adsense a number of times before and I've realized that it's better to be honest and abide by the rules when making a reconsideration request.
On February 16th, I logged in to Google Webmaster Tools and saw a message that was sent on 14th February that the manual penalty had been revoked: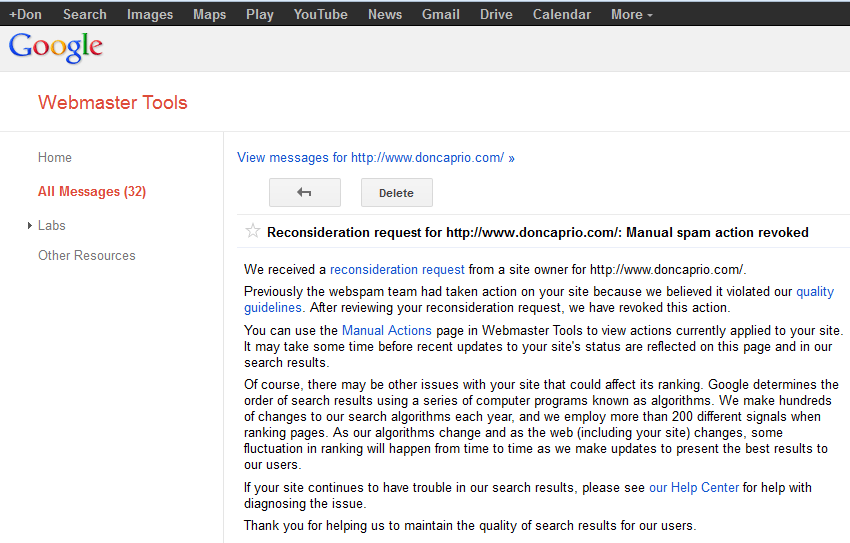 I heaved a sigh of relief. Now, it's back to business as usual though I'm pretty sure it's gonna take a while to get back my ranking.
So, what's my take on sponsored and guest posting now?
Guest posting still works if not abused and I may start receiving them later but for now, to hell with it. I ain't receiving those sponsored articles too no more and I'm gonna be very careful with whom I link to.
The money was good, I got greedy, forgot the rules and got hammered.
I learned the hard way, I hope you don't.