The 2014 Nigerian Blog Awards was exciting, not just because we emerged as the best technology blog in Nigeria, but more because the Nigerian blogosphere is actually beginning to get more interesting. Awesome blogs keep emerging and it appears Nigeria's blogosphere is a force to reckon with in Africa.
We were lucky because this is the very first time our blog got nominated for the awards and as the site Editor, I didn't even know till I received a mail that the site emerged as the best technology blog in Nigeria for the year 2014.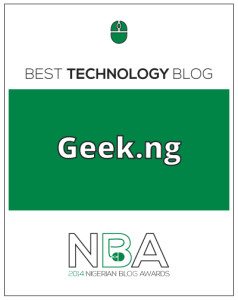 This was even announced in a tweet on the 18th of April:

Best Tech Blog winner: @doncaprio – geek.ng #NigerianBlogAwards http://t.co/ZyEZPgeiLQ

— Nigerian Blog Awards (@naijablogawards) April 18, 2015
This information is also acknowledged on the Nigeria blog awards website.
At this point, we would be ungrateful not to sincerely thank our loyal blog readers who have supported us through the years. Without you, this blog is just another domain no one gives a hoot about in the cyberspace.
We're indeed grateful.
To the person that nominated us, we say a big thank you. And to those that voted for Geek.NG, you're appreciated as well.
We will continue doing what we've always done since the dream started in 2009: sharing everything we know relating to technology.
Once again, thanks to you.
Don Caprio,
Editor, Geek.NG