My iPhone was useless for almost two days before I finally fixed this error and got my phone working again. I was trying to restore a custom iOS 6.1.2 firmware created with Sn0wbreeze but couldn't do it because iTunes kept throwing up all sort of error messages. Sometimes, I would get Error 1600, 1601, 1604 or something similar. I use Windows 8 on my laptop and thought maybe my iTunes was messed up or something due to the various jailbreak tools I've used on it. I tried restoring using my old desktop computer running Windows XP but it was still the same thing.
I had no problem restoring the phone using a stock iOS 6.1.2 IPSW but whenever I tried using the custom firmware created through Sn0wbreeze, I couldn't get past this annoying error. My phone was stuck at "Preparing iPhone for restore" for minutes. I had no choice but to restore using a custom firmware because my phone relies on hacktivation to be of any use.
I finally fixed this error using a tool I never thought would work because I've tried all sort of things already but but it did work and I was able to restore using the custom firmware created with Sn0wbreeze.
1. Close iTunes and all other programs that may communicate with your iPhone
2. Download iReb.
3. Unzip the content and run the .exe file contained in it.
4. Click on your phone model from the list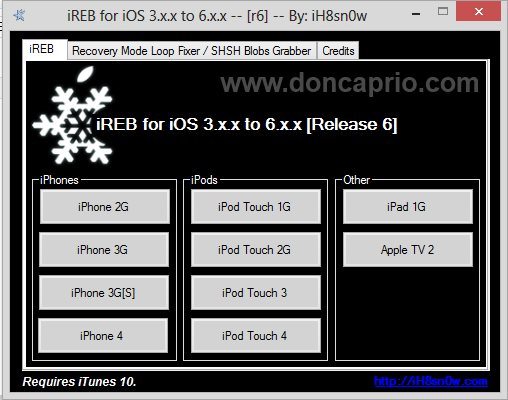 5. You will be asked to get your phone into DFU mode. In case you don't know what it is, follow these steps:
With USB connected, make sure your phone if fully turned off
Press and hold power button for 3 seconds
Without releasing the power button, press the home key too and hold both buttons for the next 10 seconds
Now, release the power button but keep holding the home key for about 12 or 13 more seconds
6. When iREB detects your phone is now in DFU mode, it does what it has to do and sets your phone in PWNED DFU mode.
In this mode, you can now launch iTunes and try restoring again with the same custom firmware created with Sn0wbreeze you were trying to use. I bet it should work. It's how I finally got rid of of that error 1600 thingy.