There are hundreds of student apps that claim to make their lives easier in some way, but this one is making waves in the academic world. So I decided to give this new app a try and document my findings.
So if you didn't already know, an essay writing service is a company that will complete your written assignments for you at an agreed price. There are many out there promising to deliver on a silver plate.
Now, why should you try an essay service like this one?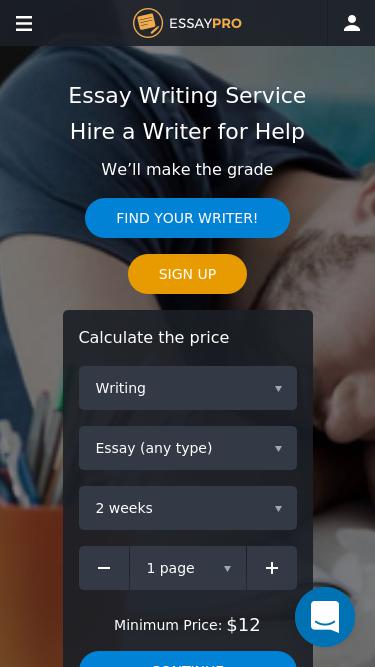 First look
You are greeted with a professional looking design that works both on Android and iOS, this is nothing too fancy to look at but enough to keep you from coming back. It works well and operating it is quite fluid. I've seen terrible, inferior apps puts you off at the very first launch. This is nothing like that. It has a very simple layout and it's pretty easy to use. Once logged in, for which you only need an email address for extra confidentiality, it is very fast and intuitive enough to set up what requirements are needed for a written piece of work.
Features
EssayPro claims they offer any subject and any deadline along with 24/7 online customer support which can all be accessed through the app or their website. They also say the app is built with Single Page Application (SPA) to provide a quicker and more fluid experience. I can say that the app was smooth to use. All transactions are encrypted and every user's identity is anonymous as they say that confidentiality is important to them. I can see why this would appeal to students wanting to remain anonymous.
Professional experience?
I decided to order an essay to judge the quality of the work produced and the whole experience of obtaining the essay. I asked for a five-page essay on how music and language are related. I wanted to put them through their paces and ask for something a bit more challenging than a book review. I filled in all the required fields like the deadline, topic and any supporting materials like class notes or references to use. After clikcing "place order," that submits the details. I checked back in a couple of minutes and already had about five bids for the work from different writers.
I was impressed by how quick the writers responded. Skeptical to take these early bids I decided to wait about 30 minutes and make a choice then. After looking through over seventy offers for my work I went with a highly rated writer called Preceptor Lisa. It is worth noting I had received a couple of messages already from writers saying that they had extensive knowledge in my subject area and would like to work with me on my order. I made my decision based on customer reviews, the number of orders taken and of course the price which all these details are included on the writer's profile. There are some more details like completion rate and interests. I exchanged a few messages with Lisa the writer about some details of the work in the chat, then waited for the five-day deadline.
After receiving the email saying my work was ready to download, I logged in and checked over the essay. I was quite impressed actually, there were some really good points and comparisons I could not have made. I then released the funds to pay which was only about 45 USD. I left a review on her profile to say thank you and gave a 4-star rating.
Final thoughts
The work produced was pretty good for the price and the app was simple to use. I like the fair system where the customer is in control of the price and the writers who produce the work. So overall it is easy to see why students are downloading and using EssayPro.