Update: If you find OBS way too complicated, here is a much easier way to stream recorded videos to Facebook Live.
Facebook Live has the potential to reach more audience as your friends on Facebook get notified when you start streaming a live event. Facebook designed this future to actually broadcast live events, not pre-recorded videos. Pre-recorded videos are meant to be shared using the regular upload tool.
For those who are rather too nervous to go live on Facebook, there's a way you can share an edited pre-recorded video and stream it live. Also, if you really need to broadcast a previously recorded video on Facebook Live for certain reasons, this is for you. Whether you own a personal profile or a fan page, this post covers both.
To get started, there are three steps involved:
Getting the needed software program.
Getting your stream key from Facebook.
Using the downloaded software to broadcast you recorded video.
The steps should be easy for anyone to follow as the whole process isn't complicated once you get the basics right.
Step 1: Downloading Open Broadcaster Software
There are several software programs to do this but the most popular are OBS, Wirecast and XSplit. For this tutorial, we're going to use OBS (Open Broadcast Software) Studio. It's free and very easy to set up.
Download and install OBS Studio here. It's available for Windows, macOS and Linux. Be sure you're downloading OBS Studio, not OBS Classic. After downloading the software, install, and we should now move on to the next step.
Step 2: Getting your stream key from Facebook
Before you can use this software, you need to get your stream key from Facebook. It should be noted that there are separate methods to get the stream key of a personal profile and a business page. You're going to either perform Step 2A or Step 2B depending on your objective.
Step 2A: Getting the stream key for a personal profile or Facebook group
– Visit this page.
– Click the Create Live Stream button.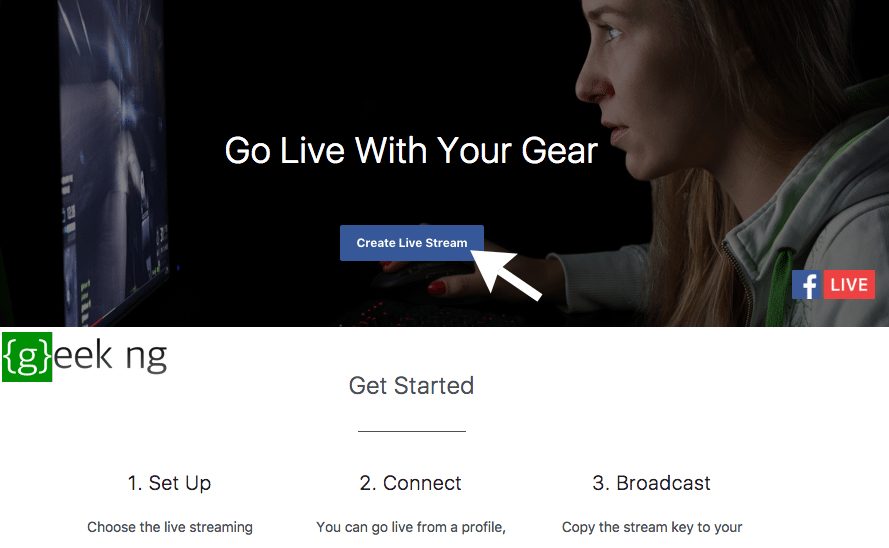 – From the selector, choose where you want to go Live. This only works for your timeline, your friends' timeline and groups. Select your own timeline and click Next since that's what we're working with right now.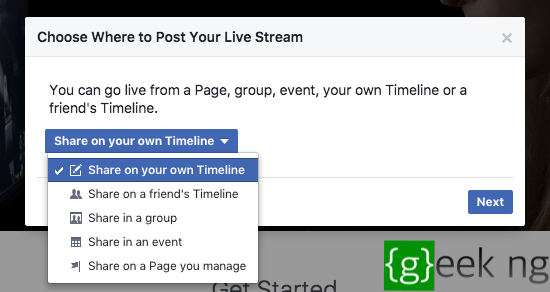 – On the next page, you should see your stream key. Copy this to somewhere safe and don't close this page.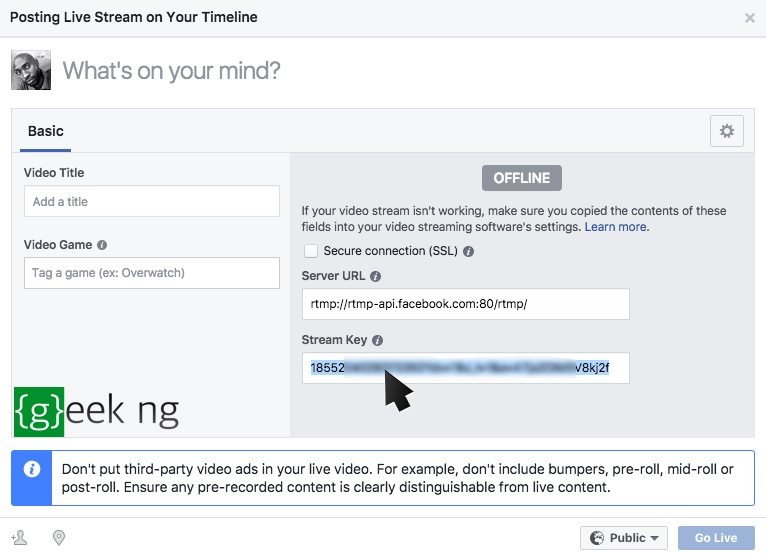 That's it for getting Facebook Live stream key for personal profiles.
Step 2B: Getting the stream key for a Facebook business / fan page
– Visit your Facebook fan page
– Navigate to the Pubishing Tools tab
– Go to Video Library and then select Live. – The popup should show your live stream key. Copy this to somewhere safe.
Step 3: Broadcasting recorded video on Facebook with OBS
– Launch Open Broadcast Software Studio
– Go to Settings. On macOS, this is located at OBS > Preferences.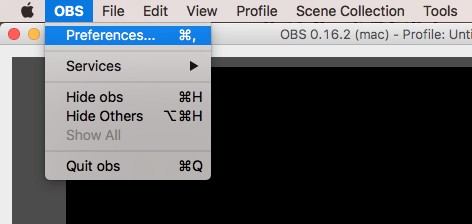 – Go to Stream and use these settings:
Stream Type: Streaming Services
Service: Facebook Live
Server: Default
Stream Key: <Paste the key you copied earlier>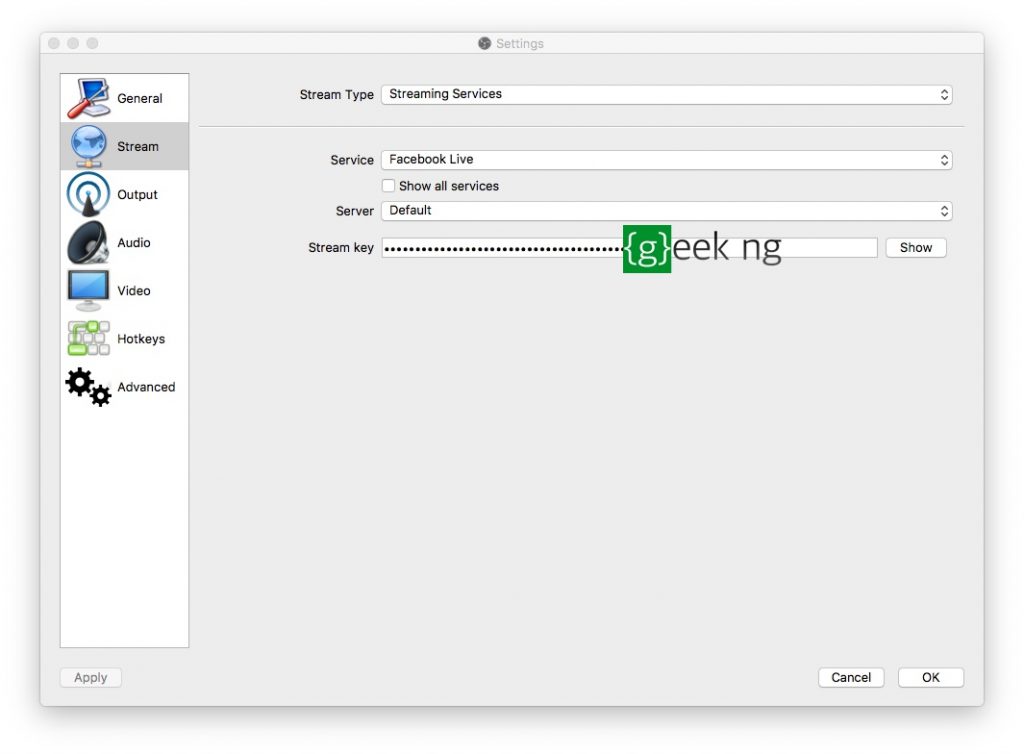 – Click OK to save your changes and go back to the main screen.
– On the main screen, add your pre-recorded Video by clicking the + under sources and select Media Source.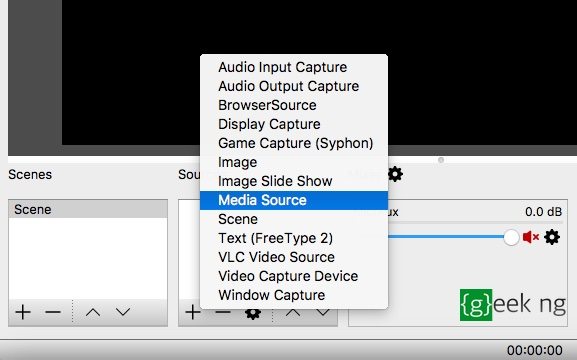 – If this comes up, just click OK.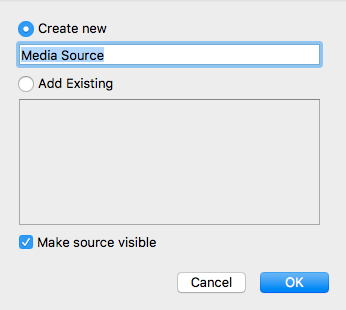 – The next window lets your browse for a local video file to stream. Click browse to pick your desired pre-recorded video to stream.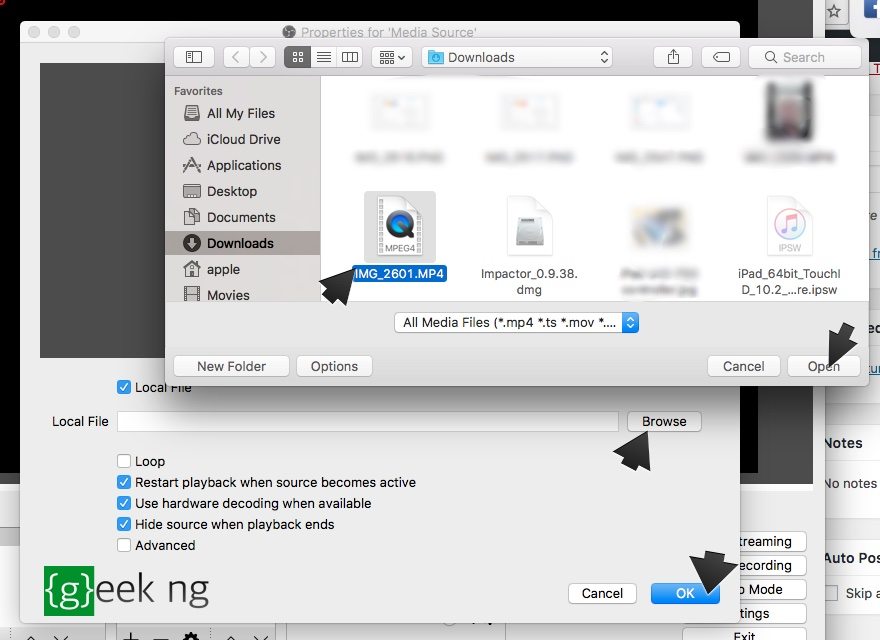 – After you've selected the video and you're back on the main window with the video preview showing, simply click Start Streaming.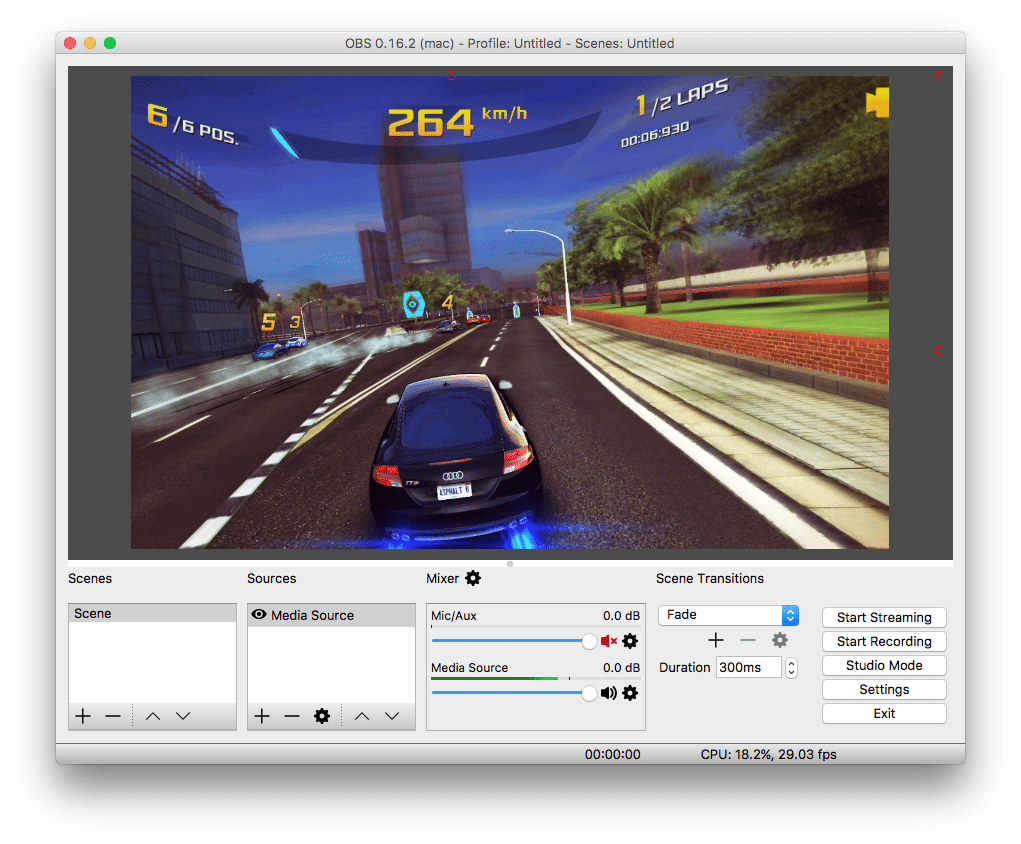 – You should now go back to the Facebook tab where you got your streaming key and your Live video should start displaying.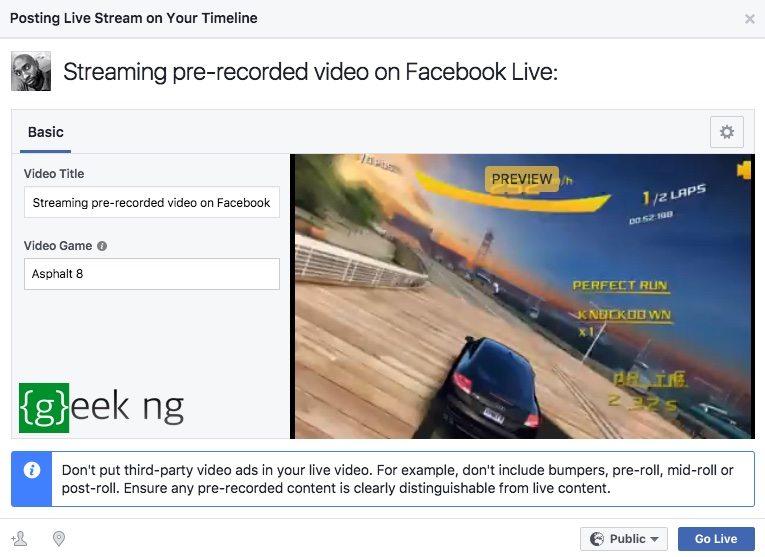 – Hit the "Go Live" button to start broadcasting the stream.
That's all it takes to go live on Facebook using a pre-recorded video. You should keep it in mind that you do need a fast internet connection to make this work properly.