'Budget' can have some negative connotations; cheap, inferior, not up to the job. These phrases are not synonymous with budget, however, and sometimes being frugal with your gaming equipment can help you strike the balance between getting a setup that can handle upcoming titles and not being forced to rack up a four-figure bill.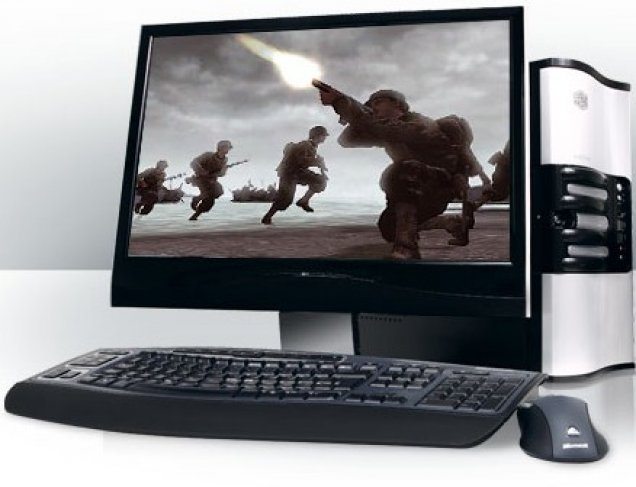 With next gen right around the corner, the question on every PC gamer's lips will be 'is my PC up to the job?'. Whether you're looking for your first foray into the world of PC gaming, or you just want to spruce up your current setup, this post will take you through a range of wallet-friendly components that can both keep up with current and upcoming titles, as well as being easily upgradable for a boost in power later down the line.

Must Read: Important Components & Specs to Build a Standard Gaming PC
All in all, the setup will cost less than £500 (prices are correct at time of publication) which easily rivals next gen consoles, too.

Case

Cooler Master Elite 342

This case from Cooler Master ensures you'll have a quality case from a reliable brand, enough space for some of the longer graphics card, plenty of bays and ample fans for cooling.
The case has room for two 5.25″ drives and six 3.5″ bays; so you can easily have a dual blu-ray/DVD setup and multiple hard drives/SSDs later down the line. Included is also a 120mm front fan, with space for a further two (one front, one rear).

Cost: £23.95

Motherboard

Gigabyte GA-B85M-D3H

While the name might be something of a mouthful (motherboards always are), this incredibly affordable micro-ATX motherboard is nice and compact in size but full of features; USB 3.0, SATA 3.0 and PCI-E 3.0 are all on board.

Must Read: Tips To Make Computer Games Run Faster
This motherboard is vital for the CPU we've chosen, as the compatible chipset is the new 1150 Haswell range which, as well as letting us pick our up-to-date processor, means that our setup will be future proofed for any newer models, updates or iterations Intel will bring out. It's also one of the cheapest of the new mo-bos available, but is packed with plenty of expansion slots, SATA connectors and USB ports to deal with our chosen components.

Cost: £64.10

CPU

Intel Core i5 4430 3.0 GHZ (Haswell Processor)

To keep ahead of the curve, a good gaming PC that's going to fare well in the next generation is going to need an Intel Core i5 as a minimum. The new 'Haswell' range from Intel (the fourth gen processors with the new 1150 chipset) is more than up to the job, with this quad-core 3GHz CPU being great value at under £150. There's plenty of oomph in it to deal with the increasing demand of PC games and, since it's the new chipset, will mean your setup is as up to date as possible; the Haswell processors have the benefit of also being more power efficient as well as an increase in performance.

Cost: £149.06

RAM

Kingston ValueRAM 8GB 1333MHz

It's easy to go overboard on RAM, and it can significantly add to the cost of your overall build. 8GB is ample for the demands of current games, so will be fine as we veer into 'next gen' territory as well. Kingston's budget range is by no means the fastest available, but is more than good enough for our gaming setup, suits our motherboard's specs and comes in at under £50, making it some of the cheapest quality RAM available. There's a second slot on our mo-bo, so there's nothing stopping you adding another 8GB later down the line for some breathing room.

Must Read: Speed-Up Your PC with These Easy Laptop Repair Tips
Cost: £48.24

Graphics Card

Gigabyte GTX 650 2GB OC

The bog-standard GTX 650s only came with 1GB of GDDR5 RAM so this extra memory, along with a boost in GPU performance is more than welcomed – and at a barely noticeable increase in price. It can be tempting to go for the GTX 'Ti' series, just because it's newer, but it doesn't offer enough of a performance boost to warrant the extra cash – and money's tight here! This GPU performs really well and can keep up with all releases to date no problem, easily besting console performance of these titles.

At just a smidge over £100, it's massively affordable and should stand you in good stead into the next-gen era; it'll easily outlive the CPU.

Cost: £101.92

PSU

Corsair Builder Series CX500M

You should never skimp on the PSU – a known brand is absolutely vital in ensuring our expensive motherboard, CPU and graphics card don't get fried. But the Builder Series from Corsair allow us to get a quality PSU without having to break the bank; that's perfect for our budget! The 500w supply gives us more than enough power on tap to power all our bits, with the added benefit of being semi-modular which helps a lot with cable management and airflow.

Must Read: List of Must Have Software Programs For Computer Repair ToolKit
Cost: £48.44

Hard Drive

Seagate Barracuda 1TB

We toyed with the idea of adding a solid-state drive to this build and, in an ideal world, we would – but the cost per GB is just not viable for a budget build, so we've gone hard disk. 1TB helps keep the cost down while still offering an eye-watering amount of storage that you won't fill up in a hurry with installed games. This drive is plenty fast and plenty big but, thanks to our decent case, you can easily add more as and when required.

Cost: £47.45

Total Cost: £483.16