Have you ever written a guest post that got rejected and booted out?  Accept it, it makes you feel dejected and embarrassed to see your guest posts going straight to the recycle bin for reasons you weren't aware of in the first place. Definitely, if you were aware of those reasons, you probably would have made the necessary changes before the post was submitted and (Oh God, I don't know) the post might have been accepted and published. Today, I will share with you some reasons why your guest post got rejected over and over again but hold up! Before we go, what is a guest post and why would you write it anyway?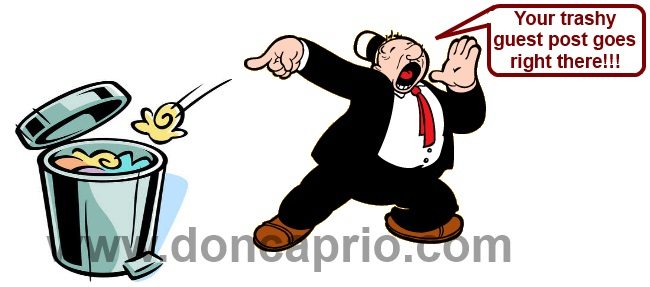 "Guest posts are simply the posts you write for another author in other to gain enough exposure and traffic to your new or old blog". Simple and clear enough, right?  I'm pretty sure you've heard this a thousands times before. 🙂 Okay, lets move on. This guest post strategy is really effective especially for new blogs but when you notice that your guest post gets rejected every time you submit it, then you might want to look at the following reasons  for what you're doing wrong.
Outdated Post
Before you start writing a guest post, you must first ask yourself if the post is good enough. I have seen many guest authors submitting outdated articles as guest posts. Stop kidding me! Will you accept such posts of low quality that probably won't be a major traffic source? Write a unique, hot and quality content if you don't want your next guest post to get buried.
Wrong Niche
Before you submit your next guest post, it is necessary and recommended that you submit it to a site closely related to yours. You don't want to submit a health related post to tech blog; most times, submitting to a wrong niche may cause your guest article to be rejected. However, if such post is even accepted, there is no way you can achieve your goals of submitting the article. The main objective of guest posting is already defeated.
Must Read: Selling Links On Your Blog — Things You Should Know
You Broke the Rules
Most websites accepting guest post will state their own guest post rules on their "write for us" page. If you thereby break any of their stated rules, your guest post is on the doorstep of rejection. No affiliate link, no link spamming, no link selling are common rules many websites roar on their "guest post page" and  believe me, they have the time to vet your post for such links and if found, you may be lucky to get the links removed and your post published or if you're out of luck, your post will be rejected.
Plagiarism
As you all know, plagiarism is a forbidden act in the blogosphere. While you may post duplicate contents on your own site, don't dare to do it in guest article. If your guest post is not unique enough or in some ways has been published on another website, believe me, your post is going straight to trash can where such posts belong; no one will publish such content, not even you if you know what you're doing!
Must Read: 6 Reasons Why You Should Comment On Other Blogs
Grammatical Errors
Too many grammatical and typo errors are likely to get your guest post rejected. It's understandable that no one is above mistakes but you should rather take some time to proofread your article before submitting for review. You maybe blessed enough that the author may consider correcting those errors, ( if the post is impressive) but when there are too many errors, your post would be in good spirits just chilling in the trash can.
Self Promotion
Self promotion  is also one of the reasons some guest posts are rejected.You know that no blog author will accept free promotion within an article and this is why some guest authors develop the habit of using guest posting as a way  of promoting their goods or services. Why would you do this? Guest posting is only meant for relatively new bloggers to gain traffic and exposure, its so tragic many people are using it for self promotion and you want to know how they do this? Product links or affiliate links in their author bio or inside body content.
Must Read: How to Improve Your Writing Skills As A Blogger
If all the above mistakes are avoided, I'm pretty sure no one will ditch your guest post ever again and in a case where you follow all the rules, avoided all the blunders explained above and your guest is still rejected, you may want to mail the site owner and ask for specific reasons why your post was rejected perhaps you can make adjustment and resubmit I'm not saying these are all you can do to get your guest post accepted but sure, I have covered many reasons and important causes that may get your guest post rejected. You can also make your suggestions through comments.