You're a good poet. You can tame unicorns and climb mountains with the power of your words. But how will the world know about your talent if you won't showcase it? How will they come to know that you can be the next author of a bestselling book?
The same goes for your business. If you'll not market your brand how'll they (read your prospects) know you exist? And, the best method to sell yourself and create an impactful brand is to set up a blog.
According to the Content Marketing Institute, 61% of U.S. online consumers made a purchase. Content Marketing enhances conversion rates six times higher than other methods.
Having a blog is definitely worth the efforts and investment. In this blog, I'll outline how content writing can grow your business and help skyrocket sales.
1. Increase traffic to your website
If you want to have a surge in traffic and convert your readers into customers, develop a blog. Unlike advertising, a well-researched blog that is relevant to the business will not only offer help to your visitors but also adds value to your brand.
HubSpot researched 1400 companies and concluded that increasing your website's pages by 50-100 can lead to double-digit lead growth.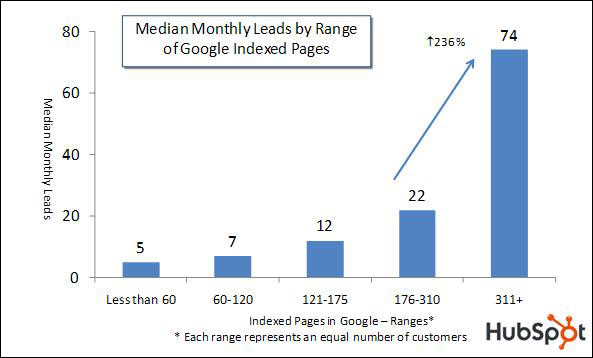 Along with that, content writers are thorough with Google's dynamic algorithms. They will optimize the keywords for your site to increase the chances of ranking higher on search engines like Google, Yahoo, and Bing.
Social media has become an integral part of any business. Platforms like Facebook, Twitter, Instagram, and Linkedin help your business to grow and reach a wider audience. A good content writer can enhance your brand's image by posting different creative ideas that would mesmerize your audience, regularly maintain your online presence and build a community of like-minded people.
They know how to sell your business whether through your website or social media platforms. They look after the ideas that steal your reader's interest and accordingly write and publish them.
Having a blog or a news section allows you to showcase how much you know about a particular field or industry. Every week, content writers come up with a news story, opinion editorial, or industry article that can give your customers a taste of your expertise as compared to your competitors.
For example, Neil Patel, a digital marketer and an influencer share great tips and insights on SEO and marketing on his blog.
4. Convert visitors into customers
Blogs, eBooks, social media creatives aren't just for reading and rejoicing— they are an effective marketing tactic for getting your readers to take some action. The key here is to keep a call to action button that directs users to take an action, and content writers do just that. They put an attractive call to action like:
• Buy this course worth $40 in $4
• Sign up for our newsletter now!
• Download our email templates for free
They also educate your customers through blogs, white papers, and other writing verticals, hence increasing the trust of your brand and affect the conversion factor of your clients.
5. Maintaining a robust and informative blog
Setting up a blog is easy. Maintaining and growing can be an overwhelming process. Associate with content writers who not only have impeccable writing skills but also are good with analysis and content strategy. Since the whole process involves research, editing, outreach, promotion, and engagement, you may require a team of writers.
Wrapping up
Content Writers not only boost your website's rankings but also help you discover new ways to improve your products and customer service. They give a voice to your brand and can be labeled as unsung heroes of your company. Hire them now to boost your lead generation process.
Author Bio
This is Sharon Winget, Staff Writer with GoodFirms, a review and rating platform of top IT companies & software. A tech geek at heart, I firmly believe technology can transform societies. I enjoy blogging about web design, email marketing, and content marketing.