You may have stumbled upon many posts that will pronounce forums as one of the best ways of getting quick traffic to new blogs. With no doubts among several different source of traffic, forums is proven to be very effective if implemented the right way, but today all we see is misuse of these forums in very wrong ways because some think traffic and building  a successful website is something anyone can achieve overnight Without knowing the right ways of using forums to generate traffic and build strong backlinks I bet you won't get anything out of using them.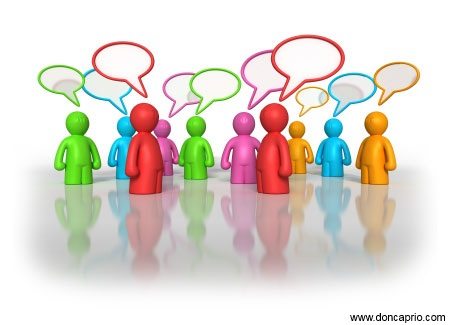 Here is the top best 10 tips of using any forum like a boss:
1. Choose Niche Related Forum
This is the first thing to think of before joining a forum. Choosing the right forum related to your niche makes a big difference and a great step to be successful; I wonder what a health blogger stands to gain from a technology forum. To search for right forums in your niche you can Google "your niche + forum." Also in choosing the right forum, you must consider a forum with a higher pagerank than yours with millions of active users or close. Additionally, there are many forum sites which are of no value to you, I mean, they can never be a source of traffic and not gonna to give you any quality backlinks. Beware of such forums and keep off even if they seem to have lots of users.
2. Don't be Anonymous
Another mistake most people fail to avoid is choosing a forum username. When you are not ghost, why should you choose "ghost121" as your username,  even with anonymous picture?  For you to gain from forums traffic-wise, your profile must be well defined, your real name, real picture and real information must be provided; this only facilitate better interaction among other members and they associate and interact easily with you, even if you are new member, your username act as  messenger to other members. So ask yourself what message do you want your username to send?
Must Read: How to Vary Your Anchor Text to Increase Google Search Rankings
3. Post Quality Posts
Just as the popular saying goes, "Content is King," it applies to your forum posting as well. This will really help to get quick exposure and aid your traffic from forum, post unique content with no fake information, this will help you get recognition and before you know it, every member will start adding you and checking out your site.
4. Be Active
If you don't have anything to write about, you don't have to hurt yourself over it. It happens sometimes but wait, that doesn't mean you must not be active in the forum; reply to other members posts, chats with members if you can and also comments on other members post. All these will  let you get more exposure within the forum.
Must Read: 5 Killer Ways to Increase Your Google PageRank
5. Don't Break The Rules
Before you join any forum, you must  note of the forums rules and regulations and it's your job not to break them, clear? Abide by the rules or risk being banned completely from the forum (which I know you don't want). Even if someone sends an offensive message to you, I assume there is "delete" button right next to the message; that's how to send any insulting words to the underworld. You are just like the sender if you also reply with abusive words too.
6. Ask for help and help others
Forums are internet communities where members with related interests share information, many members will come to look for help on a specific issues, take this as opportunity to gain traffic and recognition by attending to such help posts. Even if you don't actually know the solution you can advice, share experiences and ideas; if you receive any "thank you for your concern," kindly reply "you are welcome, you can check my site for related issues," got it?
7. Don't Spam
As many people rush into web forums all their intentions is to spam, this is a great set back and mistakes some bloggers have been making for a long time. You can't possibly think that a client you just met and after shaking hands you immediately lay business cards on their throats, and expect such client to get down with you immediately on business, (Are you kidding? Every one is wise). You will try to get to know each other a little bit before interacting with them on professional terms. It's obvious you are using the forums to promote your site or business but that shouldn't look like the main reason you're there because if it is, you get a lot to lose. People will think you're a spammer. How do you see a new member that just signed up and his first post is "hey members, check out my new blog."  You can do this in more polite ways without anybody holding you off.
Must Read: 10 Killer Steps to Drive Huge Traffic to your Blog
8. Be Simple and Funny
Life is not too hard mate :), Sometimes you have to be funny enough to gain appearances, every one loves funny things, be funny and witty in all your post and reply to all funny posts by sharing your funny thoughts too. Don't just be like any other member.
9. Link Your Site where Necessary
Only where necessary, you are free to put a link to your site. You must do this with caution, think of a forum post like an average guest post, you can make use of this tactic. At the end of each post, you can write something similar to this, "this post is written by XYZ, a good member of ABC forum, you can find out more about this post at yoursite.com/findoutmore." This is a win-win game as you're adding value to the forum as well as promoting your site too. In addition, there are some help and request posts that the solution is somehow complex and needs extra tutorial. If you've written on a post similar to the questions, you can take this valuable chances by directing all people looking for the solution to your site, by simply replying to the post "I came across this fix somewhere online. You can check out http://your-site.com/solution."
10. Build Relationships
Whenever there is possibility to build friendship don't hesitate to take it,  relate with other forum members, be friendly, never abuse or insult any members, be loyal, publicize your social media accounts, such as Facebook, Twitter, Google plus and allow them to add you and also send friend request to them.
I have shortlisted 10 Tips I know it will help you to gain many forums traffic and backlinks, don't just read through them but also act on them. Don't forget to leave your comments… of course I'll love to hear your opinions.