Finally, the wait is over and all those who bought iPhone 5 over the last few months can jailbreak their device untethered. The tethered jailbreak posted some months ago on iOS 6 on A4 devices is now obsolete as this new jailbreak is untethered and covers most devices. Just yesterday, Cydia server was down because of the number of newly jailbroken devices downloading tweaks… people who have waited for so long.
Must Read: NCSettings: The Best Alternative to SBSettings on iOS 6.0.1 / 6.1
Unlike Redsn0w, Evasion is much more easier to use and it won't take much of your time. Even if you've never jailbroken an iDevice before, you would find out it's so easy to use. It supports the following devices:
iPhone 4S
iPhone 4
iPhone 3GS
iPad 4
iPad 3
iPad 2
iPad mini
iPod touch 4
iPod touch 5
So, if you use any of these devices, you can be rest assured it's gonna work for you. Before jailbreaking, however, be sure you device is running either of these firmware versions:
iOS 6.0
iOS 6.0.1
iOS 6.0.2
iOS 6.1
- Download iOS 6.1 compatible with your device.
- Download Evasi0n tool compatible with your OS
- Backup your phone and restore your phone using the firmware you downloaded through iTunes. Hold down SHIFT, then click restore to select the firmware you downloaded earlier. Alternatively, if you connect your phone and if  iTunes asks you to update your firmware, simply do. However, if you already have iOS 6.1 already, you can skip this step altogether. It's recommended you don't do an OTA update, connect to iTunes and do it instead.
Must Read: How to Backup Cydia Tweaks and Apps to .deb Packages on your Computer
- Close iTunes and any other software program that communicates directly or indirectly with your Apple device
- Unzip the content of the zip file containing Evasi0n and run the .exe file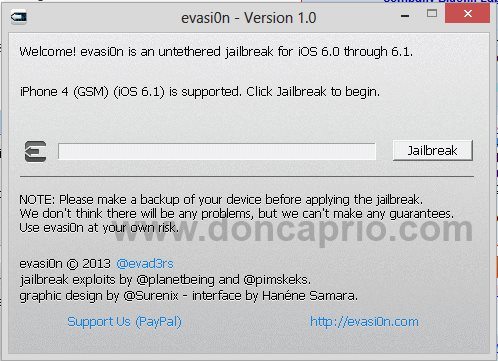 - Connect your phone and be sure it's detected as shown above. If you use a passcode on your phone, disable it by going to Settings > General > Passcode > Off.
- Click on the Jailbreak button and the process starts. This may take up to 10 minutes, just take a chill pill and be patient.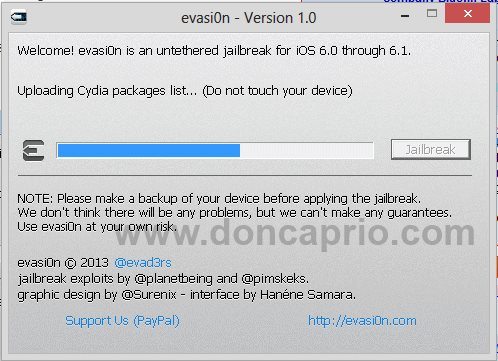 - At a point, you will have to unlock your device and check your springboard for the new Evasi0n icon. Click on it and the process continues.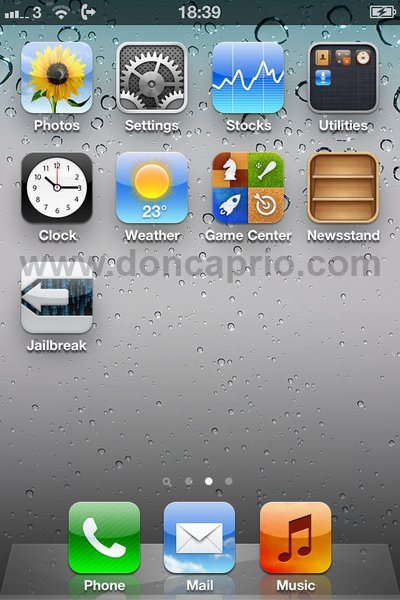 - The rest of the process is automated and you won't have to do anything. Your phone may restart a couple of times but it's alright. Cydia would be installed and some configurations would be done to put things in place. Easy, huh?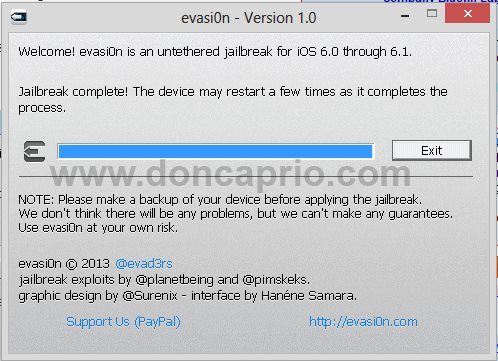 If the process gets stuck somewhere and takes too long without any progress, it's safe to restart the program, reboot the device (if necessary by holding down Power and Home until it shuts down), and rerun the process.
Must Read: How to use iPhone or iPad as USB Flash drive on Windows
You can then run Cydia, select what type of user you are and Cydia does some sort of file system setup. The jailbreak works on all Apple devices running iOS 6.1 for now and it's untethered. Just remeber you're jailbreaking your device at your own risk, not mine. As far as I know, it's safe though and I didn't have any issues using it on an iPhone 4 on Windows.