Right from iOS 4.1, I've been using SBSettings and it's one of the reasons that makes jailbreaking your iPhone a worthwhile thing to do. The toggles make things easier as you can just swipe you status bar horizontally to get access to your most used settings. It always came up on top of my recommended Cydia tweaks till I upgraded to iOS 6 last year.
Must Read: How to Backup Cydia Tweaks and Apps to .deb Packages on your Computer/a>
After upgrading to iOS 6 and later to 6.0.1, jailbreaking and unlocking the iPhone, I launched Cydia to install a couple of needed tweaks and first tried out SBSettings but to my dismay, I was disappointed. Some of the toggles didn't work and some kept making my device  go into safe mode. SBSettings wasn't updated for iOS 6 and I had to remove it.
Must Read: Change your iPhone UI to Android, Windows Phone 7 or Mac OS X Lion
I always turn on and off cellular data, 3G, WiFi, airplane mode and some other stuffs but without SBSettings, I had to go to my phone settings every now and then to get these things done. I also respring / reboot my device occasionally but I couldn't do this either.
NCSettings- A much better alternative
A couple of days ago, I came across NCSettings and as a matter of fact, it's much more better than SB settings. It's fully compatible with iOS 6.0.1, runs smoothly and does what needs to be done. It's well integrated with your Notification Center and doesn't eat up much RAM, if any at all.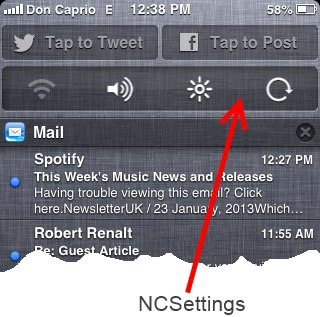 How to install
NCSettings is available in the ModMyi repo, you only need to search and install.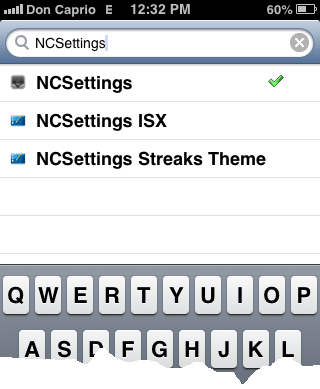 After installation, go to Settings > Notifications. You should see NC Settings under "Not in notification center"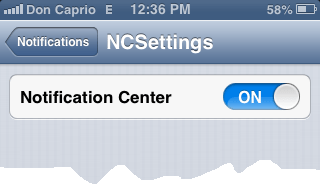 Enable it and there you have it. If you're like me and want it at the very top in your Notification Center, go back to Notifications, tap Edit and drag it up. Check your Notification Center to see the new toggles appear.