Ok! I'm excited to announce another giveaway right here and a fresh opportunity to thank to all our blog followers on Twitter, our Facebook fans and email subscribers. Without you, the blog is more or less useless, right? Would I be reading my own updates? I doubt that.

Also, I would like to thank all those who partook in our last two giveaways. I'm sure by now, all the winners must've gotten their hosting accounts.
We're giving away 5 licenses of uRex DVD Ripper Platinum with lifetime upgrade this time and each license cost $34.95 each. It's a great software for its price considering the features that comes with this awesome DVD ripping software. This software is pretty easy to use as it lets you rip and even convert your DVD disc to play on your mobile device. Not only that, you may just want to rip the DVD and keep it safe on your computer in case the disc damages or something. It converts to the selected format optimized for your device whether you use an iPad, iPhone, iPod Touch, Android phone or tablet. Also it's compatible with Windows 7 and the latest Windows 8.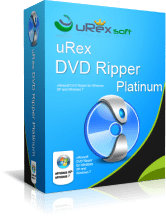 Now let's take a quick look at the features that set the product apart:
Rip and convert DVD to MP4, AVI, WMV, MOV, FLV, M4V, etc.
Rip and convert to iPod, iPad, iPad 2, iPhone, iPhone 5, Apple TV, Android, PSP etc.
Extract audios from DVD as MP3, WMA, WAV, AAC, M3A, etc.
Edit videos by trimming, cropping, adjusting brightness, contrast and other effects etc.
Capture DVD screenshots as JPG or BMP image.
Awesome, isn't it? You can download the software here but mind you, it's the trial version.
You can actually win a free license to use this software for ever and this included free lifetime upgrades. Now, we've got only five of these licenses to give out to five lucky winners courtesy of uRexsoft.Again, they're presently giving away two free copied on Windows 8 Professional and you may want to check that out here.
How to enter the giveaway
You have to enter the raffle to win and the more points you gain, the higher your chance of wining. Each point counts and should try to gain as much as possible by simply doing the following:
1. Leave a comment on this post
2. Share this post on facebook
3. Tweet this post
4. Hit the Google +1 button
5. Enter the raffle below
Do what you're supposed to do as explained above and you may be a winner of this $35 gift.
Tips & Guidelines
1. Share and tweet everyday for more entries
2. Winners will be selected randomly
3. Entries end on 15th Nov., 2012.
4. Winners will be announced on 16st Nov., 2012
Wishing you all the best and hoping you emerge as one of the ten lucky winners. Good luck!