Google has been hard at work on the latest delicious Android version, codenamed Jelly Bean. At the recent Google I/O developers' conference, we got to see a number of the new features, as well as some impressive improvements in performance. We also got to see it in action on the rather impressive 7″ Asus-made Google Nexus 7 tablet.
Unlike the previous whole-number evolution, Jelly Bean is "only" Android version 4.1 — a single-decimal incremental update to Ice Cream Sandwich. However, enough optimizations and improvements have been made to ICS to warrant the name change. In fact, you might say that Jelly Bean is to ICS what Windows 7 was to Vista.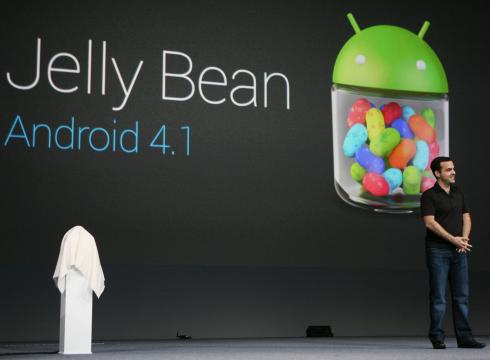 For one thing, there's Project Butter
Google took a long look at some of the drawbacks of ICS, and listened to the complaints of users who had expected an improvement to frustrating lag and sluggish response times. The result: a noticeably faster OS, especially where graphics and touch response are concerned. The development team attacked the problem from a number of angles, including vsync (nailing down the touch synchronization and graphics processing to a 16ms graphics "heartbeat"), triple-buffering (for more constant processing and rendering "cycles"), and even programmed the OS to try to anticipate where on the screen your finger will touch next.
Speaking of anticipation, Jelly Bean also includes some predictive and responsive features
Not unlike Apple's Siri, in fact. With Google Now, Jelly Bean will attempt to provide proactive "cards" featuring information and suggestions to the user, based on location data and past searches. By default, this includes things like weather, sports, traffic, restaurants, flights, and appointments. The more you use it, the better it gets at giving you useful information; once Google Now really gets a handle on your needs, you'll be able to get the best means of transportation to get to your next appointment on time, and whether you should take an umbrella — without even having to ask.
Part of this builds upon Google's flagship Search product, incorporating the company's ambitious Knowledge Base project.
Instead of pages of search engine results filled with keyword-based links, it's more like accessing a mobile-friendly version of Wikipedia — streamlined into "structured data", which gives you summaries of the most pertinent data (i.e., no TLDR pages full of trivia). Again, the predictive nature of Google Now, along with integrated data such as web history and location-based preferences, means that your searches become more personalized and pertinent over time.
Not Siri-ous enough? All of this integrates with the new and improved Voice Search
Which uses extremely accurate voice recognition along with fairly good voice simulation (nobody's perfect. Even Siri stumbles over "Ralph Fiennes" sometimes). The Voice integration even extends to offline voice typing, so dictation (for instance, into Google Docs) is a viable option even without a connection. It's old hat to tell Voice Search to enter an appointment in your calendar; this year's model can be told to look up the number of a nearby Greek restaurant, place a call so that you can order spanakopita, and have the walking directions ready for you by the time you're done ordering. If you trust Voice Search with your finances, it can even remind you that you spent all of your money yesterday and need to stop at the ATM along the way.
Speaking of reminders, say goodbye to short, boring, useless Notifications.
One of the coolest features of the upcoming Windows 8 is Live Tiles, which give you specific and useful info without having to open the associated app. Jelly Bean's revamped Notifications are a lot like that, in function if not form. But Google takes it one step further by making Notifications interactive, from social media sharing (Google+, naturally) to responding to calendar invitations.
There are also some more minor new/ improved features that deserve mention, including resizable widgets and better NFC implementation. Optimizations promise to make battery usage more efficient, but don't get too excited — we're not talking about extra days worth of battery life, but even an additional hour would be a big enough deal. Updates no longer re-install the whole new version of an app, but only the changes (i.e., faster downloads great news for those on limited data plans). Version 4.1 also addresses Ice Cream Sandwich's often inconsistent reconciliation between Smartphone and tablet forks (Gingerbread and Honeycomb), providing a much more unified experience.
What's wrong and what's missing with Jelly Bean?
Well, precious few existing devices will get it right away. The Nexus 7 will be factory-equipped with the "pure" Jelly Bean experience, but the rest of us will have to wait for the inevitable carrier rollout — my Droid 3 is still waiting for Ice Cream Sandwich, so I have little hope of personal experience with 4.1 (at least until my contract expires). The good news is that, being an incremental update, it should require less time than the transition from Gingerbread to ICS.
Then again, this may be a blessing in disguise, in the sense that manufacturers and carriers alike have considerable difficulty NOT messing up the smooth and integrated Android features. Between bloat ware and a variety of hardware differences, every new Android version has been plagued by more incompatibilities and odd behavior — and Jelly Bean compounds the issue by directly working with the CPU, GPU, and touch screen hardware. All of this is why one of the biggest selling points of the Nexus series is "the pure Android experience". Good luck however, trying to get any price subsidies.
More worrying to some is the absence of Flash. Apple has avoided Adobe's commonplace framework for years, and it's been a (somewhat reluctant) point of pride for Android fans. Now that Google's YouTube videos are comfortably settled into HTML5, the endangered Flash is no longer the necessity that it once was — but countless web pages and apps are still based on Flash, so expect to see a lot of holes in your browsing.
Overall, the new Android OS version is a basket full of tasty jelly beans that will make your mobile experience much more enjoyable and helpful. On the other hand, the bugs and omissions will mean that you'll inevitably have some of those nasty licorice Jelly Beans left over — and you know how hard those can be to swallow.