Bored with the usual facebook status update and want to play a prank on your friends? As you already know, facebook status updates is normally in black font but you might have seen some updates in blue text, linking to your profile. There was a post I wrote on using custom links in facebook status updates but this no longer works because Facebook found a way block it. This trick lets your update lets your Facebook status update link directly to your friend's profile or whoever viewing the update.
There's just a little trick behind this and it's just a little piece of code:
@[1: ]@@[1:[0:1: Click here to view the ugliest profile ever! ]]
This is how it looks like when posted: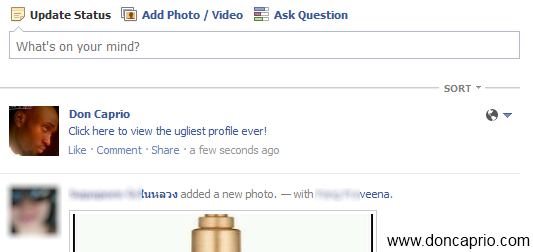 You can replace the text in red with your own words. If any of your friends clicks on the update, they'll be redirected to their very own profile.
There's a little bug with this trick though: friends using mobile phones will only get an error page if they click on the link but hey, it's a nice little prank.