Facebook rolled out it's timeline profile and some of us complained for a while though there's nothing anyone can do about that. It's funny how those of us who groaned about it are now finding ways to personalize it and make it look exotic. Creating the perfect timeline cover ( the large image at the top of your profile ) can be a problem if you're not so good with graphic designs and need something unique. A lot of people don't even know the right dimension to use which makes the timeline cover look awkward when uploaded as you have to move the picture around to fit the right dimension.
The exact dimension is 850px by 315px and you can resize your photos with an image editing software before uploading but if you don't want to go through the stress of creating a unique cover photo for your timeline, there are a couple of websites and web apps you can use to customize your timeline cover photo.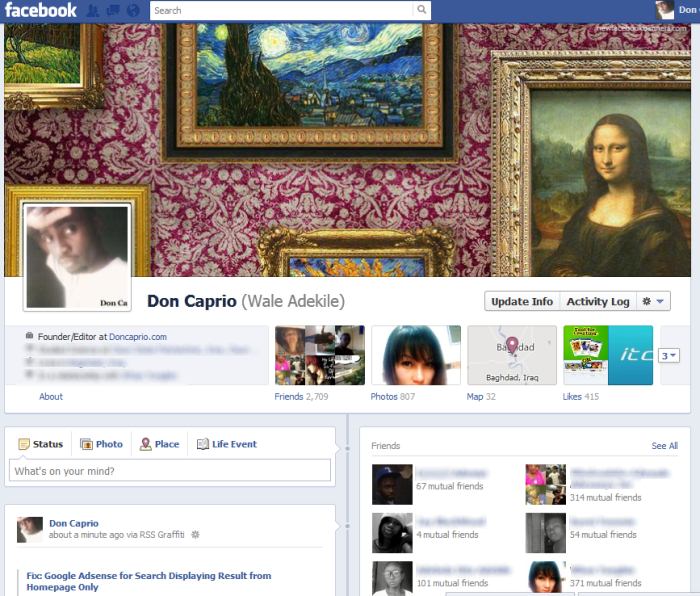 The one above looks great, huh? Want to create something similar?
I used their service to create the timline cover above. They've got some real nice tools in that app they've got on their site. You can create an awesome and unique timeline cover and get to customize it to your taste even if you've got no idea on graphic designing or simply choose from the huge list of ready-made ones. Unlike many other timeline cover editors,  they won't advertise their site through your timeline cover or profile and that's the main reason I chose them first.
2. Myfbcovers
Myfbcovers have an assorted collection of awesome facebook timeline covers and they've got something that's gonna be of interest to you – creating a timeline cover from a photo collage. You only need to select 24 of your friends and you have their photo collage as your timeline cover.
3. 99covers.com
99covers has a really huge collection of timeline cover photos to customize your facebook profile. Just visit the site and select from any of the categories.
There are more online timeline cover photo editors but these three are those I used and they're quite okay.