Now here comes the new iPad 3 with lots of exciting features you probably want to go for. Maybe you're also an iPhone 3 user who plans to upgrade your device to iPhone 4s, right? Whatever the case may be, it's important to do the very last back up your data before giving it out or selling it off. It's also important to wipe clean that iPhone / iPad so no one gets hold of all those personal data on your device.You should also sync your music and videos so you won't be losing anything when you finally buy a new Apple device.
How do I back up my iPad / iPhone before formatting?
There are several ways to do this but the easiest is using iTunes.
- Connect your device to your computer
- Start iTunes
- Locate your device on the left sidebar and right-click on it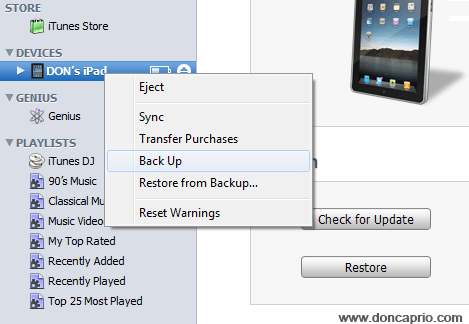 - Select Back Up and wait till the whole process is completed.
You can as well back up your data using iCloud
Formatting / Resetting Your Device
There are actually two ways to get this done. The easiest way is doing it directly from your iPhone / iPad.
- Go to Settings > General and then scroll down to Reset
- Now select on Erase All Content and Settings
- Next, you will be prompted to enter your passcode. If you haven't set up one, you should go to Settings > General > Passcode Lock to set up an new one. There's is nothing like default passcode.
- This will take just a little while and your iPad / iPhone is completely wiped clean. Restart your device to confirm it's done.
Another to Format / Wipe Clean my Device Using iTunes?
There's a belief that using this method makes you lose your backup but it's wrong. Using iTunes to restore your iPad / iPhone to factory settings is important especially if your don't want to sell the device jailbroken.
Connect your iPad / iPhone to your computer and start iTunes
Select your iPad and click on the Summary tab
Click on Restore
Now wait for the restore process to finish where you'll be given the option to Set up as a new iPad or restore from a backup
Select Set up as a new iPad
When the whole process is completed, disconnect your computer
Restart your iPad to confirm that it's been wiped clean and restored to factory settings.
Whenever you get a new iPad / iPad, you only need to follow the steps above to restore from the back up you created earlier and sync your music and other files. It's gonna be like nothing's changed!