Are you worried because you think there's someone else using your facebook account behind your back? There's a feature in facebook account settings that lots of people don't even know about especially if you access facebook most of the time with your mobile phone. This feature lets you know whenever someone else is trying to access your facebook account or when your account gets hacked. A lot of us hardly check our account settings on facebook and miss out these security settings.
I do receive a text message on my mobile whenever I log in to facebook from any other device apart from my notebook and mobile phone. Cool, huh?
How do I Activate Login Notifications
- Go to your account settings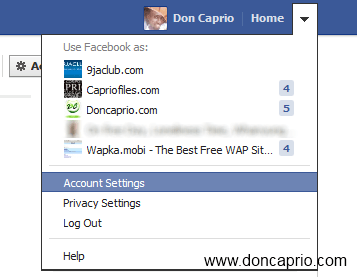 - Click on Security from the links on the left and edit your login nofication as shown below:

- With login notifications set as shown above, you'll get notified with a text message (if your phone number is verified) and email each time someone uses a device different from yours to log in to your account.
It's the best way to monitor your facebook account and it quite a great feature from facebook. Whenever you log in from a strange device, you're prompted to save the device so it can be recognized next time you log in. If you're using a cyber cafe or a friend's computer, you shouldn't save the device.

If you suddenly get a message that a strange device logs in to your account, you need to go to you Facebook security settings and review Active Sessions. From here, you can log out that person automatically by clicking on End Activity next to the device. Seeing a strange device probably means you logged in from another computer and forgot to log out or your password is already saved on a browser you used that isn't yours. Whatever the case may be, a device you didn't authorize showing on your list of active sessions means you should change your password as soon as possible.