You definitely can't be friends with everyone and sometimes, we accept friend requests we regret on facebook. Facebook keeps implementing the same suicidal changes that killed Myspace few years back and lots of people get lost trying to locate simple settings they knew just how to find before. With the old profile, you only need to check the right side bar to block anyone but it's a bit different on timeline. Like I mentioned earlier, some friends might actually piss you off to the point that you don't even want them to know you exist anymore on facebook. They can still check your profile if you remove them from your friends list but all the person gets is an error message if you've blocked them and then try to view your profile.

Whether it's an annoying friend or a stalker you don't feel comfortable with, go to the person's profile and locate the little drop down menu beside the Message button: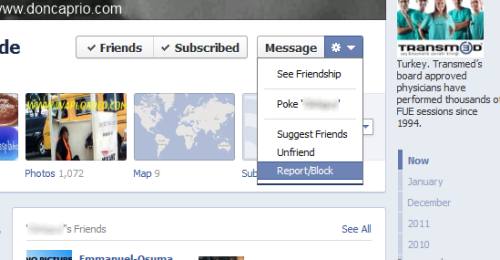 Click Report/Block and fill the box tha pops up as shown below: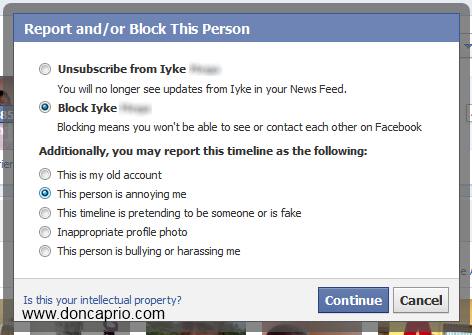 Just hit the Continue button and that person is out of your facebook business. You should know that after blocking this friend, the person will no longer have access to your profile or whatever you share on facebook and whatever facebook connection you have is broken.
In case things later change and you want to unblock this person, you need to visit Privacy settings by clicking the drop down menu at the top right of the page. At the privacy settings page, scroll down till you see Blocked People and Apps and click Manage Blocking.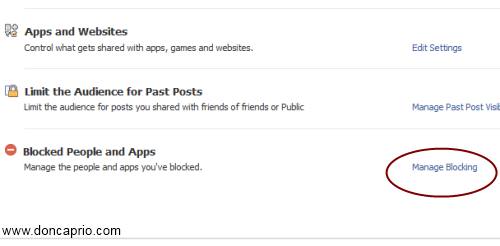 From here you can unblock all those you've previously blocked or block new annoying friends or stalkers by adding their names. You don't have to be friends with everyone and when unfriending isn't enough, blocking works just fine.

Did I say that?